RocHobby Strega P-51 High Speed 1070mm (42") Wingspan - PNP
This product is discontinued
Spare parts available below
Product Reviews
Customer Reviews
Write a Review
Ask a Question
07/21/2019
Matt S.
United States
Very nice plane - Not for beginners!
Excellent plane for the money if you have the pilot skills. It's fast and slick. Takeoff from a paved runway will use precision amounts of rudder, elevator and throttle to get off straight, landing also uses flaps, rudder, elevator to look good. Just like the real one! Our club races these as an "A" electric class. RocHobby's Reno race plane series got a bum rap from pilots who weren't up to the skillset needed and complained a lot online. I've raced the P-39 Cobra II and the Strega with stock setup - both are very fast. Motion R/C should keep these in stock!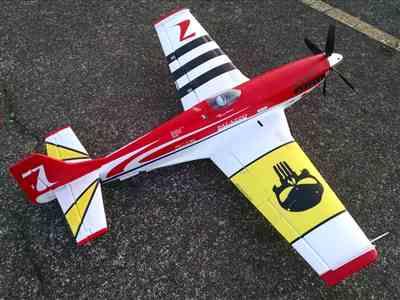 Smooth & Fast
Plane is smooth and fast, it seems as it flys slower than it really is. I would consider this plane to be just big enough to enjoy. I get about 10 minute flight with a 4s 3000mah battery. The landing gear may be an issue down the road and the tires are not of quality. I would give the plane a 4.5 stars but the speed control was defective on the first flight. Every test flight the ESC would make 2 loud beeping sounds, like an alarm, and loose power to the motor.
Smoking Strega
Love this plane. Fly it fast or slow, you will get compliments. Tought lil plane that has been tuned to fly at speeds over 130!!!
Smoking Strega
Beautiful plane on ground and in flight. Flys great!! This one goes to field with me every time. For speed seekers... buy 12×12 APC electric prop, cut an inch off each end, file two existing slots in spinner so prop it properly, get two 3s batteries, run them in series making 6s, install and hang on to your seat. You will thank me later. For those that's wondering about power set up, I use stocked motor and esc and hasn't had a problem. All I can say is wow.....satisfies your need for speed. Smoking Strega!
VooDoo / strega
Got well over 1000 flight combined on them..same gear..I have a huge collection but I'm me of them come out ever time a fly.. absolutely lov them
Beautiful flying plane I have
Beautiful flying plane I have one Pepe and that's the landing gear after two or three successful Landings it retracts start messing up one won't come down one won't go up other than that I give it 4 stars
Fun!!
Just maiden this plane on 5s and a 10x10 prop, great flyer! Pay attention to details on assembly and push battery all the way to the front, it'll fly and land very well. I plan on putting in 6s someday, should be fun!
Didnt like it at all
Didnt like it at all
Upcoming Father's Day present.
Upcoming Father's Day present.
Top