TechOne FPV Wing 900mm Wingspan - ARF BUNDLE
This product is discontinued
Spare parts available below
Product Reviews
Customer Reviews
Write a Review
Ask a Question
08/25/2019
don d.
United States
FPV wing
I have not had a chance to fly it yet. We have had very windy days and I need a calm day to set it up.
great but could use a few tweaks
this is a good plane and it tracks nicely IF you have speed.. its very bad at handling low speeds.. and its really hard to get CG correct unless you are running fpv camera and hd cam in front.. also the prop is utter **** for this.. just use a 2 blade apc or equivalent.. since this softy quad prop osscilates like mad when you turn on the juice.. excuse the spelling im nog native english speaking.
Squirrley
The three blade a propeller is in adequate. Had to reverse polarity on motor and use two bladed prop for better thrust. Flying without electronic gyroscopic stability is difficult. The wing is super fast but hard to see Flying line of sight.
Motor failure first flight
The motor blew on the first flight. I launched and was flying on about half power. The plane flew very well until I tried to go to full power, at which point the motor made a bad sound and then quit working. I have not had time to disassemble the motor to see what the problem is. Suspect magnet came loose in motor.
Excellent wing
This is one excellent wing! Assembly is nice and easy, no surprises found. It's as simple as glue the winglets on, glue the servo mounts in, screw down the servos, glue the horns on, then slide the wings in place. That's pretty much it. Flight performance was well beyond what I was expecting, it flew so smooth and precise, I was able to fly with confidence at low levels. Take offs are just a simple side arm toss at just over half throttle. Landings are actually kinda faster than I would like it, but the airframe is so stong that little knock doesn't take a star away. If there's one thing I would have done to improve it, it would be adding a skid to the front to keep the dirt from plowing into the front of the plane on landing. Other than that it's great. I was able to get 70mph on my GPS speed meter. So it's got a little speed stock. My plane was flown from the get go with 4s 2700s. I would expect maybe 3-5 more mph by dropping to a 1800-2200 4s. And at least 10 by moving to a 2 blade as well. Anyway, all in all, if for some reason I would need to buy this plane again, I would in a heartbeat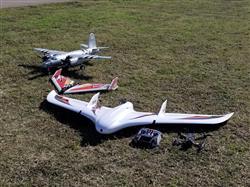 It should have a spare
It should have a spare prop. It flies great, but, you need a launching pad to make it perfect
Awesome model for an awesome price
I really cannot say enough good things about this model. I've been into the FPV wing thing for a while now, but am often dejected at the price and finish of fully sheeted models. It is super easy to assemble, especially with the magnetically attached wings, it's trouble-free to launch, it's fast as **** and tough as nails. The wings do suffer from a bit of torsional flex during high speed passes, but not so much to sorry about it ... just keep on the sticks. If that isn't enough to sell you on it, it's 140 freakin' bucks fully outfitted with flight electronics! Get some!
Motion RC has a new European website
Go there instead?
Top