XK Edge A-430 with Gyro 430mm (17") Wingspan - RTF
WLT-A430R
XK Edge A-430 with Gyro 430mm (17") Wingspan - (Ready-To-Fly) - RTF - WLT-A430
With the XK Edge A-430 Motion RC is pleased to announce the XK brand to our customers.  A leader in mini and micro class RC products since 2011, XK Innovations brings the best of performance and reliability to the smaller side of RC Flight!  XKs' line of small RC airplanes brings the simplicity of electric flight to a worldwide audience with easy to fly fixed wing aircraft, some of which offer FPV options to further the fun!  Motion RC stocks a full compliment of available spare parts to keep you flying these amazingly affordable RC model airplanes.
The XK Edge A-430 RTF is a great introductory 3D model aircraft for advanced beginners (not their first model aircraft) due to its built-in stability system (3D/6G) that supports smooth flights and resistance to crashes.  A great park flyer 3D aerobatic in the micro class size for easy transportation to and from the flying field.
The powerful brushless motor supports a wide flight envelope for flying everything from slow flight to impressive aerobatics.  The XK Edge A-430 boasts attractive scale looks in a slick red, white and blue racing scheme.  If you are looking to advance beyond the high wing trainer and explore the world of 3D with a smaller park flyer with a built-in gyro for stability, confidence and nice scale looks the XK Edge A-430 would be a terrific choice.
  Visit the Official XK Edge A-430 with Gyro Discussion Thread on HobbySquawk.com for additional photos, videos, reviews, and customer Q&A.
Features:
Comes with 3D/6G, a gyro for increased stability and helps decrease the chance of a crash.  Simply cycle between 6G (stable mode) and 3D (no control surface limits) by pressing the aileron stick to the lower left after activating the model
Compact size and nice scale looks appeals to both novice and advanced pilots
Powerful brushless motor supports a wide flight envelope from slow to aerobatic flight
Micro class size for ease of transportation to and from the flying field
Extended flight times (5-8 minute averages)
Includes:
XK Edge A-430 with Gyro 430mm (17") Wingspan - RTF

FTR Futaba S-FHSS Compatible 4CH 2.4GHz Transmitter

2.4GHz Receiver

2S 7.4V 300 mAh LiPo Battery

2S LiPo Battery Charger

USB Charging Cable

Replacement Propeller

Owner's Manual
Requires:
Nothing!  Everything you need to fly is included in the box
HELPFUL TIP:  If you are new to radio control (RC) we recommend that you read through our RC resource known as our "Knowledge Blog". It's jam packed with helpful information for beginners including how to articles, support videos, a glossary of terms and much more.  Click Here to go to our Knowledge Blog's Beginner Section.  For further assistance, please do not hesitate to contact our Customer Support Team and one of our knowledgeable RC experts will be glad to assist you. Happy flying!
Product Specifications:
SKILL LEVEL : Intermediate
| | |
| --- | --- |
| Wingspan | 430mm / 16.9in |
| Length | 534mm / 21.0in |
| Flying Weight | 80g / 2.82oz |
| CG (Center of Gravity) | 30mm from the leading edge of the wing at the root |
| Power System | 1406 Brushless Outrunner Motor |
| Electronic Speed Control | Integrated |
| Propeller / EDF | 2-Blade Prop |
| Servos | Micro |
| Landing Gear | Fixed |
| Battery | 2S 7.4V 300mAh 25C LiPo (included) |
| Radio | FTR Futaba S-FHSS Compatible 4CH 2.4GHz Transmitter (included) |
| Ailerons | Yes |
| Elevator | Yes |
| Rudder | Yes |
| Flaps | No |
| Lights | No |
| Hinge Type | Foam |
| Material | EPS Foam |
| Skill Level | Advanced Beginner |
| Build Time | 1 hour |
| Recommended Environment | Outdoor |
Product Videos
Product Questions & Answers
NOTE:
Questions submitted on this page are answered by customers who have previously purchased this item. If you have a support related question that requires immediate assistance, please visit our
Help Center
.
Product Support
Product Manuals:
Product Updates:
December 17, 2018  -  To activate the gyro (on/off), you must first cycle the throttle once, then, CLICK the right stick for a very short beep, NOT HOLD down the right stick as the manual suggests.
If you need any additional assistance, please visit the Motion RC Help Center
Product Reviews
Customer Reviews
Write a Review
Ask a Question
02/24/2020
Tim
United States
Junk!
Plane was doing well in 6G. When I switched to 3D the plane went crazy and went nose first into the ground! It was never the same again. The manual is difficult to understand. You really should recalibrate gyros before flight but it doesn't say to do this. When you switch to 3d the elevator flies up for about a second! I thought this would be a good intermediate plane but it was a big disappointment!
01/03/2020
Shawn F.
United States
Weird reactions
Short lived plane, Had been flying for a while was comfortable with flying it, was slowly decending toward the ground and all of a sudden the plane pitched straight down in to the ground and completely destroyed it.
01/02/2020
Alec H.
United States
Awesome Step Up
I had been flying a Champ RTF until I decide to branch out and buy a better plane. This is a great option. I love the 3D mode and giro, great for all types of pilots. I do wish it had the option for a clear canopy though.
10/11/2019
Matt
United States
Xka bad ***
This plane literally fly like a mini extra in 6g the plane can be flown by a somewhat beginner because it does have a tendency to fly fast transmitter is the bees knees for what you get the controls are really sensitive in 3D mode so be ready for a mini extra
10/07/2019
Rafer C.
United States
Could have been a great plane
The plane seemed well built and functioned but it wouldn't come out of gyro mode and gyro mode couldn't fly in any wind. It would pretend to exit gyro mode until you applied throttle and then it would default back to gyro enabled. Could have been fun.
09/19/2019
Vitaliy T.
United States
Review
Very good airplane. Flies good.
Awesome little pocket rocket!
I bought this for my 10 year old who is an intermediate RC pilot. He loves this little plane! The plane looks awesome in the air and is very agile. He told me that both modes are very stable. On 6G mode, the rudder moves with the ailerons and it has limited throws. On 3D mode, the plane really opens up! Don't be fooled by the 2 cell LiPo. This plane is very fast! Here is my son's maiden and review on this plane on his YouTube channel (Jon's RC) https://www.youtube.com/watch?v=2sXpwpksCOA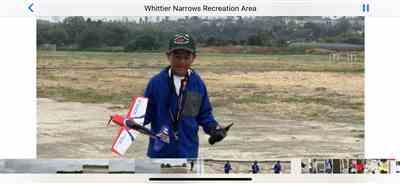 07/24/2019
Cory G.
United States
Fun plane
Bought a high performance large scale plane for my first one and quickly realized I made be mistake, as that I was only able to get it off the ground about 2 feet and then crashed it and broke mostly every major body part. I decided to look into a small cheap plane better suited for beginners. I came across this little 3D plane with flight stability and bought it. I couldn't be happier, I've been able to fly it all around learning the basics of RC flighting. Can't wait to get my big fast plane all fixed up and flight ready. I will be adding a flight stability system of some kind to it tho.
07/21/2019
Daniel B.
United States
Awesome fun plane
Awesome fun plane
Motion RC has a new European website
Go there instead?
Top