XK K110 with Gyro 244mm (9.6") Rotor Diameter - RTF
WLT-K110R
XK K110 with Gyro 244mm (9.6") Rotor Diameter - Ready To Fly (RTF) - WLT-K110R
A leader in mini and micro class RC products since 2011, XK Innovations brings the best of performance and reliability to the smaller side of RC Flight!  The dependable precision of its 6-axis stabilized helicopters rivals the stability of larger and more expensive brands while also delivering class-leading Scale Factor and damage resistance.  Motion RC stocks a full compliment of available spare parts to keep you flying these amazingly affordable RC model helicopters.
The XK K110 is a flybarless 6 channel helicopter which is a great introductory model helicopter for beginners due to its built-in stability system (3D/6G) that supports smooth and stable flights with resistance to crashes.  Here's how the 3D/6G system works:
3D Mode
3D Mode uses the 3-axis gyro stabilization.  In 3D Mode, you can easily perform aerobatic maneuvers such as rolling, inverted flight, hurricane and side flying and much more with the confidence 3-axis stabilization affords you.
6G Mode
6G Mode uses a 6-axis gyro stabilization.  This is the perfect mode for beginners as it provides a very stable platform as you learn and become more confident with the model.
  Visit the Official XK K110 with Gyro Discussion Thread on HobbySquawk.com for additional photos, videos, reviews, and customer Q&A.
Features:
3D/6G is a 3-6 Axis Auto Stabilization System that supports stability both while learning and performing advanced aerobatics.  Easily move between the two modes using the switches on the 6 Channel transmitter (refer to the manual)

1106 11000kV brushless motor

 for reliable power and performance
USB 1S battery charger

so you can charge from your computer if desired and can charge two 1S batteries at once (second battery not included)
Includes:
XK K110 with Gyro 244mm (9.6") Rotor Diameter - RTF

FTR Futaba S-FHSS Compatible 6CH 2.4GHz Transmitter

2.4GHz Receiver

3D/6G a 3-6 Axis Auto Stabilization System

2 main spare rotor blades

1S 450mAh 3.7V 25C Li-Po flight battery and charger
Screwdriver
Requires:
Nothing! Everything you need to fly is included.
Product Specifications:
| | |
| --- | --- |
| Class / Size | Micro |
| Power Type | Electric |
| Rotor Type | Collective Pitch |
| Body Material | Plastic |
| Overall Size (L x W x H) | 270mm x 49mm x 77mm |
| Flying Weight | 58g |
| Main Rotor Diameter | 244mm |
| Main Rotor Blade Length | 122mm |
| Tail Rotor Diameter | 46mm |
| Tail Rotor Blade Length | N/A |
| Tail Drive Type | 0720 Brushed Motor |
| Cyclic Servos | 3x Micro (Collective Pitch), 2x Micro (Fixed Pitch) |
| Tail Servo | None |
| Power System | 1106 11000kV Brushless Motor |
| Electronic Speed Control | Integrated |
| Recommended Battery | 1S 3.7V 450 mAh LiPo (included) |
| Battery Compartment Size (L x W x H) | N/A |
| Required Radio | FTR Futaba S-FHSS Compatible 6CH 2.4GHz Transmitter (included) |
| Skill Level | Beginner |
| Build Time | None |
| Recommended Environment | Large Indoor or Outdoors |
Product Videos
Product Questions & Answers
NOTE:
Questions submitted on this page are answered by customers who have previously purchased this item. If you have a support related question that requires immediate assistance, please visit our
Help Center
.
Product Support
Product Manuals:
Product Updates:
November 18, 2017  -  The "Futaba Transmitter Ready" or "FTR" version of the XK K110 will only work with a Futaba S-FHSS compatible radio.  If you do not own a Futaba compatible radio, please select the Ready to Fly (RTF) version of this helicopter from the Product Format menu above.
If you need any additional assistance, please visit the Motion RC Help Center
Product Reviews
Customer Reviews
Write a Review
Ask a Question
01/10/2020
Cosmin C.
Romania
Xk k110
Very good product
12/04/2019
Roger R.
United States
Quality Heli
This little helicopter flies like a much larger machine, much more solid than a 70 or 150 heli. But it also is higher energy, and must be treated like a larger heli for safety.
11/15/2019
JERRY M.
United States
AWESOME Heli
In the past I've flown multiple Blade Micro and Sub Micro helis : 120, mcpx, Nano. I recently got back to it after 9yr lay-off. Just recently got a blade 70s ( fantastic begginers heli), then a blade 150s. The 150s is absolutely fantastic but is a little big and fast at the stage I'm at. So I got this one. Three words to describe it : WOW, WOW, and WOW!!!!! Amazing quality for the money!! A real tranny with D/R and I can adjust pitch and throttle curves?? WHAAAAT???!! SUCH a deal!! Set up perfectly from the factory. Charged the batteries, put batteries in the tranny. And flew PUUUUUUURFECT!! Nice crisp control response, great throttle punch. Perfect size too. This beats the MCPX by a mile. It is however EXTREMLY punchy responsive. If your a begginer to RC flying especially helis,, I'd highly reccomend something like the blade 70s fixed pitch. Get used to basic orientation and flying. Once you've mastered it. Get this You won't be dissapointed!! This thing BLOWS me away at just how good it is for the money. Jerry Dang you motion RC!!! Now I'm going to have to get another one as back up!!
10/21/2019
Ernie S.
United States
Nice Heli.
Flies great and is very durable. I crash constantly and no breaks yet. I took one star because the included battery was bad from day one.
10/05/2019
Ronald K.
United States
Great starter
Great beginner helicopter. I highly recommend this for anyone who wants to learn
06/27/2019
Lou P.
United States
helicopters
see above Excellent quality for the price and fun to fly
Flight demo and quick review
https://youtu.be/KI9684uymkQ I am in love with this heli! I would dare to say it's the best in its class and has very few drawbacks. I get bored easily if models aren't exciting and this one holds my interest better than most models. Because of this, I am also very hard on my models and I'm super happy to report that after a couple months of having this heli I've only replaced about five parts and not out of necessity. It was still flying with those broken parts just not well. Speaking of parts, they are super cheap. I'm super happy to see that a US shop has XK helicopters in Supply. As far as performance goes you can expect medium 3D but nothing hard like fast tic toc's. Parts are easy to service and the longer you spend looking at the heli the more the design seems impressive and well-thought-out. The designers clearly chose where they wanted it to fail instead of having it fail in a place they didn't want. If mine were stolen I would buy another.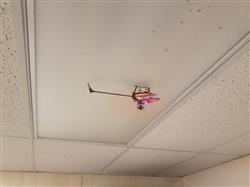 07/28/2018
michael b.
United States
good little heli
Very good value for the money Decent power Robust design Good stability and agility Great backyard flyer
06/07/2018
adam j.
United States
K110
Instructions might as well be in Chinese because they make no sense...
Motion RC has a new European website
Go there instead?
Top