XK K123 Red and White with Gyro 244mm (9.6") Rotor Diameter - FTR
WLT-K123B
XK K123 Red and White with Gyro 244mm (9.6") Rotor Diameter - FTR (Futaba Transmitter Ready) - WLT-K123B
A leader in mini and micro class RC products since 2011, XK Innovations brings the best of performance and reliability to the smaller side of RC Flight!  The dependable precision of its 6-axis stabilized helicopters rivals the stability of larger and more expensive brands while also delivering class-leading Scale Factor and damage resistance.  Motion RC stocks a full compliment of available spare parts to keep you flying these amazingly affordable RC model helicopters.
The XK K123 is a flybarless 6 channel helicopter which is a great introductory model helicopter with fantastic scale looks for beginners due to its built-in stability system (3D/6G) that supports smooth and stable flights with resistance to crashes.  Here's how the 3D/6G system works:
3D Mode
3D Mode uses the 3-axis gyro stabilization.  In 3D Mode, you can easily perform aerobatic maneuvers such as rolling, inverted flight, hurricane and side flying and much more with the confidence 3-axis stabilization affords you.
6G Mode
6G Mode uses a 6-axis gyro stabilization.  This is the perfect mode for beginners as it provides a very stable platform as you learn and become more confident with the model.
  Visit the Official XK K123 with Gyro Discussion Thread on HobbySquawk.com for additional photos, videos, reviews, and customer Q&A.
Features:
Excellent scale appeal with a sharp red and white color scheme
3D/6G is a 3-6 Axis Auto Stabilization System that supports stability both while learning and performing advanced aerobatics.  Easily move between the two modes using the switches on the 6 Channel transmitter (refer to the manual)

1106 11000kV brushless motor

 for reliable power and performance
USB 1S battery charger

so you can charge from your computer if desired and can charge two 1S batteries at once (second battery not included)
Includes:
XK K123 Red and White with Gyro 244mm (9.6") Rotor Diameter - FTR

2.4GHz Receiver

3D/6G a 3-6 Axis Auto Stabilization System

1S 500mAh 3.7V 25C Li-Po flight battery and charger
Screwdriver
Requires:
Product Specifications:
| | |
| --- | --- |
| Class / Size | Micro |
| Power Type | Electric |
| Rotor Type | Collective Pitch |
| Body Material | Plastic |
| Overall Size (L x W x H) | 238mm x 49mm x 77mm |
| Flying Weight | 78g |
| Main Rotor Diameter | 244mm |
| Main Rotor Blade Length | 122mm |
| Tail Rotor Diameter | 55.5mm |
| Tail Rotor Blade Length | 55.5mm |
| Tail Drive Type | 8502 Coreless Motor |
| Cyclic Servos | 3x Micro (Collective Pitch), 2x Micro (Fixed Pitch) |
| Tail Servo | None |
| Power System | 1106 11000kV Brushless Motor |
| Electronic Speed Control | Integrated |
| Recommended Battery | 1S 3.7V 500 mAh LiPo (included) |
| Battery Compartment Size (L x W x H) | 32.25mm x 26mm x 9mm |
| Required Radio | FTR Futaba S-FHSS Compatible 6CH 2.4GHz Transmitter (required) |
| Skill Level | Beginner |
| Build Time | None |
| Recommended Environment | Large Indoor or Outdoors |
Product Videos
Product Questions & Answers
NOTE:
Questions submitted on this page are answered by customers who have previously purchased this item. If you have a support related question that requires immediate assistance, please visit our
Help Center
.
Product Support
Product Manuals:
Product Updates:
November 18, 2017  -  T he "Futaba Transmitter Ready" or "FTR" version of the XK K123 will only work with a Futaba S-FHSS compatible radio.  If you do not own a Futaba compatible radio, please select the Ready to Fly (RTF) version of this helicopter from the Product Format menu above.
If you need any additional assistance, please visit the Motion RC Help Center
Product Reviews
Customer Reviews
Write a Review
Ask a Question
06/03/2020
Raymond T.
United States
RC Helicopter
A beautiful model. well made. I am a novice so I have a lot to learn to fly it, especially with three rotors.
03/02/2020
Paul M.
Finland
XK123
If you want a small scale helicopter then you can't go wrong with the XK123 nice looking and easy to fly.
02/05/2020
Eric M.
United States
Really cool, & fun- needs better rudder control
This series of XK RC Helicopters are really cool. I have them all from XK 100 to XK 130. This Xk123 is really neat and performs better than the XK 124. However, both of these have weak or incorrect rudder control/balance as compared to the XK 100- which Is actually their best model in flight as advertised. Back to the xk123- I like it a lot, I would buy another. I only hope they start making these little choppers more durable. One crash with the 123, 124 or 130 and they are done, dead- lol! It's then easier to buy another and use the old one for parts.
01/23/2020
Scott B.
United States
xK-K123
Flys just like the high dollar rc helicopter.
07/26/2019
dallas s.
United States
Scale heli
Great scale heli. I wish they made more. Get a Futaba tx.
07/25/2019
Steven M.
United States
My transmitter ?
I'd love to give you a Review but my Futaba transmitter will not bind to the helicopter, so I'm sending back and ill get the Rtf sorry, but you guys helped me when I needed it
DC
05/02/2019
Daniel C.
Great little beginner heli
For the price of this Heli, you can't beat it! Its frame is very rugged yet forgiving for hard landings. It comes with 2 batteries and a dual USB charger. The binding process is super easy! 5 seconds and you are binded. (I bought the Futaba ready version as I already had a tx I use with my planes. The manual totally sucks however. Imagine Google translate to go from Chinese to French to English. That's how it reads. That said, setup time was quick, and after a little manual adjusting on the elevator, it gives wonderfully! I've never flown a heli prior to this one and I'm loving it! My cousin has already 3d it, so it's more than capable.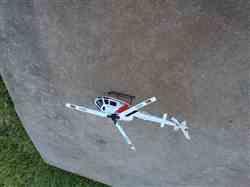 AS350 K123
This 3D/6G Helicopter is well built and durable, also very nice detail. Tx Radio setup video is easy to understand and setup time was 7 minutes. I even added navigation lights to top, bottom, and tail.
Motion RC has a new European website
Go there instead?
Top