ZTW Gecko 150A ESC OPTO High Voltage
$11990
$11990
ZTW Gecko 150A ESC OPTO High Voltage
Product Reviews
Customer Reviews
Write a Review
Ask a Question
05/19/2020
Jeff G.
United States
ESC
The best most durable HV ESC on the market at any price. Bought five of these ( Mostly for jets) and they work flawlessly. Very competitive price point.
03/25/2020
J P.
United States
Esc
Simple easy to use , yet very powerful.
12/06/2019
Joseph C.
United States
Works as advertised
could use more capacitors
11/17/2019
Michael W.
United States
Third Purchase
This is the third time I have ordered this opto 150 amp HV esc. Buy the programmer also, They work great......mbw
09/04/2019
Ricky T.
United States
ZTW Gecko 150A ESC OPTO High Volta
I use this ZTW gecko 150 amp ESC in my 8's setup in my 90 mm Jets. Over the last 3 years they have been Bulletproof. Only complaint I would have would be I wish the ec5 leads wires were longer.
08/27/2019
Justin B.
United States
great esc to go for
So far this product has done what it says it can do I don't know how she will fly until I get a chance to fly it or see someone else fly it for me.
ZTW Gecko 150A ESC OPTO High Voltage, Review
I run this High volt gecko ESC with a 8-cell set up on my F-22 and it works great with precise throttle response, and doesn't overheat. It's easy to install but the battery connecting cables to the ec5 are a little short but works in the F-22 fine with the 8's setup.. Thank you motion RC for having great products at a reasonable price.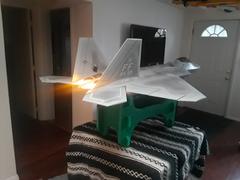 150a esc
I'm starting to get the impression that you can't go wrong with Motion RC products and service. There stuff is just rock solid.
Good Item, Questionable tech support
The people in your tech department need to study up on this item, as they did not know simple questions such as how many caps for this unit. I was told 2 by 1 individual and 3 by another. Actually there are 8, which is what I expected for a HV opto Esc..... You almost lost a sale
Top