Freewing Rebel V2 70mm EDF Jet - PNP
FJ20521P
Freewing Rebel V2 70mm EDF Sport Jet - Receiver Ready (PNP) - FJ20521P
The Freewing Rebel V2 is a heavily upgraded version of the original Freewing Rebel, also known as the Freewing Cobra. This new version boasts a long list of upgrades including electronic retractable landing gear, 2850kV motor, 12-blade ducted fan, 60A ESC, full flaps, and a bolt-together airframe. The Rebel V2 is capable of high speed flight and extremely stable at slower speeds. 
  Visit the Official Freewing Rebel V2 Discussion Thread on HobbySquawk.com for additional photos, videos, reviews, and customer Q&A.
Features:
NEW! Upgraded 2849-2850KV motor with factory balanced 12-blade 70mm electronic ducted fan (EDF)
NEW! 60A Hobbywing ESC with

 

XT60 connector
Electronic, retractable landing gear for added realism, improved ground handling, and increased speed
Full flaps for shorter takeoffs and slower, more controlled landings
Durable EPO foam resists damage and is easy to repair
Nylon hinges on the ailerons foam on the other control surfaces
Includes:
70mm EDF Freewing Rebel V2 Jet - Receiver Ready (PNP)
Requires:
Product Specifications:
SKILL LEVEL : Intermediate
Wingspan

35.4in / 899mm

Length

45.27in / 1150mm

Flying Weight

900g

Power System

2849-2850KV motor (installed)

Speed Control

60A Brushless ESC with XT60 connector

Propeller / EDF

12-blade 70mm EDF

Servos

9g digital gear standard with 100mm lead : rudder, elevator
9g digital gear standard with 300mm lead : nose gear steering, left flap
9g digital gear reverse with 300mm lead : right flap
9g digital gear standard with 300mm lead (+ 100mm extension) : right aileron, left aileron


Landing Gear

Retracts

Required Battery

4S 14.8V 2500 to 3000 mAh LiPo with XT60 connector

Required Radio

6 Channel

Rudder

Yes

Flaps

Yes

Ailerons

Yes

Lights

No

Hinge Type

Nylon on the ailerons, foam on the rest

Material

EPO Foam
Product Videos
Product Questions & Answers
NOTE:
Questions submitted on this page are answered by customers who have previously purchased this item. If you have a support related question that requires immediate assistance, please visit our
Help Center
.
Product Support
Product Manuals:
If you need any additional assistance, please visit the Motion RC Help Center
Product Reviews
Customer Reviews
11/21/2019
Robert H.
United States
good beginner edf
Plane arrived with a wing that would not fit in the saddle due to a crunch in the rear area, had to fabricate a plywood part so the location pins would engage. Flew well, but a bit underpowered on 4S. Finally crashed due to the negative lead from the ESC breaking off-cold solder joint. Inspection had same problem on positive lead, but did not break. rebuild went OK with new parts, but the motor would not initialize. Checked with new receiver and ESC, still won't fire up.
11/09/2019
walter p.
Austria
11/03/2019
Miguel Y.
Dominican Republic
Awesome!
The Jet arrived fast and in perfect conditions, this is a super and trusted RC store
10/31/2019
Joel G.
United States
Rebel
Can only say good things about it, no problem off of grass, flys great
10/14/2019
Ron w.
United States
Freewing rebel jet
This is good jet. Set up right, it flies very nice. I use a 3300 mah 4s 60 c lipo for 3 1/2 min, of almost full throttle flying. With 3\8 " down flaps for take off and landing it gets right up off my grass field in 150\ 200 feet. Short cut grass that is. Not the fastest jet by no means around 70 mph I think but very nice flying. Bring her in a little hot but not to fast and don't slow it down and expect it to harrier land to slow or stall it and jump back on the throttle. Keep a little speed up and she will set right down to a nice landing. You can't beat this jet for the money if you like DF jets. I say 3300 mah is about the biggest lipo you can squeeze in there; without cutting any foam away. Thanks for a nice jet plane , motion
Great first larger jet.
This is a great jet to move up from either props or smaller jets. It very forgiving and can slow down to trainer speeds. The sound is great too with the air crushing sound of a real jet. The first time I flew it, it was exhilarating until I got use to it, then it was fun. On a turn after climb out, I lost contact with it due to a defective transmitter and it nosed down into a cornfield. I found it with the help of the sonic beeper sold on this site and repaired it and repainted it black and yellow. The damage was surprisingly minor. I just took all the pieces of the nose and hot glued them back together, sanded it and covered it with laminating film, then repainted it. Rebound it to my Taranis with a IrangeX multimodule and have been having a blast with it ever since. It operates off of our grass field with no problems and lands very gently with a slight flare. Best bang for the buck for a 70mm jet. Only negative is the battery bay is a little tight and there is little room for the receiver but I used an Admiral gyro receiver and stuck it in the little space just behind the battery bay. Solid as rock in winds up to 15 mph.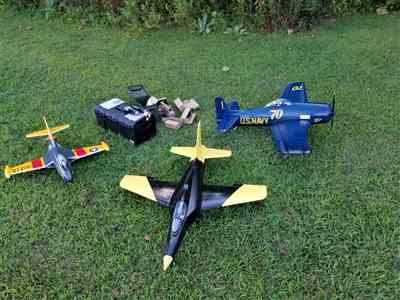 08/27/2019
Rogelio L.
Spain
Gran petit !.
Estable rápido/lento. Noble.
08/17/2019
Gerald H.
United States
Very happy with the plane.
Glad I bought. It goes together very easy
08/09/2019
Simon J.
United Kingdom
Great introduction to EDF jets.
The model is very easy to fly if you've already got some sport flying experience. Like many reviewers I decided to add 25g of lead in the nose with a 4S 3000 mAh (310g) to get COG at 95mm. Front magnetic catch came off just before the maiden flight (so flew it without the canopy!)
Motion RC has a new European website
Go there instead?
Top