FlightLine La-7 1100mm (43") Wingspan - PNP
FLW202P
FlightLine La-7 1100mm (43") Wingspan - PNP - FLW202P
The Lavochkin La-7 was considered by many pilots to be one of the best fighters of World War II. The aircraft was superior to the famed Bf-109G in vertical performance and maneuverability, and the La-7's speed allowed it to defend the Soviet frontlines from bomber attacks. Over 5,700 aircraft were built as the La-7 earned its place in aviation history. The Soviet's top scoring ace, Ivan Kozhedub, piloted his La-7 "White 27" to over 60 aerial victories.
FlightLine's 1:9 scale flying replica of the La-7 uses EPO material and a fiberglass reinforced one piece wing to offer pilots excellent performance at a great value. A large equipment cabin gives easy access to the ESC, receiver, and battery compartment. Screws attach the wing and elevator for quick assembly. Scale details such as the three bladed propeller and split flaps enhance the model's realism.
The La-7's 1100mm wingspan makes the aircraft easy to transport and gives it excellent maneuverability at a wide speed range. Its tall 65mm wheels and wide stance allow takeoff/landing on short, dry grass. The pre-installed 3647 brushless outrunner motor and recommended 4S 14.8v battery can achieve 135kph/83mph level speed with the scale three-blade propeller. An optional Sport Power System (sold separately) can be purchased to achieve 155kph/96mph speeds on the same 4s 14.8v battery.
Features:
Removable main wing/elevator for easy transport
High power motor for speeds up to 135kph/83mph
Adhesive decal sheets included for six different liveries
Intuitive internal structural design for optimized cooling of all electronics in the fuselage from the nose to the tail
Large cabin space for easy placement of the battery and radio equipment
Built-in flat spot near the CG for optimal placement of a gyro (optional, sold separately)
Improved spinner and propeller mounting design to enable better balance
Optional upgrade complete nylon hinge set included in each box for free
Tall foam rubber 65mm diameter main wheels and additional forward rake angle for operating on short grass runways
Electric retractable landing gear with metal trunions, metal reinforcement plate and 4mm steel wire struts
Optional two bladed propeller Sport Power System (sold separately) to achieve speeds up to 155kph/96mph
Includes:
FlightLine La-7 1100mm (43") Wingspan - (PNP)
Motor, ESC, servos and retracts pre-assembled
Requires:
Product Specifications:
SKILL LEVEL : Intermediate
Wingspan

1100mm / 43in

Length

970mm / 38in

Flying Weight

1350g / 47oz

CG (Center of Gravity)
85mm from the leading edge of the wing at the root

Power System

3648-830Kv Brushless Outrunner Motor (Stock scale power system)
3748-880Kv Brushless Outrunner Motor (Optional sport power system)

Electronic Speed Control

60A Brushless with XT60 connector

Propeller / EDF

10x6 3 Blade Propeller / 12x8 2 Blade Propeller High Performance Version (optional)

Servos

9g plastic gear standard with 550mm lead: left aileron, right aileron
9g plastic gear reverse with 300mm lead: left flap
9g plastic gear standard with 300mm lead: right flap
9g hybrid gear standard with 300mm lead: rudder, elevator

Landing Gear
Electric retracts with metal trunions

Required Battery

4 Cell 14.8V 2500mAh to 4000mAh LiPo battery with XT60 Connector

Required Radio

6+ Channel 2.4GHz

Ailerons
Yes

Elevator

Yes

Rudder
Yes

Flaps

Split Flaps

Lights

No

Hinge Type

Foam hinges except nylon hinges on flaps

Material
EPO Foam
Skill Level
Intermediate
Build Time
2 Hours
Recommended Environment
Outdoor, minimum 200 foot runway, pavement recommended, less than 1" tall smooth grass
Product Videos
Product Questions & Answers
NOTE:
Questions submitted on this page are answered by customers who have previously purchased this item. If you have a support related question that requires immediate assistance, please visit our
Help Center
.
Product Support
Product Manuals:
Product Updates:
March 9, 2017 - There is an optional two bladed propeller Sport Power System (sold separately) to achieve speeds up to 155kph/96mph. This Sport Power System includes: 3648-880kV motor, 12x8 2 blade propeller, and 2 bladed spinner. This Sport Power System is suitable for all 1100-1200mm wingspan warbirds from the FlightLineRC brand. Click the upgrades tab for more info.
March 9, 2017 - Our first production run of La-7s include water slide decals. To apply, cut out each decal individually, soak in warm water for 10 seconds, apply to desired area, and press firmly with dry paper towel to remove any excess water.
If you need any additional assistance, please visit the Motion RC Help Center
Product Reviews
Customer Reviews
Write a Review
Ask a Question
07/02/2020
John C.
United States
Raging Ruskie
Overall I have to give the visual appeal and appeal high marks. The biggest disappointment was the markings. The adhesive on my set was almost non existent, I fully expect to lose some during the maiden flight. That's right, I haven't flown it yet, perhaps this weekend, weather permitting. I will update this review after flight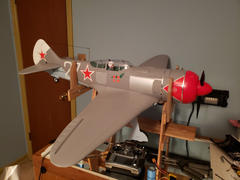 05/10/2020
Nikita G.
Canada
La-7
I am new to this business but there were no problems with the assembly I used a 4000 mah battery; for this model, I recommend mixing the battery back and use a 3000 mah battery as well; THIS AIRCRAFT WILL NOT BE SUITABLE FOR A BEGINNER !!! since I myself am a newbie I will tell my experience it is very difficult to take off, because the engine is very powerful and develops the aircraft, he needs a good long runway. before taking off, I managed to break it twice on take-off, changed the screws and glued the shasi. VERY STRONG AIRPLANE after 2 hot drifts on take-off, and with 3 dead nose down the glider remained almost intact only folds appeared of course the first flight was with a hard landing there was a dent under the engine since I didn't let out the plane, the helicopter flies and does it very well. if you know how to fly and you are a pro then this plane is definitely for you!
05/01/2020
Andrew S.
United States
Looks sharp!
Haven't flown it yet but I'm sure it will fly just as nice as all my other flightline/ freewing aircraft. It has a very nice scale appearance and looks like its fast just sitting there. Hope to maiden it this weekend along with the 64mm A-10
03/12/2020
Ron M.
United States
La-7
over powered and a lot of torque, it'll snap roll as soon as the mains leave the ground, have to use low power settings on T/O
Gorgeous Model of Iconic Soviet Warbird
This model of the iconic Lavochkin La-7 is beautiful and impressive. While it can be nice to have decals pre-applied (i.e., one less thing to deal with upon assembly), I actually enjoyed selecting from the wide variety of included decals to make my particular La-7 unique. She's a glorious bird and real standout beauty-queen in my "hangar."
La-7
Good packing and building was great except for the decals, go back to the old style. The flight was smooth after two tries at taking off weather plans into the wind at slow speed fast but once in the air she fly's on rails no trim needed except for 4 clicks down with the PRO 3600 4s all the way forward and the landing right down on mains with no flaps. Wish they would kit a 1600mm La-7. All other items I ordered where great also.
small probs............
As always great shiping, I let the grandson put it together,he had no problems , the only thing was the pilot was loose in the canopy,, easy fix,, the cg was easy easy, i put two black thumtacks on the c g for finger balance...using a 3600 batt. all the way forward leads to the rear, the balance is perfect,, p factor is in play,easy on the power ...... keep the speed up ,dont flair too soon..fast and smooth, lots of fun..good job motion....
LA-7 1100mm
Another beautiful plane that I just purchased from Motion RC made by Flightline. The paint job, the finish and details are amazing. She is fast and track likes on rail, I havent got her flies at wot yet because she gets small very quickly. Needless to mention the shipping and service from MRC is second to none. They are the best in the industry and i purchase most of my planes from them. Thanks MRC for another great product.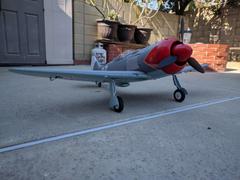 Fantastic plane
Let me start with I have not had a chance to fly it yet. Plane went together really easy. The quality is superior. Just have to wait until spring/summer to do maiden flight.
Top