Freewing F-104 Starfighter Silver 90mm EDF Jet - PNP
$54900
$54900
Freewing F-104 Starfighter Silver 90mm EDF Jet - PNP
Product Reviews
Customer Reviews
Write a Review
Ask a Question
Freewing F-104 Starfighter Silver 90mm EDF Jet - PNP
small deformation of left main landing gear door(it is partially blended). small unfitting of the two parts of fuselage,still no operated or flown yet .
CG Troubles - Nicely Detailed Excellent main gear.
Agree with everything on other reviews. The control panel and pluging in all the lighting is a pain but not a real problem. The quality of this plane is a little below the other more recent FW aircraft. But there is an excellent amount of detail. The main landing gear are really incredible. A lot of work went into getting this looking scale. This is one very cool aircraft. My issue is that the plane will NOT CG correctly. If I put the 5000mah Admiral in the position recommended by MRC it puts the CG at 90mm. Even with the battery as far FORWARD as possible the CG is still way too far back. Only with the battery so far forward the canopy will just go on AND 2.5 oz of lead in front of the Gyro will the plane CG at 78 mm or just behind the forward wing screws. If anyone else has this problem please let me know. Yes, I am balanced properly with the addition of lead but why is my 104 different. BTW took the EDF out and it weighs 400 grams (Just right). Shoved the EDF as far forward as possible and I was still 8 mm aft of the correct CG. Not at all a new guy and have a number of 90mm EDFs. This is the first time I have ever had an issue like this. Will try to fly tomorrow and see if I come home with foam confetti.
Customer review F-104
Models both an F-104C and F-104S with the addition of the aft fuselage ventral fin pair. An impressive surprisingly large heavy jet, with a high wing loading matching the scale flight characteristics of the full size F-104. Very rewarding flights for the advanced jet Pilot. Freewing and Motion R/C appear to have addressed prior structural concerns and issues in earlier releases incorporating a number of structural upgrades such as an improved horizontal tail control fitting. Unforgiving in flight a very rewarding EDF to work toward.
F-104
This is my second one, I didn't try the gyro on the first one but on this one I did and it flies a whole lot better with a gyro. Kit went together nicely, no issues with assembly but it did have a bad control board, thought I had a couple of bad servos as well but they worked fine when I bypassed the control board, so it was the board that was the problem, opened a ticket with MRC and they sent out replacement parts ASAP. They have the best customer service around that's for sure. Flies great and fast but I don't recommend it if your a beginner.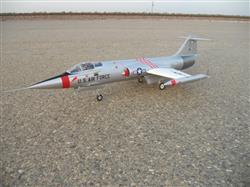 Freewing's Surprize Rat's Nest
Freewing surprised me with their F-104 Starfighter 90mm EDF model, that had a rat's nest of wiring inside the fuselage with hardly anything connected to the intergrated circuit module control board. There are 17 servo style connection points and 9 LED connection points on the control board and only 7 had leads connected to the board. None of the LED leads were labled, so it was trial and error to determine what plugged into where. I still haven't figured out why the outboard gear door on the starboard main landing gear won't operate even though the main gear will come down. Also the landing light on that main gear won't turn on either.
Great performance and value for money.
The plane flies better than I expected for a decently scale rendition of a Starfighter. The landing gear is strong and it has no problems getting in the air on our bumpy field with thick astroturf. It can fly extremely fast on the stock PNP setup so I'm impressed with the performance, yet slows down nicely for landing with flaps. I haven't tried using the speed brakes yet. It sounds very jet like and smooth. The only thing I don't like is the servo connections to the wings. They are very short and are difficult to reach and connect. They should have used an integrated connector that automatically joins when the wings are attached. I need to remove at least one wing to be able to fit several planes in my car. The left landing gear was toed in a little too much out of the box so it would crab a little when taxiing, but it wasn't noticeable when taking off or landing. I refinished mine in norwegian livery by removing the stock decals, painting it with chrome, white and black, and applying some new decals.
Freewing 90mm F104 silver
I love this plane, if something were to happen to it I would get another. It works great on well manicured grass. The manual is good, the stated CG and control throws were good. I did find that the manual's stated high rate down elevator throw would make hard contact with the rudder. I ended up with 40mm up and 35mm down. Almost no trim needed on maiden. I'm still working with the gyro, it will wing wobble bad in wind until you get the gyro right. I was lucky to have a buddy at our field who not only is an Expert but also flies one of these.
Freewing F-104G Starfighter
This is my first ducted fan jet after flying R/C for about 45 years. Out of the box assembly was pretty straight forward, the only thing that slowed me up was all the connections to the board. Took a while to figure out which direction the plugs needed to be inserted. first flight was accomplished at our flying field which is a large lot with a lot of stones and debris. I was worried about ******* some of it into the fan but after 11 flights no signs of damage. Back to the first flight I wasn't quite prepared for the long take-off run, but didn't want to try and force it into the air. I finally figured I had enough speed and really came back on the elevator. It immediately came off the ground and headed for Mars. It cooks along pretty good at 50% power, enough that I haven't tried 100% yet. Flight quality is excellent but getting the right speed for landing even with full flaps is a challenge. Out of my 11 flights up till now I have 1 good landing and 10 not so good. I had the nose gear door servo go bad after the 3rd flight, and Motion replaced it right away. I find it a well built, well engineered product and would gladly buy another if I needed to. Once I get a few more flights under my belt I'll bump it up to full throttle see just how fast it really is.
F104 90mm
Missing elevator ,lots of scratches,dentacion and some the connecting wire not labeled
Motion RC has a new European website
Go there instead?
Top