Freewing F-16 Falcon 70mm EDF Thrust Vectoring Jet - PNP
This product is discontinued
Spare parts available below
FJ20221P
70mm Freewing F-16 Fighting Falcon Vectored Thrust Gray EDF Jet - Receiver Ready (PNP) - FJ20221P(F1102C)
This Freewing F-16 is the perfect EDF jet for learning to fly with vectored thrust. While the plane can be flown with a 5 channel receiver, Motion RC recommends using a 6 channel RX so you can put the vectored thrust servos on their own channels as opposed to using the included Y cables. This allows you to turn the thrust vectoring on and off and set dual rates for the channels. This is the best way to learn to fly a plane like this before graduating to a Freewing F-18 or SU-35. When running on the recommended 4S LiPo pack, the F-16 has a plenty of thrust for high alpha maneuvers. While then landing gear is fixed, the plane has plenty of scale details and is an absolute blast to fly. This is a new Motion RC favorite.
Note: The wiring procedure to achieve in-flight on/off selection of the thrust vectoring flight modes is an advanced feature, and accordingly this aircraft is recommended for advanced pilots only. A general wiring diagram is discussed in the manual, but pilots should expect some time to test various wiring arrangements themselves to optimize the thrust vectoring controls to their individual preference.
Features:
70mm electronic ducted fan (EDF)
360 degree vectored thrust for incredible maneuvers (hover, flat spins, etc.)
Nylon hinges on all control surfaces (superior to foam hinges)
Brushless motor, ESC and servos installed
Requires:
Product Specifications:
SKILL LEVEL : Intermediate
Wingspan

800mm / 31.5in

Length

1150mm / 45.3in

Flying Weight

900g / 31.75oz

Power System

2839-3000Kv

Speed Control

45A, T connector, internal SBEC

Propeller / EDF

70mm EDF

Servos

9g standard gear with 300mm lead : rudder
9g standard gear with 100mm lead : left aileron, right aileron, right vector, right elevator
9g standard reverse gear with 100mm lead : left vector, left elevator


Landing Gear

fixed landing gear

Required Battery

4S 2200mAh 30C LiPo

Required Radio

5 Channel computer radio with mixing ability

Rudder

Yes

Flaps

No

Ailerons

Yes

Lights

No

Hinge Type

Nylon hinges on all control surfaces

Material

EPS Foam
Product Videos
Product Questions & Answers
NOTE:
Questions submitted on this page are answered by customers who have previously purchased this item. If you have a support related question that requires immediate assistance, please visit our
Help Center
.
Product Reviews
Customer Reviews
Write a Review
Ask a Question
Freewing F-16 Falcon 70mn
The plane went together well, it looks good i like it more than the White and Red version. While handling it i bumped the tail to the chair and one of the Elevator broke right off. The material is too fragile and not as tough as EPO foams from Dynam. I hot glue it back on hopefully it would hold up. Pros: beautiful, scale and easy assembly. Cons: cheap material, too fragile. I have to give 5 stars instead of 6...: )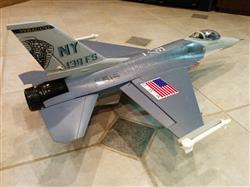 sweeet
My second jet from motion rc what can I say flys like it is on rails. TV is a blast and the price cant beat it. Been flying edfs for a few yrs now don't know if im a better pilot or the jets are just getting better lol
rochobby f-16 sweet
Grea edf 30 flights no problems except some mods to the front wheel otherwise fantastic jet motionrc is my new rc goto store fast delivery and the best support.
Gorgeous bird but some major issues that needs attention
TY MRC for shipping right away, 3 day delivery. Unboxed and saw instantly some marks, dents on wings and fuselage also a ***** on vertical stab that i had to glue (But no biggie). The build was fine until I started to try an mess with Thrust vectoring on my 6 channel dx6i, it realistically needs 2 aux channels to activate on a switch. I tried to use "gear" channel and it completely threw off the servo. So after watching the video on MRC saw he had the channel on rudder always active, which means you have to be very careful on take off with throttle. The power: After seeing my buddy fly his, it was kind of lacking power, so I 12ided to put in a 60amp ESC and when I tried to pull out stock ESC I noticed an AWFUL flaw, the rudder control rod was inserted THROUGH the actual stock ESC! I've never seen any model come like that and immediately removed it from ESC, that can cause a short in mid-flight! Hinges had to be re-glued and secured, must sand down wings before glueing, I checked elevator piece as I saw from other reviews it was a weak point, so I glued extra around it. This EPS foam is very brittle, not good for belly landings. Haven't maidened yet as I'm waiting for a new fan blade (My mistake, chipped the stock fan during testing) This is one beauty, looks great, just need to take time and mod it right. Piece of advice, have a 7 or 8 channel reciever radio for this bird as the thrust vectoring can be tough to deal with 6 channels.
Nice F16 / Bigger than you might think
Received this Jet in 2 days. 5 Stars for MRC as always. Kit arrived in 12ent shape. Fuse was nicked up in a bunch of spots. Detail on the fuse is done well. Again Placement of some 12als is poor especially the 12al on the top of the fuse that is suppose to surround the fuel inlet for midair refueling. It's off by an inch. Freewing needs to get that right. Kit went together fairly easy. Made some mods to the elevator and vectoring linkage to work correctly. I'm not a big fan of the design used for attaching the elevators to the Fuse and the way the air brake extensions need to be glued on. Not a good design. The Roc Hobby version is a one piece design which works much better. All in all a nice plane for the price especially considering the size. It's a lot bigger than I had expected. It flies well as long as you take the time to set the CG and trim it correctly. I kept the thrust vectoring off on take off and that seemed to work well for me. 12ent power not a screamer but I am planning on buying another Kit and installing an upgraded 70mm 10 blade unit or cramming an 80mm similar to the unit in the F86 which I also own. You'll have some fun with this one. Great Flying. Peace
excellent plane easy to set up
Great plane fast delivery and easy set up. Great plane to fly and fast.
jets are not that hard to fly
This is my first jet, been flying for a year now. When I put it together one wing was a little lower, my fault never built one before I was worried it might not fly well. It was no problem jet found its own center and you cannot tell. It took off I pulled back on the elevator and it climbed like a home sick angel. I installed a mr. rc sound unit and when it flew over our heads it looked and sounded like the real ones at our local airport. It steers great on the ground and flies like its on rails. I feel like I got a high dollar plane for low price. I think motion rc videos are right on. Just watched the f- 86 video from motion rc, wow I just bought another one, and oh have you seen there f-22 raptor video yea its on my list. Quality control is awesome I have no fear purchasing from Motion RC you get exactly what the videos demo .
Great Beginner EDF
I was worried about a bigger EDF and how it would handle and more importantly land. The FreeWing F-16 looks great, assembled easy and there are a ton of comments and forums on CG and elevator setup (a little pitch up so the tip of the leading edge of the elevator is in the middle of the fuselage edge is a perfect position). It's takeoff was easy enough for me as a beginner and the landing was pretty good. Just glide in and power and flare to touch down. Thrust vectoring is easy to setup on a Spectrum dx6i (use 2 mixes bound to the flap switch to turn it on and off). Lastly, it's real beauty and looks great in the air. Totally recommend!.
Good first edf for one.
Set it up stock. Don't use the TV unless you're a heli pilot at FIRST?! When you learn to take off and land comfortably start using the TV at higher altitude! This is not my first EDF. This is not my first TV. So I dropped in a 70mm aluminum 10 blade fan and hub. Dr. madthrust 3000kv inrunner and a 75 amp CC ice ESC. If you want fast, swoosh, and an awesome edf? Add something like that. I also added electric retracts more for the looks, not speed. It took longer to add the retracts than build the plane. Motion RC is awesome at getting stuff to you FAST!!! I can't wait to see them add more EDF's in the future. I'm hooked, have a lot of EDF's. But they are quick to deliver. If they're out of stock they let you know before you look at their planes. Unlike some that you order from only to find out you might get it in 3 weeks! 4 stars only because I think the motor in this plane is weak. It will fly with the stock motor. I just like them fast!!!
Top