Freewing Stinger Blue 64mm EDF Jet - PNP
$12900
$12900
Freewing Stinger Blue 64mm EDF Jet - PNP
FJ10421P
64mm Freewing Stinger EDF Jet - Blue - Receiver Ready (PNP) - FJ10421P
The Freewing Stinger 64 is one of the best values in RC EDF jets. It has good speed and great flight characteristics right out of the box. We think the Freewing 64mm EDF jets are some of the most entertaining jets out there. The Stinger 64 is built from durable EPO foam and uses nylon hinges which are superior to a foam hinge. Hand launching and belly landing is a breeze.
  Visit the Official Freewing Stinger 64mm Discussion Thread on HobbySquawk.com for additional photos, videos, reviews, and customer Q&A.
Features:
Durable EPO foam construction
Nylon hinges on all control surfaces
Stable at slower speeds and easy to control even at full throttle
Requires:
Product Specifications:
SKILL LEVEL : Intermediate
Wingspan

700mm/27.6in

Length

800mm/31.5in

Flying Weight

540g

Power System

Brushless 2627-4300kV Motor

Speed Control

30A with XT60 connector

Propeller / EDF

64mm 5-Blade EDF

Servos

9g digital gear standard with 300mm lead : left aileron, right aileron, left elevator
9g digital gear reverse with 300mm lead : right elevator
9g digital gear standard with 550mm lead : rudder

Landing Gear

None standard. Optional gear available in spare parts.

Required Battery

3S 11.1V 1600mAh 25C 3 cell LiPo with XT60 connector

Required Radio

4 Channel

Rudder

Yes

Flaps

No

Ailerons

Yes

Lights

No

Hinge Type

Nylon hinges on all control surfaces

Material

EPO Foam
Product Videos
Product Questions & Answers
NOTE:
Questions submitted on this page are answered by customers who have previously purchased this item. If you have a support related question that requires immediate assistance, please visit our
Help Center
.
Product Support
Product Manuals:
Product Updates:
May 7, 2013 - 

Both the 3S and 4S Stinger 64 jets ship in the same box which is marked 3S. To visually confirm your model is the 4S version, simply look at the fan, only the 4S version Stinger has a 12-blade fan.
May 6, 2013 - Many customers have asked about recommended throw rates for this model as the manual does not list them. We have added that information below for your convenience:
Aileron High Rate: 20mm, Low Rate: 14mm
Elevator High Rate: 20mm, Low Rate: 14mm
Rudder High Rate: 12mm, Low Rate: 8mm
If you need any additional assistance, please visit the Motion RC Help Center
Product Reviews
Customer Reviews
Write a Review
Ask a Question
05/23/2020
William B.
United States
Nice pocket rocket
Plane goes together rather easily. Be sure to check the little plywood blocks that the wing attach screws go into are lined up correctly. One of mine was misaligned. I balanced the plane using a 3s 1800 40c lipo in the mid range of the specs. Instead of using the little finger holds for hand launch, I found it easier to grasp the fuselage behind the wing, go to full throttle and give it a strong toss at about 30-40 degrees upward. After a little trimming, she flies beautifully. I used the low rates from the website. I get 3 minutes of mixed throttle flying with this set up, more high speed than slow. Very nice sound for a little jet. My big issue is the speed control does not get cooling air. I touched it after flying at 80 deg ambient temperature, and it was really, really hot. I'm surprised I didn't get the white smoke of death. So I cut away the center part of the heat shrink material from the heat sink side of the controller and epoxied (JB Weld high temp) a small piece of machined aluminum heat sink material to the controller. I cut a hole in the side of the fuselage and epoxied the speed control in place so the heat sink will now be exposed to the motor intake air flow. Fun little jet to fly. If you are flying in warm weather in stock condition, be sure to wait a while between flights to let things cool down.
09/28/2019
Phillip F.
United Kingdom
Great EDF for Quick flight
Fit a 3 cell lipo and launch for 3 mins of fun. not ballistic but fast enough to enjoy. Runs on relatively cheap 3 cell lipos. I had loads of 3 cells with no home but now I have. i was going to swap out the edf for 4 cell/12 blade unit but needs a fair of hacking so left it as stock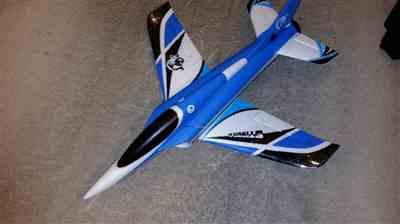 H
08/19/2019
Hoomi
Having a blast with my first EDF.
My wife bought the Stinger 64mm EDF for my holiday present this past year, and while UPS routed it on the grand tour, causing it to arrive late, it's been an awesome gift. I ordered the optional landing gear for it, as our club's runway is packed dirt, and I wanted to avoid both scratching the underside on landings, or flinging bits of rock and such into the intakes to possibly ding the fan. I also ordered a Sky Eagle gyro and installed it, figuring that stabilizing it a bit more while learning wouldn't hurt. My first flight, the gyro gain was a bit high, and the plane rocked back and forth quite a bit. I was still able to land it safely, and after adjusting the gyro per advice from folks on the Hobbysquawk forums, the second flight was much better. With the recommended 3S 1600 mAh 30C battery, I have no problem with rolling take-offs on the gear, and she cruises nicely around the pattern with the throttle backed off after reaching altitude. Before the first flight, I did check my control throws, and programmed in lower rates and expo, as with full rates, the control surfaces have a lot of deflection. I'm up to eight flights on her now, and my focus at this point is refining my landings. This jet has a lot of pluses for a first EDF - for one, it doesn't break the bank to buy it, so I also don't have that thought in the back of my mind of, "If I crash this, I'm out hundreds of bucks." It's simple to assemble and set up, and uses a relatively inexpensive battery. It has enough power to get up and go, but it's such that a pilot doesn't have to go all-out just to keep it in the air. It's no frills, without flaps to think about, and the optional landing gear is fixed, so remembering to drop the retracts isn't part of the learning curve, either. It's small enough to easily carry in almost any vehicle, but most of all, it's fun. About the only minuses I've found so far is that, with the landing gear installed, airflow through the battery compartment and across the ESC is limited. After my flights, I immediately take the battery out to cool off, and leave the canopy off to allow convection flow. The only other minus is that the blue color, which I really like, can sometimes be a bit harder to see against the sky. I haven't lost orientation on the plane, but it doesn't stand out like higher contrast colors would. All in all, this is a great little jet for a modest price, and I'm looking forward to more flights with it.
Big Sky Stinger
I have 7 flights on this plane since its arrival last week. I fly at 3500' AMSL and no problems with power at that altitude. This plane is fast, even on 3s power. Fly's great at 3/4 throttle, turns are crisp. I mixed in a touch of rudder with ailerons. "AILERONS"!! So much fun!
Blast To Fly!
For those wanting to get into flying jets, this is a awesome beginner plane! Comes with an affordable battery option, and flies for almost 4 minutes at full tilt on a Admiral 1800 3S. I would suggest a 3 minute first flight to make sure you still have time though. You may need to get a little foam out to balance at 65mm CG, but only up to the magnet for the hatch. Also a Bonus!: The plane I ordered came with a 4500KV Upgrade motor. The site states a 4300, so check the etching to see what it has.
Stinger 64mm
The most fun you can have without taking your clothes off. This EDF is a blast to fly.
Freewing 64mm 3S Stinger
Once I figured out how to reliably launch this aircraft I have been having a lot of fun with it. Very easy to set up out of the box. Remarkably easy and fun to fly and it performs very well. Once I wear this one out, I am sure I will order another or upgrade to the 4S version.
Very nice EDF Jet!
I just received the Stinger 3S version and it looks amazing. I cannot wait to get this in the air. All the pieces are perfectly formed and straight. It should go together very easily. This is my second 64mm EDF belly landing jet and I love these things. We don't have a paved runway at our flying field so these make life much easier. I think I will be the only one flying jets at our field this year. These Freewing EDF jets are a great value for the money and the quality is amazing! Thanks MotionRC!
What a blast!!
Flies great!! My first non UMX EDF jet. Landings are easy and flies like it is on rails...
Top