Freewing SU-35 Gray Camo Twin 70mm EDF Thrust Vectoring Jet - PNP
FJ30311P
Freewing SU-35 Dual 70mm Vectored Thrust EDF Jet - Receiver Ready - FJ30311P(F3101B)
NEW! Now comes with dual 12-Blade EDF fans instead of the old 6 blade fans.
This 3D version of the Freewing SU-35 has more thrust (3000g) than the regular version. The ESC has now been upgraded to dual 60A Hobbywing ESC as of July 2013. The size of the Freewing SU-35 is an amazing site to behold. This plane is one of the largest, most sophisticated, foam EDF jets made. Whether you like scale flight or outlandish maneuvers, the Freewing SU-35 can do it all. We think the Freewing SU-35 is one of the most entertaining EDF jets out there. The specs alone are amazing. The SU-35 is built from EPS foam and has nylon hinged control surfaces, shock absorbing landing gear, dual motors, dual ESC, dual 70mm EDF fans, and runs on a 6 cell LiPo battery. We are not sure what else to ask for in an EDF jet.
Features:
NEW! Dual Hobbywing 60A ESC
NEW! EC5 ESC Connector
NEW! 12 Blade EDF Fans
Dual 70mm electronic ducted fans (EDF)
360 degree vectored thrust for incredible maneuvers (hover, flip turns, etc.)
Durable shock absorbing landing gear
Nylon hinges on all control surfaces (superior to foam hinges
Brushless motor, ESC and servos installed
Includes:
Freewing SU-35 Gray Camo Twin 70mm EDF Thrust Vectoring Jet - PNP
Requires:
Product Specifications:
Wingspan

1080mm / 42.5in

Length

1630mm / 64in

Flying Weight

2600g

Power System

2x Brushless 3048-2150KV

Speed Control

2x 60A Hobbywing, EC5 connector

Propeller / EDF

2x 70mm EDF

Servos

9g standard with 100mm lead : vector 3, rudder
9g standard with 550mm lead : nose gear door
9g reverse with 300mm lead : vector 2
9g standard with 300mm lead : nose gear steering, left aileron, right aileron, vector 1
17g metal gear standard with 300mm lead : right elevator
17g metal gear reverse with 300mm lead : left elevator


Landing Gear

Servoless electric retracts, shock absorbers

Required Battery

6 Cell 22.2V 4000 - 6000 mAh LiPo Battery with EC5 connector

Required Radio

7 Channel radio with mixing ability

Rudder

Yes

Flaps

No

Ailerons

Yes

Lights

No

Hinge Type

Nylon hinges on all control surfaces

Material

EPS Foam
Product Videos
Product Questions & Answers
NOTE:
Questions submitted on this page are answered by customers who have previously purchased this item. If you have a support related question that requires immediate assistance, please visit our
Help Center
.
Product Support
Product Manuals:
Product Updates:
October 19, 2013  -  The wiring procedure to achieve in-flight on/off selection of the thrust vectoring flight modes is an advanced feature, and accordingly this aircraft is recommended for advanced pilots only.  A general wiring diagram is discussed in the manual, but pilots should expect some time to test various wiring arrangements themselves to optimize the thrust vectoring controls to their individual preference.
If you need any additional assistance, please visit the Motion RC Help Center
Product Reviews
Customer Reviews
Write a Review
Ask a Question
12/01/2019
Randolph G.
United States
Su35
This is the last of the vectored jets . Great buy .put it together r waiting to fly.looks great ,the rest is up to me.liked it so much ordered the yellow version also.
10/26/2019
John S. Kallend
United States
3 years now
I see that I'm now over 3 years with this model. I have 13 edf jets and this is still my favorite. The EPS has held up amazingly well - it looks better than some of my newer EPO models. I have it set up with tailerons, flaperons, and the VT is on full time. It has absolutely no bad habits and will go wherever you put it. Never drops a wing even at ridiculously slow speed/high alpha. Handles post-stall maneuvers just fine including kulbits, flat spins, etc. and then just flies straight out of them when neutralizing the controls. I hope it stays in production for a whole lot longer.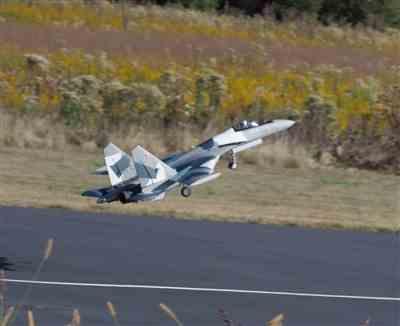 10/12/2019
Luke H.
United States
Awesome
That's a RC Planes really amazing product.
07/03/2019
simon s.
United Kingdom
SU-35
My Freewing SU-35 is a lovely aeroplane. Very easy to assemble and has great power to weigh for amazing vertical climb outs. The agility of this plane is breathtaking. W Very well done MotionRC.
DU
05/23/2019
David U.
United States
SU-35 a great value
I am new to flying Foam EDF jets. Flew ducted fan nitro years ago. But a deal came to me on an older Freewing NIB 4S F-16 with TV. And that was it! Ordered the SU-35 and was very pleased as to the fit and finish right out of the box. Overall quality is impressive and a great bang for the buck. Test flew last weekend and required little trim. Can hardly wait to get more stick time on her. The only two negatives I have found so far were the front nose gear block and the right wing panel mounting. We have a very smooth grass field that is mowed about as short as you could mow. I made a near perfect landing. Went out and carried the model back to the flight table and I noticed the nose gear block had popped loose. When I looked in to it further at home, there was little glue applied from the factory to nose block assembly. Nothing was damaged and I used Gorilla expanding glue to repair. I am confident this will not break free again. I hope my issue was the only one or it could this being a problem. The other issue is the right plug in wing panel has a little bit of up and down rocking motion. It is pushed in all the way tightly and ******* down tight yet still has a bit of rocking to it. Maybe needs a shim? Left wing panel fits very tight though. Anyway, this is a very cool jet and a really great value. I will buy from Motion RC again!
04/19/2019
Dominador T.
United States
Su35 Sukhoi
I like this plane, it's easy to fly & it's one of the best plane I ever flown. Try it & you will know what I'm talking about. Thanks motion rc for all your help. You are the best. I told my flying buddies my experience with you guys.
02/23/2019
Jeff S.
United States
Freewing Quality
The model has quality products throughout as is typical of the freewing furnishings (other than decals that the user needs to apply)...... more later when I've had a chance to fly ! The price was right as well for a PN-RTF (prettynear ready to fly) model plane.
SU-35 in the build process
Hi I just started the build on my new SU-35, had to wait on bad servo and broken elevator, every one say MotionRc has best customer service made a believer out of me. Without hesitation they sent me the parts needed to build SU-35 will finish by Sunday and hope to maiden soon thanks MotionRc for fast response and delivery will be doing more business.
Motion RC has a new European website
Go there instead?
Top