Freewing SU-35 Gray Camo Twin 70mm EDF Thrust Vectoring Jet - PNP
$39500
$39500
Freewing SU-35 Gray Camo Twin 70mm EDF Thrust Vectoring Jet - PNP
FJ30311P
Freewing SU-35 Dual 70mm Vectored Thrust EDF Jet - Receiver Ready - FJ30311P(F3101B)
NEW! Now comes with dual 12-Blade EDF fans instead of the old 6 blade fans.
This 3D version of the Freewing SU-35 has more thrust (3000g) than the regular version. The ESC has now been upgraded to dual 60A Hobbywing ESC as of July 2013. The size of the Freewing SU-35 is an amazing site to behold. This plane is one of the largest, most sophisticated, foam EDF jets made. Whether you like scale flight or outlandish maneuvers, the Freewing SU-35 can do it all. We think the Freewing SU-35 is one of the most entertaining EDF jets out there. The specs alone are amazing. The SU-35 is built from EPS foam and has nylon hinged control surfaces, shock absorbing landing gear, dual motors, dual ESC, dual 70mm EDF fans, and runs on a 6 cell LiPo battery. We are not sure what else to ask for in an EDF jet.
Features:
NEW! Dual Hobbywing 60A ESC
NEW! EC5 ESC Connector
NEW! 12 Blade EDF Fans
Dual 70mm electronic ducted fans (EDF)
360 degree vectored thrust for incredible maneuvers (hover, flip turns, etc.)
Durable shock absorbing landing gear
Nylon hinges on all control surfaces (superior to foam hinges
Brushless motor, ESC and servos installed
Includes:
Freewing SU-35 Gray Camo Twin 70mm EDF Thrust Vectoring Jet - PNP
Requires:
Product Specifications:
Wingspan

1080mm / 42.5in

Length

1630mm / 64in

Flying Weight

2600g

Power System

2x Brushless 3048-2150KV

Speed Control

2x 60A Hobbywing, EC5 connector

Propeller / EDF

2x 70mm EDF

Servos

9g standard with 100mm lead : vector 3, rudder
9g standard with 550mm lead : nose gear door
9g reverse with 300mm lead : vector 2
9g standard with 300mm lead : nose gear steering, left aileron, right aileron, vector 1
17g metal gear standard with 300mm lead : right elevator
17g metal gear reverse with 300mm lead : left elevator


Landing Gear

Servoless electric retracts, shock absorbers

Required Battery

6 Cell 22.2V 4000 - 6000 mAh LiPo Battery with EC5 connector

Required Radio

7 Channel radio with mixing ability

Rudder

Yes

Flaps

No

Ailerons

Yes

Lights

No

Hinge Type

Nylon hinges on all control surfaces

Material

EPS Foam
Product Videos
Product Questions & Answers
NOTE:
Questions submitted on this page are answered by customers who have previously purchased this item. If you have a support related question that requires immediate assistance, please visit our
Help Center
.
Product Support
Product Manuals:
Product Updates:
October 19, 2013  -  The wiring procedure to achieve in-flight on/off selection of the thrust vectoring flight modes is an advanced feature, and accordingly this aircraft is recommended for advanced pilots only.  A general wiring diagram is discussed in the manual, but pilots should expect some time to test various wiring arrangements themselves to optimize the thrust vectoring controls to their individual preference.
If you need any additional assistance, please visit the Motion RC Help Center
Product Reviews
Customer Reviews
Write a Review
Ask a Question
J
06/14/2020
Jeremy
United States
Awesome looking and flying jet!
I have had this jet for almost two years and I must say that it still impresses me. Most of my jets I change out servos, EDF and ESC but I left this one stock. The thrust vectoring will certainly push the rear end around on this jet and if you're not used to it may surprise you. Excellent jet.
06/11/2020
Ferman Y.
United States
su 35
When jet showed up the pilot in the canopy was loose so had to take the top off to fasten it front landing gear isn't very strong but other than that it flies nice just doesn't have very good flight time
05/22/2020
John
United States
Flys big
I have around 10 flights on this so far and I really like this su35. On the build I had to use foam tack on the rudder hinge because it was loose on the plastic hinge. Would have caused flutter. The servo arm of the right TV was too far forward barely had 2 threads holding. I had to pry the servo cover off to adjust it. I also strengthened the rudders with carbon spars as recommended on rc groups. Other than that it was good to go. The su35 flys big and has a 1 to 1 thrust ratio so it will hover. It could use more so it could pull out straight up but for stock it's good enough. Easy to land because it slows down surprisingly well. This is no speed demon but it is a blast to fly. I wish it was epo but so far it has held up fine. Time will tell.
05/19/2020
CeeKay
United Kingdom
Old school Freewing - awesome!
Had been after one of these for years and it had been on my wishlist ever since the EU warehouse opened. Finally decided to push the button and add it to my collection. It's very impressive. Even though it's made of EPS, it feels pretty solid and well put together. Everything was in the right place, no damage to any of the foam parts and all the electronics worked perfectly. It took about 2 hours to put together and really dominated the workbench. The new fan units are a massive improvement over the originals and the sound they make is awesome. Just getting ready for it's maiden flight and if the videos are anything to go by, I'm expecting no problems and amazing performance.
05/08/2020
Grant H.
United States
It's freakin awesome!
It fly's great. Extremely fun with thrust vectoring. Great model
05/07/2020
rodrigo g.
United States
02/21/2020
james p.
United States
Awesome flyer
Thrust vectoring makes this plane capable of hovering and is able to loop in just over its own length
12/01/2019
Randolph G.
United States
Su35
This is the last of the vectored jets . Great buy .put it together r waiting to fly.looks great ,the rest is up to me.liked it so much ordered the yellow version also.
10/25/2019
John S. Kallend
United States
3 years now
I see that I'm now over 3 years with this model. I have 13 edf jets and this is still my favorite. The EPS has held up amazingly well - it looks better than some of my newer EPO models. I have it set up with tailerons, flaperons, and the VT is on full time. It has absolutely no bad habits and will go wherever you put it. Never drops a wing even at ridiculously slow speed/high alpha. Handles post-stall maneuvers just fine including kulbits, flat spins, etc. and then just flies straight out of them when neutralizing the controls. I hope it stays in production for a whole lot longer.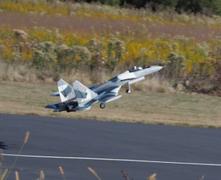 Motion RC has a new European website
Go there instead?
Top