Freewing T-33 Shooting Star USAF 80mm EDF Jet - PNP
FJ21712P
T-33 Shooting Star USAF 80mm EDF Jet - PNP from Freewing - FJ21712P
Motion RC is excited to announce the new Freewing T-33 Shooting Star in 1/9.5 scale. Honoring the popular T-33 that flew with over 40 countries between 1948 and 2017, the Freewing T-33 faithfully represents this amazing aircraft!
Constructed from EPO foam, carbon, wood, aluminum, and other materials, the Freewing T-33 is powered by an 80mm EDF power system optimized for performance and easy flying behavior. Its wide 1350mm (53") wingspan offers a light wing loading that allows for very stable flight and a mild gentle stall. Scale split flaps and robust aluminum trailing link suspension landing gear makes taking off from and landing on grass runways an easy operation. Removable tip tanks, an accurate overall outline, and landing gear doors enhance the scale fidelity of this model aircraft. With a quick and easy screw together assembly that is convenient for pilots wanting to get in the air quickly.
The Freewing T-33's power system provides performance that is similar to other recent 80mm Freewing jets such as the popular Avanti S and L-39 Albatros but is now powered by a 1920kv Inrunner! The 100A ESC provided ample headroom for high power use and the 9 blade EDF provides a proven efficiency that thousands of Freewing jets have had worldwide. Rapid acceleration, low cruising altitude position, and efficient energy consumption are key features of the Freewing T-33. Although it's wingspan is greater than more expensive 90mm jets, the T-33 is affordable to operate and makes a perfect EDF trainer jet for new jet pilots moving up from smaller 64mm and 70mm jets
  Visit the Official Freewing T-33 Shooting Star 80mm EDF Jet thread on HobbySquawk.com for additional photos, videos, reviews, and customer Q&A.
Ample Canopy and Battery Space




The T-33 has plenty of space in the battery compartment for any size of battery you need, plus added accessories if desired.
 

Clean Fit Landing Gear Doors




The landing gear doors have a nice, tight and clean fit for that ultra scale look pilots covet.
Scale Split Flaps




The scale split flaps are another nice feature adding to the realism of the model.
Molded Plastic On Intakes




Plastic intakes not only create a clean look but are functional in protecting the leading edge of the intakes from damage.
Robust Main Gears




The gears are a robust metal spring-loaded for both pavement and grass.
Inrunner Motor Preinstalled




A highly efficient inrunner brushless motor is pre-installed, providing a top speed in excess of 100mph / 160kph!
CG Mark Pre-Molded




The CG mark has been pre-molded into the model for your convenience.
Brass Ball Links




Positive control is afforded by strong servos and brass ball links that reduce slop in the control armature.   
Nylon Hinges Throughout




Nylon hinges throughout the model for durability.
Removable Tip Tanks




The tip tanks are easily removable for transport.
Features:
Model officially licensed by Lockheed Martin

Painted in the USAF 57th Fighter Interceptor Squadron "Black Knights" livery

9 blade EDF with 

3658-1920KV Inrunner brushless motor for incredible efficiency and performance

Split flaps, clean gear door profile and other scale details throughout

Durable metal gear for both paved and grass surfaces

Preinstalled ball linkage and decals

Removable tip tanks for ease of transport
Includes:
Freewing T-33 Shooting Star USAF 80mm EDF Jet - PNP
Brushless motor, servos and ESC preinstalled
Instruction manual
Requires:
Product Specifications:
SKILL LEVEL : intermediate
| | |
| --- | --- |
| Model Scale | 1/10 Scale |
| Wingspan | 1350mm / 53in |
| Length | 1200mm /47in |
| Weight | 2300g / 81oz (w/o battery) |
| CG (Center of Gravity) | 95mm from the leading edge of the wing at the root |
| Power System | 6S 3658-1920KV Inrunner Motor (included) |
| Electronic Speed Control | 100A with 5A UBEC (included) |
| Propeller / EDF | 80mm 9-Blade EDF (included) |
| Servos | 9g Digital Metal Gear Standard Servos |
| Landing Gear | Electronic retractable aluminum trailing link (included) |
| Required Battery | 6S 22.2V 4000-6000mAh LiPo with EC5 Connector (required) |
| Required Radio | 6+ Channel (required) |
| Ailerons | Yes |
| Elevator | Yes |
| Rudder | Yes |
| Flaps | Yes |
| Lights | No |
| Hinge Type | Nylon |
| Material | EPO Foam |
| Skill Level | Intermediate |
| Build Time | 1 Hour |
| Recommended Environment | Outdoors |
Product Videos
Product Questions & Answers
NOTE:
Questions submitted on this page are answered by customers who have previously purchased this item. If you have a support related question that requires immediate assistance, please visit our
Help Center
.
Product Support
Product Manuals:
If you need any additional assistance, please visit the Motion RC Help Center
Product Reviews
Customer Reviews
Write a Review
Ask a Question
05/23/2020
Jim
United States
Central Florida Flying
If you HAVE to spend money on a Chinese made jet and want to spend more than the cost of the P.15 Lipisch I reviewed here, this is the jet for you. Slow performance, fast performance out of the box, scale details, only thing that could make it better would be a 12 blade and duct work to add realism more than it already has.
05/12/2020
Jeff M.
United States
Fantastic EDF!
The T-33 is my fourth EDF from Motion, all Freewing. (Mig-21, F-15, L-39) The T-33 is already my go to EDF. It has a WIDE speed range. Stable at slow and high speeds. Of all my EDF's this one gives me the most flight time per charge. I have the timer set to 3:30 and typically land around the 4 minute mark. Leaving my Admiral 6s 5000's with approx 30% in the tank. Landing is straight forward, definitely the "easiest" to land of all my current Freewing Jets. The T-33 has very good power for long vertical climbs and aerobatics. Even at our club elevation of 4500'. 4-point rolls are pretty indeed. It can be flown scale, or kick up the throttle and hot-rod it around. All around fun. The T-33 is a classic, and a keeper!
05/11/2020
Darwin L.
United States
T-33 Black Diamonds
Santa Claus brought me the silver and red version of the Freewing T-33 for a Christmas present. I wanted something different than the two color schemes available from the factory, so I decided to paint my T-Bird in the black, gray and white scheme used by the Black Diamonds Air Show Team a few years back. The instructions say that you can just paint over the decals. I tried that and it didn't work very well. It was nearly impossible to cover that bright red, especially with the white. I used Acetone to strip all of the paint off down to the EPO foam. The Acetone took the paint off with minimum effort and did not attack the foam at all. I used the Callie Graphics T-33 Nomenclature decal sheet for the ground crew stencils. The numbers and insignia were made for me by Downen Signs in Fairview Heights, IL. I have not had a chance to fly the T-33 as yet, but a fellow club member just put the maiden flight on his a few days ago it flew very well, so I have high hopes for mine.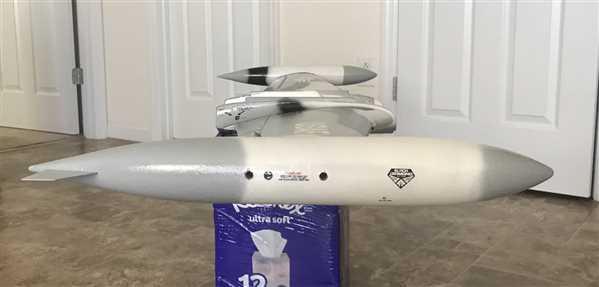 05/01/2020
FRANK C.
United States
KIT QUILITY
THIS IS A EXCLENT KIT EVERY THING FITS PERFET. THE DECALS LOOK GREAT. THIS A KIT RTO HAVE...….
04/28/2020
Robert W.
United States
t-33
This my second review on the T-33. After many flights both main gear buckets came out on landing and broke the nose gear doors. Great plane but I would recommend epoxying the landing gear in. There was only 2 small areas of glue on both buckets. Seems like Freewing could do a better job. Everything else is great and I am very satisfied.
03/15/2020
Robert L.
United States
Freewing T-33 Shooting Star USAF 80mm EDF Jet - PNP
Built but not flown yet, a beautiful kit.
03/10/2020
William M.
United States
Could be better
Got as a gift. My first EDF. One of my all-time favorite Jets. It's a great-looking model that is brought down by the fact that the landing gear system is, in fact, "sprung" but provides no actual benefit to flight ops due to the fact that the springs are so rigid. This model has, in essence, fixed gear. Examination of the main gear ops reveals that there are serious issues involving the gear arms engaging the doors with the slightest movement and having the potential for future failures. I believe Freewing purposely installed these rigid springs to actually prevent movement of the main gear when they discovered, perhaps late in the design/production phase, that this was a flaw. This was likely the most expedient and least costly fix and Freewing can still claim the model has "sprung gear". There is really no option for the buyer to correct this, other than to change to softer wheels for more cushioning, or by replacing the stock struts with something else. Very unfortunate as flight reviews are so positive. It's amazing that no one has mentioned this very obvious issue, but I guess that's because most hobbyists these days don't really pay that much attention. I also personally find it very annoying that Freewing has elected to use thread locker on many of the screws, making maintenance or parts replacement unnecessarily difficult-to-impossible. A good start Freewing, but you will have to do better before I would buy another Freewing product. A more in-depth discussion of these issues can be seen on RC Groups under Wmetcalf.
03/09/2020
Harold L.
United States
T33
Well, I have 6 flights on her and she flies so good. I really like the T-33 when I was in the Air Force. Freewing has a winner here.
03/08/2020
ALBERT K.
United States
FLAWLESS
WENT TOGETHER EASILY AND ON MAIDEN FLIGHT THIS IS THE ONLY PLANE OUT OF 103 I HAVE THAT DID NOT REQUIRE ANY TRIM AT ALL. GREAT LOOPS AND ROLLS AND SUPER STEADY AT ALL SPEEDS. WELL WORTH THE WAIT FOR THIS BEAUTY
Motion RC has a new European website
Go there instead?
Top