Freewing T-33 Shooting Star USAF 80mm EDF Jet - PNP
$39900
$39900
Freewing T-33 Shooting Star USAF 80mm EDF Jet - PNP
FJ21712P
T-33 Shooting Star USAF 80mm EDF Jet - PNP from Freewing - FJ21712P
Motion RC is excited to announce the new Freewing T-33 Shooting Star in 1/9.5 scale. Honoring the popular T-33 that flew with over 40 countries between 1948 and 2017, the Freewing T-33 faithfully represents this amazing aircraft!
Constructed from EPO foam, carbon, wood, aluminum, and other materials, the Freewing T-33 is powered by an 80mm EDF power system optimized for performance and easy flying behavior. Its wide 1350mm (53") wingspan offers a light wing loading that allows for very stable flight and a mild gentle stall. Scale split flaps and robust aluminum trailing link suspension landing gear makes taking off from and landing on grass runways an easy operation. Removable tip tanks, an accurate overall outline, and landing gear doors enhance the scale fidelity of this model aircraft. With a quick and easy screw together assembly that is convenient for pilots wanting to get in the air quickly.
The Freewing T-33's power system provides performance that is similar to other recent 80mm Freewing jets such as the popular Avanti S and L-39 Albatros but is now powered by a 1920kv Inrunner! The 100A ESC provided ample headroom for high power use and the 9 blade EDF provides a proven efficiency that thousands of Freewing jets have had worldwide. Rapid acceleration, low cruising altitude position, and efficient energy consumption are key features of the Freewing T-33. Although it's wingspan is greater than more expensive 90mm jets, the T-33 is affordable to operate and makes a perfect EDF trainer jet for new jet pilots moving up from smaller 64mm and 70mm jets
  Visit the Official Freewing T-33 Shooting Star 80mm EDF Jet thread on HobbySquawk.com for additional photos, videos, reviews, and customer Q&A.
Ample Canopy and Battery Space




The T-33 has plenty of space in the battery compartment for any size of battery you need, plus added accessories if desired.
 

Clean Fit Landing Gear Doors




The landing gear doors have a nice, tight and clean fit for that ultra scale look pilots covet.
Scale Split Flaps




The scale split flaps are another nice feature adding to the realism of the model.
Molded Plastic On Intakes




Plastic intakes not only create a clean look but are functional in protecting the leading edge of the intakes from damage.
Robust Main Gears




The gears are a robust metal spring-loaded for both pavement and grass.
Inrunner Motor Preinstalled




A highly efficient inrunner brushless motor is pre-installed, providing a top speed in excess of 100mph / 160kph!
CG Mark Pre-Molded




The CG mark has been pre-molded into the model for your convenience.
Brass Ball Links




Positive control is afforded by strong servos and brass ball links that reduce slop in the control armature.   
Nylon Hinges Throughout




Nylon hinges throughout the model for durability.
Removable Tip Tanks




The tip tanks are easily removable for transport.
Features:
Model officially licensed by Lockheed Martin

Painted in the USAF 57th Fighter Interceptor Squadron "Black Knights" livery

9 blade EDF with 

3658-1920KV Inrunner brushless motor for incredible efficiency and performance

Split flaps, clean gear door profile and other scale details throughout

Durable metal gear for both paved and grass surfaces

Preinstalled ball linkage and decals

Removable tip tanks for ease of transport
Includes:
Freewing T-33 Shooting Star USAF 80mm EDF Jet - PNP
Brushless motor, servos and ESC preinstalled
Instruction manual
Requires:
Product Specifications:
SKILL LEVEL : intermediate
| | |
| --- | --- |
| Model Scale | 1/10 Scale |
| Wingspan | 1350mm / 53in |
| Length | 1200mm /47in |
| Weight | 2300g / 81oz (w/o battery) |
| CG (Center of Gravity) | 95mm from the leading edge of the wing at the root |
| Power System | 6S 3658-1920KV Inrunner Motor (included) |
| Electronic Speed Control | 100A with 5A UBEC (included) |
| Propeller / EDF | 80mm 9-Blade EDF (included) |
| Servos | 9g Digital Metal Gear Standard Servos |
| Landing Gear | Electronic retractable aluminum trailing link (included) |
| Required Battery | 6S 22.2V 4000-6000mAh LiPo with EC5 Connector (required) |
| Required Radio | 6+ Channel (required) |
| Ailerons | Yes |
| Elevator | Yes |
| Rudder | Yes |
| Flaps | Yes |
| Lights | No |
| Hinge Type | Nylon |
| Material | EPO Foam |
| Skill Level | Intermediate |
| Build Time | 1 Hour |
| Recommended Environment | Outdoors |
Product Videos
Product Questions & Answers
NOTE:
Questions submitted on this page are answered by customers who have previously purchased this item. If you have a support related question that requires immediate assistance, please visit our
Help Center
.
Product Support
Product Manuals:
If you need any additional assistance, please visit the Motion RC Help Center
Product Reviews
Customer Reviews
Write a Review
Ask a Question
07/23/2020
Darryl P.
United States
Freewing T-33 Shooting Star
Purchased the USAF T-33 Shooting Star and re-finished with Callie Graphics in the Sanders / Brickert version of the Canadian Air Forces "Red Knight" T-133 Silver Star demonstration aircraft. Assembly is a simple bolt together construction, which requires very little time. The center of gravity (C/G) was located at the molded markings with an Admiral 5000 mAh lipo pack. I set up the control surfaces to the recommended high rate throws and programmed 25% expo to the aileron and elevator. Mid and full down flap were also set with the recommended down elevator mix. First flight was straight into a 10 m/h headwind. When full power was applied, the model tracked straight and lifted off smoothly and quickly established a positive climb. The model continued to accelerate while climbing as I began a gradual right turn to stay over the field. I leveled out and reduced power to 3/4 throttle, establishing a steady cruising speed in level flight. A few clicks of up trim were needed as he model flew a little nose heavy. This condition was preferred for the initial flights as an aft C/G setting is nearly always uncontrollable. Elevator control was effective at the recommended settings. Ailerons were surprisingly sensitive, even at 3/4 throttle cruising speed. Model can maintain its speed for a long distance in a power off glide with a slight nose down attitude. Initiated throttle reduction in the set up for landing far sooner during the turn onto the downwind leg rather than the base to final leg. Full flaps deployed and held a little throttle with nose level approach while maintaining a consistent rate of decent. A little throttle added to arrest the decent as the mains touched down. Overall a well behaved, stable model. Great power availability. Great little sport jet.
07/18/2020
Anthony D.
United States
Freewing T-33
Fine jet, fast, rock steady!
07/16/2020
Bradley B.
United States
07/15/2020
luke M.
United Kingdom
She's a star!
All round a fantastic aircraft. The looks and finish are spot on. Assembly is super simple, no glue, just screws. This thing floats like a glider, a great first EDF for sure! The only issue I found was in the manual. It states with an Admiral 6s 5000 the battery should be placed at 70mm on the battery tray. This puts the aircraft really nose heavy, my pack is sat around 30mm to achieve CG.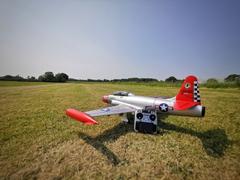 07/13/2020
Brad
United States
One of the best
Ok guys, I have the F22 90mm, L39, F86, BAE Hawk, F16, the regular Avanti, and the HP Avanti and this T33 is one of my favorites. The fit and finish is great. I had my doubts, thinking that there is no way a jet that looks this good can fly good. I was wrong, this jet flies terrific and has no bad habits. It takes off grass with plenty of power and tracks like it's on rails. It's easy to see and lands like a typical low wing pattern plane. I use a 4000 mah battery and get 3-3.5 minutes with some left for aborted landings. You will love this plane and really enjoy it! Another winner from Motion RC!
07/13/2020
John B.
United States
Excellent
Purchased one for my son, he absolutely enjoys it. A great jet right out of the box, no changes required. The T-33 sounds good and has plenty of power. A lot of room and easy access for the battery makes it an easy jet to fly. Landings are easy and a lot of fun. The T-33 is an absolute winner.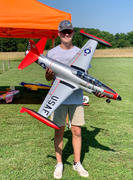 07/13/2020
JC S.
Canada
The star of the field
Got back to flying a month ago after a 24 years break. Bought the T bird for my second plane (started back with a hangar 9 meridian). Excellent flying experience with it. Found out on the fourth flight that the landing gear (the right main gear) wasn't glued properly from factory. It resulted in a cartwheeling crash with minor battle damages. Glued everything back with tac-foam glue and epoxy and the bird is still flying like new. Added a whistle in the tail pipe for increase jet like sounds and it works very well (Hair arm riser...).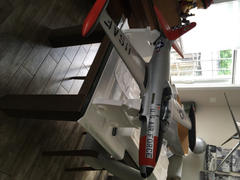 07/11/2020
Keith B.
Malaysia
Beautiful Model
I had an issue with the blue box, the left wing was dead no aileron, flap or landing gear retract function. I advised Motion and they were quick to send me a replacement. It seems to be all working fine now so as soon as I can will maiden it.
07/10/2020
Carsten B.
Germany
Great flying plane but problems with the landing gear
The plane looks awesome and is performing awesome in the air. But the main landing gears are glued not very well in the wings. On the first flight i lost the right landing gear at the start and on the third flight i lost the left landing gear at a smooth landing. Nearly no glue at the parts. It´s very sad )-: Three flights and the plane looks as it had 100 flights.
Motion RC has a new European website
Go there instead?
Top