SKU: ADM6026-001
Admiral 4x AA/AAA NiMH Battery Charger
Sale price

$1349

Regular price

$

(Save $-13.49)

Overview
Admiral 4x AA/AAA NiMH Battery Charger - ADM6026-001
Note: Batteries as shown in the photos are not included.
Save money and reduce chemical waste by using rechargeable NiMH cells in your common electronic devices! Rather than disposing "one-time-use" Alkaline batteries, recharging NiMH batteries dozens of times is far more economical to keep your radio transmitters and other hobby and household devices powered on. This Admiral NiMH smart charger can charger either AA or AAA size cells, up to four at a time.
With a universal input voltage range of 100-240V and a variable charge rate from 224mA-1800mA based on the size and quantity of batteries being charged, this smart charger displays the real-time State of Charge ("SoC") for each battery on an individual LCD display. Intelligent microprocessor based computing charges your NiMH batteries safely, and additional internal components provide automatic protection against short-circuits and reverse polarity.
This Admiral NiMH smart charger is intended for use with AA or AA size rechargeable NiMH cells only. Do not use any other chemistry (Alkaline, NiCd, LiIon, LiPo, etc) in this charger.
We recommend use with the Admiral 1.2V 2600mAh NiMH four pack or six pack, SKU# ADM6025-001 or ADM6025-002.

Videos

Q&A
Product questions & answers
NOTE: Questions submitted on this page are answered by customers who have previously purchased this item. If you have a support related question that requires immediate assistance, please visit our Help Center
SKU: ADM6026-001
Admiral 4x AA/AAA NiMH Battery Charger
Sale price

$1349

Regular price

$

(Save $-13.49)
Adding product to your cart
Customer Reviews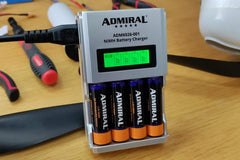 Admiral 4x AA/AAA NiMH Battery Charger
ARF BUNDLE - ARF plus Electronics - $219.00