Admiral 800mAh 2S 7.4V 30C LiPo Battery with JST Connector
EPR08002J
Admiral 800mAh 2S 30C LiPo Battery with JST Connector - EPR08002J
Motion RC gave this new generation of Admiral LiPo batteries a significant upgrade in mid 2017 with the goal of providing superior reliability and performance. Admiral LiPo battery packs feature reasonably low internal resistance, factory sorted and matched cells, and the power to help your planes perform their best. All of this comes with a significant boost in reliability. We've tested these batteries in all of our planes and had great results.
18 AWG wire
JST Connector
JST/XH Balance Connector, the most common balance plug on the market which is compatible with most Li-Po chargers
Product Specifications:
| | |
| --- | --- |
| Weight | 46g/1.62oz |
| Length | 57mm/2.24in |
| Width | 30mm/1.18in |
| Height | 14mm/.55in |
| Wire Gauge | 18 |
| ESC Connector | JST Connector |
| Balance Connector | JST/XH |
| Capacity | 800 mAh |
| Discharge Rate | 30C |
| Charge Rate | 3C |
| Voltage | 7.4V |
| Series(S) Parallel(P) | 2S1P |
| Number of Cells | 2 |
Product Questions & Answers
NOTE:
Questions submitted on this page are answered by customers who have previously purchased this item. If you have a support related question that requires immediate assistance, please visit our
Help Center
.
Product Reviews
Customer Reviews
Write a Review
Ask a Question
01/26/2020
Ken D.
United States
Great Product but Design Trade-offs
I bought this battery for use as a receiver battery on my airplanes. But the battery designers on these 800 mah packs decided to use 18 ga wire. Not a problem if you use JST but if you use regular servo connectors to power things up there is a problem. The insulation is so think it does not fit into the servo connector housings. So, they go from a great battery to only so so for me. These must be deigned for lighting systems and small edf's, but these are perfect for a receiver. Maybe 20 ga wire next time?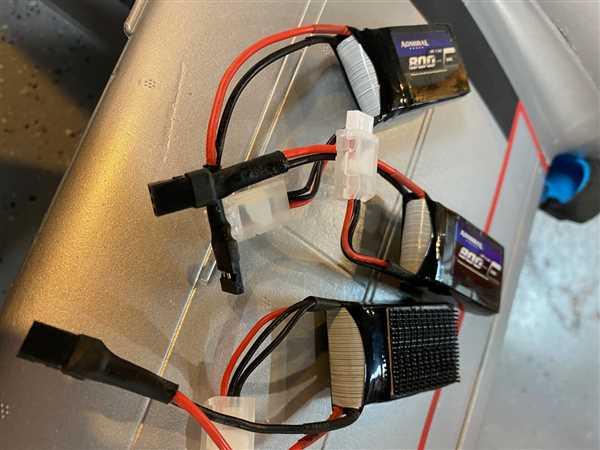 01/25/2020
steven h.
United States
admiral 800 2s
Really good battery. Well worth the money.
01/02/2020
Ronald S.
United States
Exactly what I wanted.
Exactly what I wanted.
12/31/2019
Dan C.
United States
Works very well so far
Excellent battery so far, good value and can't complain about the performance
11/07/2019
Chris J.
United States
Admiral batteries
Admiral batteries are top notch I have several other batteries in my reserve and these are the only ones that have not been loaded overtime trust these batteries 100% I would put them in any Plane I own
05/20/2019
Monty B.
United States
Just the right size
Fits the e-flight A-10 perfectly and provides a solid 4 min flight time with end voltages at at 3.79 to 3.8. 33 to 34% capacity so enough for one or two go arounds if you end up with a bad approach. Great value.
04/15/2019
ken r.
United States
Battery purchase....
Very satisfied with the battery, and the other sizes of battery in the same order. No flying yet, since winter is slow in leaving this year.
01/16/2019
Mike S.
United States
Great Battery!
Lighter than the GForce 800.
12/05/2018
Thomas C.
United States
TClark
It was easy to to find the item that I needed, and it was easy to place my order. The Parts arrive when promised. I will Use MOTIONRC again.
Motion RC has a new European website
Go there instead?
Top