Admiral Carbon 5100mAh 6S 22.2V 70C LiPo Battery with EC5 Connector
EPRAC5006E
Admiral Carbon 5100mAh 6S 70C LiPo Battery with EC5 Connector - EPRAC5006E
In mid-2017 Motion RC gave Admiral LiPo batteries a significant upgrade with the goal of providing superior reliability and performance. Our standard Admiral LiPo battery packs feature reasonably low internal resistance, factory sorted and matched cells, and the power to help your planes perform their best. 
August 2018 highlights the release of our Carbon series. Admiral Carbon takes the Admiral brand to a whole new level. We are very excited to share Admiral Carbon technology as this battery will provide the performance boost many are looking for. The boost will be most noticeable in EDF jets with a high current demand. Independent testing verifies Admiral Carbon is one of the top-performing batteries available today. The Admiral Carbon cells are factory sorted and matched.
Unbelievably Low Internal Resistance
These Admiral Carbon packs have very low IR (Internal Resistance) which effectively raises the C rating.  A carbon-based conductor is used to keep IR extremely low.  Carbon has very little resistance which promotes a very slow and shallow discharge curve when looking at amperage output. 
An average LiPo battery produces its highest C rating for the first 10 seconds.  From there, the amperage becomes exponentially less as the flight continues. You simply cannot maintain the performance at the end of the flight that you had in the beginning. This is the natural regressive state we are all used to with normal LiPo batteries. However, Admiral Carbon will give you nearly the same performance at the end of your flight as compared to the beginning.
Due to a lack of regressive performance, it is vital that you use a timer because you will not have any appreciable visible cues for when it is time to land due to the battery's resistance to a noticeable drop off in performance. Eventually, the Admiral Carbon becomes discharged and performance drops drastically as you hit Low Voltage Cutoff (LVC), a practice you always want to avoid to maintain proper battery health and longevity. Here is a basic chart to illustrate the difference:
Of course, all of this performance does come with a small price. Admiral Carbon packs are heavier and larger than our standard Admiral LiPo. Please check the dimensions and weight of this battery and be sure it fits your application. Note extra performance does not equal extra flight time. Flight time should remain similar to the Admiral 5000.
Features:
One of the lowest IR (Internal Resistance) ratings on the market

Independent testing verifies the Admiral Carbon is one of the top-performing LiPos on the market
Perfect for your power-hungry 6S EDF jet or airplane
Extremely low and shallow discharge curve (one of the best in the industry) 

High-quality, 

10 AWG copper wire

Genuine EC5 Connector

JST/XH Balance Connector, the most common balance plug on the market which is compatible with most Li-Po chargers
Product Specifications:
| | |
| --- | --- |
| Weight | 866g / 30.54oz |
| Length | 150mm / 5.90in |
| Width | 50mm / 1.96in |
| Height | 55.5mm / 2.18in |
| Wire Gauge | 10 |
| ESC Connector | EC5 Connector |
| Balance Connector | JST/XH |
| Capacity | 5100 mAh |
| Discharge Rate | 70C |
| Charge Rate | 3C |
| Voltage | 22.2V |
| Series(S) Parallel(P) | 6S1P |
| Number of Cells | 6 |
Product Questions & Answers
NOTE:
Questions submitted on this page are answered by customers who have previously purchased this item. If you have a support related question that requires immediate assistance, please visit our
Help Center
.
Product Reviews
Customer Reviews
Write a Review
Ask a Question
02/09/2020
Keith
United States
Powerful!
I'm used to the 5000mah 6s 50c batteries in my ME262, and these give noticeably more thrust with the 12blade fans. It's nice to finally see some high C batteries. I fly EDFs pretty exclusively and I can tell a big difference between batteries.
01/06/2020
Rickey M.
United States
ADMIRAL 5100 CARBON LIPO
GREAT BATTERY I HAVE 4 OF THESE FLYING IN DUCTED FANS BATTERIES DON'T GET HOT( JUST WARM) AND FLIGHT TIMES ARE GOOD FOR DUCTED FANS. F-4 ABOUT 3 GOOD MIN. THE AVANTE S ABOUT 5 GOOD MIN. GREAT BATTERIES!!!!!
12/30/2019
Victor G.
United States
Carbon 5100
Best pack ever, did some flying witm my jet , very good performance
12/30/2019
Ioannis V.
Greece
battery review
Very good battery, very low internal resistance
12/11/2019
William D.
United States
The must have battery for props or EDF's!!!
Wow! What a great battery! I'm buying more of these! 70c's for the win!
12/11/2019
Mark S.
United States
Good battery
Worked good in my 1400 A-10 70mm
11/21/2019
Mark G.
United States
Solid Power from start to finish!
I know have 4 of these lipo's and will get more as I can afford to. These lipo's are PERFECT for your larger (90mm) EDF Jets, especially when your in the Landing pattered and you need that extra bang for a go-around. Don't let the extra $$$ keep you from having these, your $500/$600 Jets are worth every penny!!!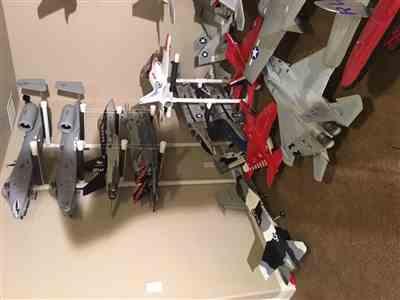 10/29/2019
PETE J.
United Kingdom
Brilliant Battery!!
I now have 2 of these superb batteries, for use in my 90mm jets and honestly cannot fault them, on receiving them, both batteries had ballanced cells from the get go and have remained in perfect condition since purchase, very well recommended. Pete Jeffs.
10/17/2019
chris w.
United States
High end battery, ideal for RC powerboats
Using two of those now in my catamaran with a twin setup. I removed the EC5 and soldered XT90 on to match my ESC's. Wished, motion RC would offer different plugs. With my old turnigy 5000, 65C it ran 75 mph, now with the admirals it runs 80 mph and there is room for bigger props. There does not seem to be a decrease in capacity even after 5 minutes. I still have to break them in more and see if they improve in performance. Ran them only twice so far. Weight on the website is inaccurate, the ones I purchased are lighter, only 835-850g.
Motion RC has a new European website
Go there instead?
Top