SKU: RBN-BTS2000
Bat-Safe XL Battery Charging Safe Box
Sale price

$12490

Regular price

$

(Save $-124.90)
Overview
Videos
Spare Parts
Q&A
Support

Overview
Bat-Safe XL Battery Charging Safe Box from Bat-Safe -
RBN-BTS2000
Warnings can be found on any LiPo battery for very good reason and should always be followed. LiPo battery fires have quite literally destroyed the homes and/or property of a segment of the RC flying population due to insufficient and unsafe storage and charging practices.  All of us at Motion RC always put safety first in this hobby and we are proud to offer our customers the Bat-Safe charging safe box.
The XL Bat-Safe battery charging safe box is a simple and safe solution for charging your LiPo batteries.  You can charge and store up to twelve 6S 5000mAh LiPo batteries or equivalent safely and with confidence.
The Bat-Safe is an insulated double wall steel box which contains fire and intense heat in the event of a battery fire.  The smoke and soot is filtered through a flame arrestor.  Bat-Safe is light weight, easy to use and inexpensive.  The Bat-Safe is cheap insurance for anyone who uses lithium batteries of any size.  Comes with a magnetic attached charger stand, handle for easy transport, fire-proof lid seal and access for charging wires.
Do not risk losing your home or property due to insufficiently-stored batteries when charging.  With Bat-Safe, you're guaranteed a safe place to charge and store your batteries.
Note: The bat graphics are now only on the top side/lid.
Features:
Light weight
Simple and effective solution
Easy to use
Handle for easy transport
Inexpensive
Fire-proof lid seal
Access for charging wires
Includes:
Bat-Safe XL Battery Charging Safe Box
Magnetic attached charger stand
Specifications:
Charging space: 9.5" x 6.5" x 15"
Outer dimensions: 12" x 9" x 18"
Maximum charging/storage capability: 12x 6S 5000 mAh Lipo
Weight: 5lbs

Videos

Spare Parts
Product Spare Parts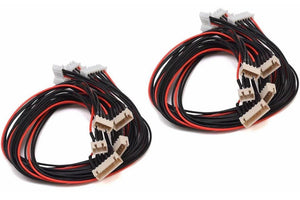 Balance Wire Extension Set for Bat-Safe XL
SKU: RBN-BTS2100
$1999

Q&A
Product questions & answers
NOTE: Questions submitted on this page are answered by customers who have previously purchased this item. If you have a support related question that requires immediate assistance, please visit our Help Center

Support
Product support
Product Manuals:
If you need any additional assistance, please visit the Motion RC Help Center