FlightLine F4U-1D Corsair "Bubble Top" 1600mm (63") Wingspan - PNP
FLW3041P
FlightLine F4U-1D Corsair "Bubble Top" 1600mm (63") Wingspan - PNP - FLW3041P
The F4U Corsair was a carrier-based and land-based aircraft developed during WWII.  Its unique inverted sea-gull wing is its distinctive feature, as well as its maneuverability and versatility to operate in many areas.  Its powerful engine, producing a top speed of 640 kph, made the Corsair one of the fastest piston fighters in the world at that time.  In the Pacific battlefield, it achieved an impressive 11:1 combat record.  The Corsair remained in military service after WWII into the Korean war era and several continue to fly today with civilian operators.
This FlightLine F4U Corsair is approximately 1/8 scale, with a 1600mm wingspan and 1300mm length.  We offer both the F4U-1A ("Birdcage" canopy) and F4U-1D ("Bubble Top" canopy) versions of the early three-bladed Corsair, and each version sports its own period-accurate factory paint scheme and includes appropriate decals from which users can choose their favorite to apply.  Molded from EPO foam and featuring a scale shape with lots of plastic parts to enhance its scale fidelity and user friendliness, all the Corsair's control surfaces are easily assembled with screws. 
Like the FlightLine 1600mm Spitfire Mk.IX and Freewing A-10 Warthog, this Corsair also features a multi-material wing, utilizing foam, plywood, plastic, carbon tubes, and aluminum extrusions to provide a stronger wing than solid foam yet still lightweight and maneuverable.  Scale lighting, scale six-panel flaps, scale landing gear, sharply molded panel lines and raised surfaces, and various other scale features make this the best big foam electric Corsair on the market today!
The FlightLine F4U Corsair stock PNP version is equipped with a 5055-390KV brushless outrunner motor and scale 3-blade propeller and 80A ESC.  The specially molded large size propeller and all-new motor help power the Corsair through acrobatic maneuvers with ease while retaining a reasonable scale appearance.  The model can cruise at ~40-50% throttle setting and loop consecutively at only 50%-60% throttle setting.  Vertical performance is also excellent for a scale model this size!  With the recommended Admiral 6S 5000mAh lipo battery, the F4U Corsair has a level top speed of 125kph/75mph, with 5-9 minutes of flight time depending on throttle management. 
Takeoff is very stable without the need for flaps.  The F4U can execute a wide range of maneuvers, including all scale maneuvers and additional non-scale acrobatics.  Its aluminum suspension main struts and tall wheels provide confidence when operating on grass runways.  All three landing gear are retractable, and the mains even feature three panel sequenced molded plastic gear doors for ultimate realism.
To give users an added element of versatility, the inside wall of the molded plastic cowl incorporates eight hidden tubes to house lead ballast, which users can add or remove depending on their preferred battery size (i.e. add ballast if flying a 4000mAh, remove ballast for 6,000+mAh).  For users flying the recommended Admiral 6S 5000, no additional ballast is required other than what is already factory-installed.  Refer to the manual for the recommended CG position.
An optional 3DPUP Cockpit Set is also available separately to further enhance the realism of this bold and beautiful F4U Corsair!
  Visit the Official FlightLine 1600mm F4U-1A/D Corsair Discussion Thread on HobbySquawk.com for additional photos, videos, reviews, and customer Q&A.
Features:
Model officially licensed by Northrop Grumman
Grass capable landing gear with 5mm thick steel pin and metal trunion
All new rotating main retract unit
Metal suspension main struts with sequenced main gear doors
Retractable tail wheel with scale detailing
Scale four panel split flaps with rounded leading edge like the full scale
Multi-material wing incorporates foam, plywood ribs, carbon spars, and aluminum joints for optimum strength
DayBright LED wingtip lights and sequenced landing light
9g-17g digital hybrid servos, brass ball links, and nylon hinges on all control surfaces
Large 18x12 (90% scale) diameter propeller with aluminum alignment and reinforcement plates
Integrated ballast chamber concealed within the plastic cowl
F4U-1A ("Birdcage" canopy) and F4U-1D ("Bubble" canopy) PNPs available in different paint schemes
Each version contains two decal sets
Admiral 6S 5000 provides 5-9 minutes average flight duration with throttle management
Includes:
FlightLine F4U-1D Corsair "Bubble Top" 1600mm (63") Wingspan - PNP
Motor, ESC, servos, LED lights and retracts pre-installed
Requires:
Product Specifications:
SKILL LEVEL : intermediate
Model Scale

1 : 8 Scale

Wingspan

1600mm / 63in

Length

1300mm /51.18in

Empty Weight

2850g / 100.53oz (w/o battery)

CG (Center of Gravity)

100mm (3.93") from the leading edge of the wing at the root

Power System

6S 5055-340kV Brushless Outrunner Motor

Electronic Speed Control

80A, EC5 Connector

Propeller / EDF

18x12 3-Blade Propeller

Servos

9g hybrid gear standard with 300mm lead : left gear door, right gear door
9g hybrid gear digital standard with 750mm lead : tail wheel steering
17g hybrid gear digital standard with 550mm lead : left aileron, right aileron
17g hybrid gear digital standard with 400mm lead : left outboard flap, right outboard flap
17g hybrid gear digital standard with 180mm lead : left inboard flap, right inboard flap, rudder, elevator

Landing Gear

Electronic retractable main gear with all metal shock absorbing struts and retractable tail wheel with scale plastic details

Required Battery

6S 22.2V 4000-6000mAh LiPo with EC5 connector (required)

Required Radio

6 Channel (required)

Ailerons

Yes

Elevator

Yes

Rudder

Yes

Flaps

Yes

Lights

Yes

Hinge Type

Nylon Reinforced

Material

EPO Foam

Skill Level

Intermediate

Build Time

2 Hours

Recommended Environment

Outdoors
Product Videos
Product Questions & Answers
NOTE:
Questions submitted on this page are answered by customers who have previously purchased this item. If you have a support related question that requires immediate assistance, please visit our
Help Center
.
Product Support
Product Manuals:
Product Updates:
February 15, 2019  -  These are updated .STL cockpit files for the F4U-1D Bubbletop version of this model. These files have been modified and tested for a good fit for your FlightLine F4U-1D Bubbletop cockpit. Note: These files will not work properly for the F4U-1A Birdcage version. You can download the Bubbletop .STL files directly at this link.
February 14, 2019  -  These are updated .STL cockpit files for the F4U-1A Birdcage version of this model. These files have been modified and tested for a good fit for your FlightLine F4U-1A Birdcage cockpit. Note: These files will not work properly for the F4U-1D Bubbletop version. The updated .STL files for the Bubbletop version will be coming soon. You can download the Birdcage .STL files directly at this link.
February 1, 2019  -  The 3D parts that comprise the .STL files listed in the link below are not a perfect fit so some moderate trimming will be required. The side panels stick up beyond the canopy base so an additional panel piece (90 degrees from the top of the side panels) will need to be constructed.  We hope to have these additional pieces added to the STL file download link in the near future.
January 3, 2019  -  For modelers with access to a 3D Printer or who want to use a third party 3D printing service, we are offering the original .STL files for free download. Modelers are responsible for preparing the file for their own printer's specifications. These downloadable files are ideal for modelers who enjoy tinkering with printer settings and materials. Please note, we only provide the .STL files themselves; we cannot provide tech support for your specific printer. By downloading the .STL files, you agree to not monetize the file in any way without Motion RC's express written consent. If you have your own 3D printer, or have access to one, you can download the STL files directly at this link. (There are 6 total STL cockpit files, formatted for 3D printing included in this .ZIP file).
If you need any additional assistance, please visit the Motion RC Help Center
Product Reviews
Customer Reviews
Write a Review
Ask a Question
05/16/2020
Marcio S.
United States
Love it
I have the spitfire and the f4u both are great but this one is better in several aspects. More stable more space and nicer retracts with doors etc.
05/13/2020
Joseph P.
United States
05/13/2020
BIll A.
United States
Nice Flying Corsair
I love this plane, easy to assembly and easy to fly,
05/11/2020
Matthew .
United States
Good plane! Well built!
This is my 3rd warbird to own and my first 1600mm. Before this, the biggest warbird I had flown was a 1200mm and let me say, I immediately noticed a big difference when it took to the air. I'd say I'm an intermediate pilot and this bird was a handful for me on the maiden. I balanced it at the recommended CG and I only needed a little nose up trim. It flew nicely at first but I noticed it didn't really get through the turns very well (maybe I wasn't giving it enough power?) and I wasn't doing any knife edge turns or anything crazy, just standard turns. Before the flight I wasn't sure what to expect, so to be safe, I put the AR636 receiver with SAFE select on it in the plane. I flipped the SAFE switch on when I came in for landing to help with stability and I came in with too much speed. At the last moment the wing dipped low and the plane yawed slightly to the left, causing the gear to contact the ground at an angle. The weight of the plane and it now coming down yawed to the left instantly crushed BOTH of the gear (along with a few gear doors). Miraculously, NONE of the foam was damaged or even scratched. 2 new gear assembly's and all new gear doors and it'll be back up in the air in no time! Overall, great looking plane, however, NEW PILOTS BEWARE. Unlike some other RC planes, (trainers, high wings, etc.) this plane will only fly as good AS YOU ARE. Some planes will fly themselves, this one WILL NOT. If it's properly trimmed it'll fly straight with no problem, but the second you try and turn, you better have rudder inputs and elevator input as well or else it's going to start descending. Great warbird nonetheless and I love it!!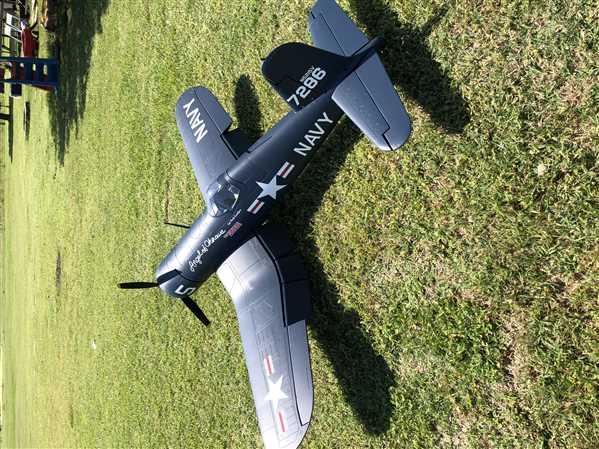 05/10/2020
George M.
United States
FlightLine F4U-1D Corsair "Bubble Top" 1600mm (63") Wingspan - PNP
Awesome looking aircraft!! Easy assembly! Panel line details etc amazing!
04/17/2020
Steve M.
United States
Flightline Corsair
Like all Flightline planes, well done.
04/17/2020
Donald p.
United States
Another Winner from Motion RC
What a beautiful commemorative airplane! So pretty that I was afraid to fly it, but Charlie gave it a beautiful " maiden " flight yesterday! Awesome and perfect. I forgot to tell him that I had installed the Admiral Stability plus receiver that surprised him! Next time he will get mode C, but for my turn I feel less weak knees in mode A. Charlie also upgraded the cockpit with his 3D printer and the plane flies with an open canopy!
04/11/2020
Charles T.
United States
Great plane
Very happy with my purchase this plane flys amazing
Motion RC has a new European website
Go there instead?
Top