FlightLine Spitfire Mk.IX 1600mm (63") Wingspan - PNP
$37900
$37900
FlightLine Spitfire Mk.IX 1600mm (63") Wingspan - PNP
FLW303P
FlightLine Spitfire Mk.IX 1600mm (63") Wingspan - PNP - FLW303P
The Supermarine Spitfire is one of the most popular warbirds in history. This British single-seat fighter was used famously by the Royal Air Force and the Allies, earning distinction during the Battle of Britain and throughout World War II. Over 20,300 aircraft were produced with more than 24 variants. The Spitfire's versatility and maneuverability in the hands of skilled pilots made it a lethal weapon against Axis forces. The timeless Spitfire continues to fly in modern times as a tribute to aviation history and military veterans.

After a large outpouring of requests from customers to upsize its smaller 1200mm Spitfire, FlightLine's 1600mm wingspan Spitfire Mk.IXc is approximately 1/7 scale and an entirely larger beast with all the bells and whistles we've come to expect from aircraft in the 1600mm Class. This Spitfire is molded from EPO foam, featuring a scale shape and smooth surface. The main wing is assembled from hollow foam parts and an interlocking plywood and carbon fiber frame, providing lower weight and higher strength than a solid foam wing. The main wing and horizontal tail are attached with screws for very convenient transport, and proper ventilation is also designed to keep the electronics cool. The large battery hatch and removable battery bay floor provides easy access to an organized battery and receiver compartment, including space for an optional flight stabilizer gyro.

This elegant model aircraft is equipped with a 5055-390KV brushless outrunner motor, 80A ESC, and scale 4-blade propeller. With the recommended 6S 4000-5000mAh lipo battery, the Spitfire MK.IXc has a level top speed of 125kph/75mph, with tall vertical power and 6-10 minutes of flight time depending on throttle management. Delivering capable grass handling performance, the main landing gear use shock absorbing Oleo struts, a main wheel diameter of 85mm, and a tail wheel diameter of 45mm. Metal reinforcement plates, 5mm thick steel strut pins and axles, and metal trunions work together with the suspension struts and soft wheels to dampen the forces caused by operating this aircraft on rough runways. The FlightLine 1600mm Spitfire Mk.IXc was optimized for sport scale performance, gentle handling, and an almost effortless flying experience, suitable for intermediate pilots and above. Importantly, a very predictable stall and power on recovery make the aircraft easy to control throughout all stages of flight. Day-Bright LEDs also aid in visibility of this large and beautiful foam electric model aircraft.

The FlightLine 1600mm Spitfire arrives completely painted. To personalize your Spitfire, included in the box are two optional decal sets, depicting the aircraft of Squadron Leader F.A.O. Tony Gaze (MA621 DV-A) and Lieutenant Michel Boudier (BS393 GW-Z). We are proud to partner with Callie Graphics (www.callie-graphics.com), with whom we've prepared a wide line of optional decal sets for separate purchase to further customize your new Spitfire!
  Visit the Official FlightLine 1600mm Spitfire Discussion Thread on HobbySquawk.com for additional photos, videos, reviews, and customer Q&A.
Features:
Grass capable landing gear with suspension struts and 

5mm thick steel pin and metal trunion

Scale four panel split flaps
Big 16x10 Propeller, 5055-390KV brushless motor and 80A ESC with EC5 connector
LED wingtip lights and dorsal signal light
17g digital hybrid servos, brass ball links, and nylon hinges on all control surfaces
Machine Screw Inserts molded into the spinner backplate to easily adjust blade tracking while mounted on the motor
Removable wings, cannon, and antenna for easy transport
Central Control Board for organized wiring
Access holes to adjust Elevator/Rudder linkages without removing the wing
Gyro ready plywood area near CG location
Two decal sets included: MA621 DV-A, Squadron Leader Tony Gaze, 129 Squadron, 1943 and BS393 GW-Z for Lt. Michel Boudier, 340 Squadron, 1942
Additional sets made available by Callie Graphics, including George Beurling, Pierre Clostermann, etc.
Includes:
FlightLine Spitfire Mk.IX 1600mm (63") Wingspan - PNP
Motor, ESC, servos, LED lights and retracts pre-installed
Requires:
Product Specifications:
SKILL LEVEL : intermediate
Wingspan

1600mm / 62.99in

Length

1350mm / 53.1in

Flying Weight

2850g / 100.53oz

CG (Center of Gravity)
90mm from the leading edge of the wing at the root

Power System

5055-390KV Brushless Outrunner Motor

Electronic Speed Control

80A Brushless with EC5 connector

Propeller / EDF

16x10 4 Blade Propeller

Servos

17g digital hybrid gear standard with 550mm lead: left aileron, right aileron
17g digital hybrid gear standard with 300mm lead (plus 100mm extension): left flap, right flap
17g digital hybrid gear standard with 300mm lead: elevator, rudder


Landing Gear
Electric retracts with metal trunions

Required Battery

6 Cell 22.2V 4000 to 6000 mAh LiPo battery with EC5 Connector

Required Radio

6+ Channel 2.4GHz

Ailerons
Yes

Elevator

Yes

Rudder
Yes

Flaps

Split Flaps

Lights

Yes

Hinge Type

Nylon reinforced

Material
EPO Foam
Skill Level
Intermediate
Build Time
1 Hour
Recommended Environment
Outdoors
Product Videos
Product Questions & Answers
NOTE:
Questions submitted on this page are answered by customers who have previously purchased this item. If you have a support related question that requires immediate assistance, please visit our
Help Center
.
Product Support
Product Manuals:
Product Updates:
September 11, 2018  -  The FlightLine 1600mm Spitfire recommends a 6S 5000 mAh Lipo, but can be flown on an equivalent weight 4S pack at a higher throttle setting.  Extra special care for CG must be taken, since the 6S 5000 is typically pushed all the way forward, meaning a 4S would need to be an equivalent weight.
August 9, 2018  -  For modelers with access to a 3D Printer or who want to use a third party 3D printing service, we are offering for a limited time the original .STL files for free download. Modelers are responsible for preparing the file for their own printer's specifications. These downloadable files are ideal for modelers who enjoy tinkering with printer settings and materials. Please note, we only provide the .STL files themselves; we cannot provide tech support for your specific printer. By downloading the .STL files, you agree to not monetize the file in any way without Motion RC's express written consent. If you have your own 3D printer, or have access to one, you can download the STL files directly from this link:
If you need any additional assistance, please visit the Motion RC Help Center
Product Reviews
Customer Reviews
Write a Review
Ask a Question
06/18/2020
Jay Y.
United States
Great value
In the air it has great manners smooth and predictable. On the ground a bit more of a challenge. Nothing wrong with the plane just requires more skill. Went together perfectly everything fit as it should. I did fit a bit larger wheels to help with our fields tall grass. Only minor complaint is the water slide decals, the vinyl ones are fine.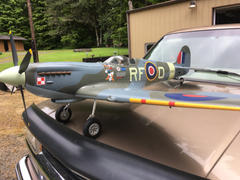 Great plane ...BUT
So I bought the 1600mm Flight line Spitfire even tho I am NOT a fan of foamies or electrics. I have been building for well over 40 years and Am not a fan of ARFs. But I love the spitfire. I put it together balanced it, took it out to the field and I was amazed at how well she flew. Everything, takeoff, handling, high speed, low speed, the flaps, which I increased the deflection to 90 degrees like the scale Spit were amazingly effective. Landings were amazing. I took it home, weathered it and brought her out again to fly. Again perfect flight until I pulled up out of a high speed pass and I heard a bang. No control and she entered a flat spin. I walked out to the scene of the crash and found that the motor was gone. Seems like the motor mount broke, cg shifted aft and flat spin. After a search the motor and what remained of the prop was found about 150 feet away. I hope it was some manufacturing defect because I really like the plane. Plane functioned great til the engine flew off.
05/07/2020
Homayoon K.
United States
Scale Looks
The plane is very easy to put together and looks very scale.
02/09/2020
Octavio O.
United States
My opinion
I flew this plane today very nice and scale only downfall were the decals but not a big deal over all the plane is obviously top quality and the price is just unbeatable you get a lot of plane for that price as my flights went I was nervous using a 4000mah thought it would be to small not enough weight and flight time but I was wrong it balanced great and I got 5 min flights with 35 percent left in the tank all advice I can give is pull a little up when taking off and landing it will nose over and you have to give it a lot of rudder when taking off and landing nothing to big bit over all this is a great plane
02/05/2020
Glenn L.
United States
Spitfire
Nicely produced plane ... well thought out.
02/01/2020
jerzy s.
United States
Rating.
Very good service. Thank you. Very good product.
01/30/2020
Tim W.
United States
Awesome quality
More difficult than other models due to wing wiring. Lights not labeled on wires. Connect to main board a few times to get correct. Overall a beauty
01/18/2020
charles t.
United States
Outstanding ARF
Well built with very smooth finish. A pleasure to "work" on. Issue with faulty ESC was quickly remedied by Motion RC folks. Outstanding customer support.
01/01/2020
clayton l.
Canada
1/7 spitfire
Very good product.
Motion RC has a new European website
Go there instead?
Top