FlightLine P-38L Lightning "Allied Green" 1600mm (63") Wingspan - PNP
$37900
$37900
FlightLine P-38L Lightning "Allied Green" 1600mm (63") Wingspan - PNP
FLW3012P
FlightLine P-38L Lightning "Allied Green" 1600mm (63") Wingspan - PNP - FLW3012P
The legendary P-38 "Lightning" revolutionized aviation history in World War II. Designed by a skilled team of engineers led by Clarence Johnson and Hal Hibbard, the P-38 was the only American fighter that was continually produced from before Pearl Harbor in 1941 to after the Japanese surrender in 1945. Over 9,900 P-38s were built, 3,810 of which were the superior P-38L variant. Revered by its foes as the "fork tailed devil", the P-38 excelled as a fighter, interceptor, reconnaissance platform, long range escort, and as a ground attack aircraft. The aircraft also famously shot down Admiral Isoroku Yamamoto's aircraft during "Operation Vengeance" on April 18, 1943.
FlightLine's P-38 represents the pinnacle of engineering for a foam electric P-38. It is the largest mass-produced foam electric P-38 in the world, with a high level of quality and scale fidelity. We know our customers have been waiting for a large P-38 with good size, clean wiring, and scale lines. The wait is over, it's here!
The Flightline P-38 was designed for easy operation. Its outer wings disassemble with four screws for convenient transportation and allowing the aircraft to sit on all three wheels without the outer wings attached. FlightLine's P-38 Lightning features durable electronic retractable landing gear, five sequenced servo driven landing gear doors, day-bright LEDs, machine gun details, plastic nose cone and cowls, four flaps, accurate canopy and nacelle shape, and many other scale details. Each rudder is directly controlled by its own servo. The cockpit layout accommodates a wide range of 4S 14.8v Li-Po batteries with ample space for electronics. To ensure a high degree of structural rigidity, the entire model was designed around a special framework of carbon rods and reinforcement points. This framework strengthens the aircraft during high speed maneuvers, while still providing a gentle and forgiving flying behavior.
The stock PNP version is equipped with two 3748 brushless outrunner motors and two 12x7 3-blade counter-rotating propellers for the perfect scale appearance. With the recommended 4S 14.8v 5000mAh (one battery per side or a single battery with your series adapter), the P-38 boasts sufficient power for large consecutive loops and a level top speed of 81mph. An optional "Upgrade Kit" can be purchased separately to obtain a level top speed of 94mph; click the Upgrades tab above.
The "Allied Green" scheme includes four decal sets from various squadrons in Europe and other theaters. Choose which decal set you want to apply to make your P-38 unique among your friends! The decals are "peel and stick", made with a very thin adhesive vinyl which is easy to apply and does not require water.
  Visit the Official FlightLine P-38 Discussion Thread on HobbySquawk.com for additional photos, videos, reviews, and customer Q&A.
Features:
Model officially licensed by Lockheed Martin
Scale profile, accurate wing diherdral, and precisely modeled overall aircraft proportions
Removable outer wings for easy transport
Scale three blade propeller achieves 81 mph and vertical climbing capability
Four different decal sets included inside the box for you to choose from
Day-bright LEDs
Large cabin space for easy placement of the battery and radio equipment
Improved spinner and propeller mounting design to enable better balance
Durable Electric retractable landing gear with metal trunions and 4mm steel wire struts
Sequenced plastic gear doors for realistic operation
Tall foam rubber wheels for optimal handling on paved surfaces and short, evenly cut grass fields
Includes:
FlightLine P-38L Lightning "Allied Green" 1600mm (63") Wingspan - (PNP)
Motor, ESC, servos and retracts pre-installed
Requires:
Optional:
An optional "High Power Upgrade Set" can be purchased separately to obtain speeds of 94mph+. The Upgrade Set includes two 3648 motors, two 12x8 2-blade counter-rotating propellers, and two 2-blade spinners. Click the Upgrades Tab above for more details.
Product Specifications:
SKILL LEVEL : Intermediate
Wingspan

1600mm / 63in

Length

1168mm / 46in

Weight (w/o battery)

3150g / 111oz

CG (Center of Gravity)
65-70mm from the leading edge of the wing at the root

Power System

3748-600Kv Brushless Outrunner Motor (Stock scale power system)
3648-880Kv Brushless Outrunner Motor (Optional sport power system)

Electronic Speed Control

60A Brushless with XT60 connector

Propeller / EDF

12x7 3 Blade Propeller / 12x8 2 Blade Propeller High Performance Version (optional)

Servos

9g hybrid gear standard with 300mm lead: nose gear door
9g hybrid gear reverse with 300mm lead: nose gear steering, right outboard flap, right inboard flap
9g hybrid gear standard with 300mm lead: left outboard flap, left inboard flap, left aileron, right aileron
9g hybrid gear standard reverse with 550mm lead: left gear door
9g hybrid gear standard with 100mm lead: left rudder, right rudder
9g hybrid gear standard with 550mm lead: right gear door
17g metal gear standard with 300mm lead: elevator

Landing Gear
Electric retracts with metal trunions

Required Battery

Two 4 Cell 14.8v 2500mAh to 3000mAh batteries with XT60 connector, or One 4 Cell 14.8v 5000mAh battery with XT60 connector

Required Radio

6+ Channel 2.4GHz

Ailerons
Yes

Elevator

Yes

Rudder
Yes

Flaps

Yes

Lights

Yes

Hinge Type

Nylon and foam hinges

Material
EPO Foam
Skill Level
Intermediate
Build Time
3-4 Hours
Recommended Environment
Outdoor, minimum 200 foot runway, pavement recommended, less than 1" tall smooth grass
Product Videos
Product Questions & Answers
NOTE:
Questions submitted on this page are answered by customers who have previously purchased this item. If you have a support related question that requires immediate assistance, please visit our
Help Center
.
Product Support
Product Manuals
Product Updates
Feb 6, 2017 - There has been some confusion in the forums regarding the twin ESC wiring setup for this model. Extensive testing has been done in direct partnership with the ESC manufacturer, culminating in hundreds of successful flights without the need for removing any of the power (red) wires from one of the ESCs BEC. Both ESCs Y-harnessed together are plugged into the receiver's single throttle channel without the need for ANY red wires being removed.
If you need any additional assistance, please visit the Motion RC Help Center
Product Reviews
Customer Reviews
Write a Review
Ask a Question
09/01/2020
Joe H.
United States
Awsome
What can I say except this 38 is awesome taking off, flying and landing. She will act like a kitten until you want the tiger to come out, and then watch out.!!!! I maiden her 2 months ago and fly her ever chance I get. She does like power in the turns so watch for tip stalls just like other fighters. I have bought enough spare parts to build another one but I see I will not need too for a long time. As for landing , just put flaps down and let her settle in. Great Job Motion.
07/29/2020
kenneth h.
United States
Excellent excellent excellent
Can't say enough about my purchase and my experience with motion RC!  The p-38 is an excellent bird too !  Looking forward to my next purchase! Possibly the f-4! I found the Instructions to be a little lacking if this was your first build.  Oh ! And customer service is excellent!! Thanks again!! Ray
07/09/2020
James H.
United States
P-38 review
Very well executed model and fun to fly. Look forward to more of your products.
06/30/2020
ROGER J.
United States
P38 L
I have about 25 planes and this is in the top 5. A really cool plane. Havent flown it yet, and they say it flies great with ease. Easy to assemble plane with great decals...stick on. Thanks Motion....
06/28/2020
Mike S.
United States
P38 - Awesome!!
Flightline did a great job on the P38. Looks awesome!! This is my first foam plane to put together so I had some learning to do. The usre manuall looks like it was for a more unassembled kit. The video was better and more useful: https://www.youtube.com/watch?v=cvD9NtHZ7S4&t When doing the wiring speghetti careful try to get as much slack for the wires as possible. When the wires go into the Intergrated Circuit module in the nacelle it is very tight and not much room to work with. One note: the paint comes off very easy so don't use any tape to temporarily hold anthing in place.
05/18/2020
John
United States
A Real Head Turner
I bought this plane in April. Did not get to maiden her till this last weekend. This plane was fun to build. She is a real beauty when fully assembled. Everyone at the field came by to look at this plane. While in the air, she commanded presence with her 1600mm wingspan. The plane handles quite nicely. She was quite fast even at 60% throttle. This plane will glide quite nicely with her flaps popped for a smooth landing. Had a small issue with one my retracts. Called up Customer Service and they are sending me another one. Great customer service and great product. Highly recommended if you are into warbirds and is looking for something larger than the average 1.2m ones out there.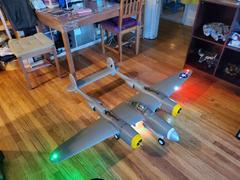 04/29/2020
Dave S.
United States
Very cool plane
Plane was assembled about as far as could be to ship. Some of the instructions were off but was able to make corrections fairly easily. The plane flew great on first flight with very little trim. The plane really needs to be landed on a smooth surface. The landing gear pull out of the foam to easy if landing in bumpy grass.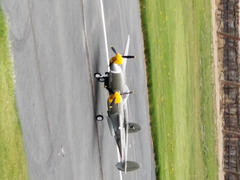 04/23/2020
Frank K.
United States
P-38
Very nice. Haven't flown it yet so can't rate performance but I expect it will be impressive. Flying off of grass so I purchased the landing gear upgrade. Looking forward to flying.
Top