SKU: FJ21811011
Freewing 80mm EDF Gripen Thrust Vector Upgrade Set
Sale price

$7499

Regular price

$

(Save $-74.99)
Overview
Videos
Spare Parts
Q&A

Overview
Gripen Thrust Vector Upgrade Set from Freewing - FJ21811011
This Thrust Vector Upgrade Set is intended for advanced pilots only because it significantly widens the potential agility of the stock Freewing 80mm JAS 39 Gripen. Roll rate, yaw control, and elevator authority are all increased. The aircraft will be able to depart conventional flight patterns very quickly and enter into, for example, a flat spin maneuver, so user caution is urged.
Factory molded and painted with pre-installed servos, this Upgrade Set's installation into your Freewing 80mm JAS 39 Gripen requires basic modeling skills including cutting and gluing. Additional radio transmitter setup including mixing and channel assignment is also required, and the sole responsibility of the customer. We highly recommend programming the Thrust Vector mixing to a separate On/Off switch on your radio transmitter, so pilots can disable the Thrust Vector during flight if ever needed.
This kit uses 2x 9g Digital MG servos - MD31092-300.

Videos

Spare Parts
Product Spare Parts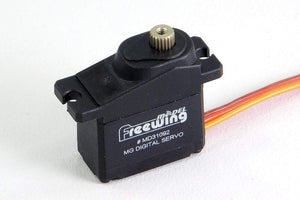 Freewing 9g Digital Metal Gear Servo with 300mm (12") Lead
SKU: MD31092-300
$1099
Sold out

Q&A
Product questions & answers
NOTE: Questions submitted on this page are answered by customers who have previously purchased this item. If you have a support related question that requires immediate assistance, please visit our Help Center
SKU: FJ21811011
Freewing 80mm EDF Gripen Thrust Vector Upgrade Set
Sale price

$7499

Regular price

$

(Save $-74.99)
Adding product to your cart
Customer Reviews