Freewing 80mm F-5E Main Landing Gear - Right
$2299
$2299
Freewing 80mm F-5E Main Landing Gear - Right
FJ208110812
Freewing 80mm F-5E Main Landing Gear - Right - FJ208110812
Product Questions & Answers
NOTE:
Questions submitted on this page are answered by customers who have previously purchased this item. If you have a support related question that requires immediate assistance, please visit our
Help Center
.
Product Reviews
Customer Reviews
Write a Review
Ask a Question
F-5E main landing gear
I purchased these as a replacement for the A-10 64mm. These are definitely an improvement compared to the landing gear that comes with the a-10. Although it took a bit of modifying to make them fit, they work extremely well. Very satisfied with the overall result and performance of the landing gear.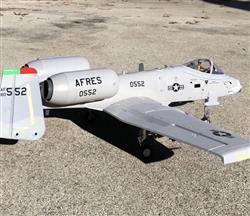 Excellent.
Started using this gear on my other aircraft because they have never failed on me. They always come down/ go up
Freewing 80mm F -5E Main Landing Gear - Right
Spring is a little to stiff for this size jet, but the gear works fine, I purchased mine for back up.
Top