Freewing AL37 Airliner Twin 70mm EDF Jet - PNP
FJ31511P
AL37 Airliner Twin 70mm EDF Jet from Freewing - PNP - FJ31511P
Version Info:  This version of the AL37 Airliner comes with tail and wing decals pre-applied.  You will still need to apply the "Motion RC Airlines", window and door decals.
Motion RC is excited to release Freewing's first twin-engine passenger EDF jet! Introducing the twin 70mm Freewing AL37 Airliner. With a length of 2000mm (78.75") and a wingspan of 1830mm (72"), it's the largest EDF produced by Freewing to date. This model uses EPO foam with integrated aluminum carbon to strengthen the airframe while limiting the weight of the model to the greatest possible extent. Except for the foam fuselage, all the other components require only screws to complete an easy assembly.
A control board with ribbon wire is used to simplify the wires between the main wing and the fuselage for easy assembly and disassembly for transport. The built-in wiring channel of the main wing is easy to use and retains the overall scale appearance of this gorgeous airliner. Add to it 11 pre-installed LED lights throughout the aircraft and you will love taking leisure flights at dawn and dusk with this AL37 airliner.
The Freewing AL37 Airliner uses two 3048-2150KV brushless outrunners housed in 70mm EDF casing with 12-blade fans. Those are powered by two 60A brushless ESC and need just one 6S LiPo to limit weight and allow this airliner to cruise comfortably at less than half throttle. In the case of a 6S 5000mAh battery, the maximum flight time can stretch to potentially 10 minutes with the proper throttle usage.
The front and rear landing gears are made of aluminum alloy and have shock absorption function and will make scale landings on the mains an enjoyable experience with each and every flight. Also, the larger size of the wheels (Nose wheel diameter: 45mm, Main wheel diameter: 70mm) make take-offs and landings a breeze in most grassland environments. This model has a beautiful air posture, and good stability in high and low speed. It is very suitable for an immersive flight like FPV and is an excellent leisurely flyer that every EDF jet pilot can enjoy.
For the customizing modelers at heart, this airliner will be offered in a decal free all-white version and we can not wait to see all the liveries our customer family produces! We recommend visiting Callie Graphics for the best custom model decals.
All-in-all Motion RC and Freewing are excited for our customer base to add this gorgeous airliner to their RC hangars. Now boarding!
  Visit the Official Freewing AL37 Airliner Discussion Thread on HobbySquawk.com for additional photos, videos, reviews, and customer Q&A.
Features:
Beautiful, scale outline both static and in the skies
Giant scale, yet lightweight with docile flying characteristics
Attractive, Motion RC-centric blue decals

11 LED light system throughout the airframe

4 screw wing assembly makes for easier transport

Removable winglets with MWS slotting system

Scale aluminum suspension struts

Nacelles easily removed with 3 screws

Scale flap system
Includes:
Freewing AL37 Airliner Twin 70mm EDF Jet - PNP
Electronic retracts, motors, EDFs, ESCs and servos (installed)
Requires:
Product Specifications:
SKILL LEVEL : Intermediate
Model Scale

1/19 Scale

Wingspan

1830mm / 72.04in

Length

2000mm /78.74in

Weight

3350g / 118.16oz

CG (Center of Gravity)

185mm from the leading edge of the wing root

Power System

2x 6S 3048-2150kV Outrunner Motors (included)

Electronic Speed Control

2x 60A with 8A UBEC (included)

Propeller / EDF

2x 70mm 12-Blade EDF (included)

Servos

6x 9g Digital Metal Gear Standard Servos


4x 9g Hybrid Digital Metal Gear Standard Servos


Landing Gear

Electronic retractable (included)

Required Battery

6S 22.2V 4000-6000mAh LiPo with EC5 Connector (required)

Required Radio

6+ Channel (required)

Ailerons

Yes

Elevator

Yes

Rudder

Yes

Flaps

Yes

Lights

Yes

Hinge Type

Nylon

Material

EPO Foam

Skill Level

Intermediate

Build Time

1 Hour

Recommended Environment

Outdoors
Product Videos
Product Questions & Answers
NOTE:
Questions submitted on this page are answered by customers who have previously purchased this item. If you have a support related question that requires immediate assistance, please visit our
Help Center
.
Product Support
Product Manuals:
If you need any additional assistance, please visit the Motion RC Help Center
Product Reviews
Customer Reviews
Write a Review
Ask a Question
02/16/2020
James H.
United States
02/07/2020
Jerry M.
United States
Freewing AL37 Airliner Twin 70mm EDF Jet - PNP,
I give it two thumbs up very awesome EDF. I am in the process of doing a personal scheme on it and have not got it done yet also installing reverse ESC's
02/04/2020
Philip N.
United Kingdom
Top class model
Simply one of the best airliners on the market, we need more
01/28/2020
Mike R.
United States
Simply Amazing
This is the smoothest easiest jet I have ever flown. Alpha you and the Freewing group have just raised the bar again. Thank You for your dedication to this great hobby.
01/27/2020
FRANK S.
United States
OUTSTANDING JET AIRLINER
My 15 year old son, Alex, received his Motion RC AL37 Jet Airliner on Christmas Morning, and he was thrilled! Alex wants to be a jet airliner pilot and is already flying actual sailplanes in addition to R/C planes, so this was the perfect addition for his R/C hangar! Alex assembled the plane and put on the Motion RC decals and the plane looks extremely realistic. Fortunately, the AL37 fits inside our minivan (with the wings off). If it were any larger though, we'd have to buy an enclosed truck to carry it to and from the air field. The "Maiden Flight" was perfect, but the second flight we now call the "Miracle Flight" because we believe the receiver momentarily lost connection. The jet airliner rolled over upside-down while turning, then it headed straight down at a very high rate of speed. Miraculously, the receiver regained connectivity at the absolute last moment and a near-disaster was avoided. At one point it was so low to the ground that we couldn't see it because of the bushes blocking our view and we thought it had already crashed when it reappeared and climbed back up! Alex flew several other planes that same day with the same transmitter with no problems, so we vowed not to use the same receiver again in this or any other plane. After upgrading the receiver, Alex has flown the AL37 six more times with no problems whatsoever. The plane flies beautifully, and from a distance, it appears to be a full-size jet airliner passing overhead. I noticed that our friend Jovi has also reviewed his "Hawaiian Airlines" AL37 positively, and as he said, his jet looks beautiful and flies beautifully as well. We are all members of the "Silent Electric Flyers San Diego" R/C Club flying near Mission Bay. Alex and have to agree with Jovi too, these AL37's are crowd magnets! Folks driving by and bicyclists see these huge jets flying around and then they stop by to see them up close, and of course, they always ask us how soon before we're going to fly it again! Alex and I could not be happier with the AL37! Thank you, Motion RC, we love it!
01/27/2020
michael d.
United States
Second try worked
I bought the airliner as a fun, easy flyer between aerobatic flights with large gas planes to relax. My first flight was fun and easy until it was time to land. I was fumbling with the gear and flaps switches and the plane got too far to see well and it crashed a quarter mile away. I just couldn't see it well. So I bought a second one, painted the bottom dark blue. Had an excellent flight off grass field in Ohio, in January and all went well. It touched down on main gear and nose softly lowered like a real airliner. Some people call that a wheelie. I really enjoy this plane and highly recommend it.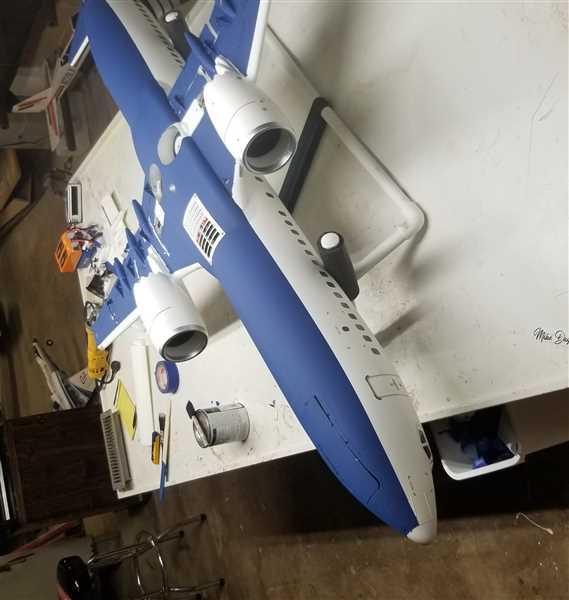 01/22/2020
vic b.
United States
AL-37 setup coments
First off, My AL-37 fit in the bed of my 2007 Ford Club Cab with both wings on plane. Put a couple towels under front wheel which lowered tail down to floor of bed. I have flat fiber top that closed all the way down. Only problem building plane was to file down servo connectors to fit in my Spektrum AR620 receiver. All else, great.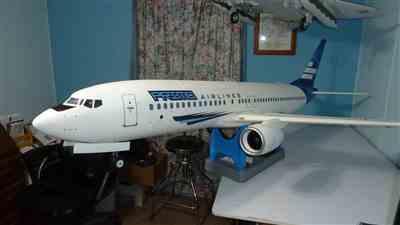 01/18/2020
Ed
United States
Well, Nice Try
Plane came well boxed. The instructions were the same old straight translation from Chinese to English but could be followed if I took my time. The parts that ******* in were ok with the usual having to torque one or two because the foam was not cleared from the screw opening. Someone will have to tell me with all the other parts ******* in why glue the fuselage? Then the fun was over... I hooked all the electrics properly and applied power to the plane only to fill the battery compartment with smoke! After a cool down period (me and the plane) I was fortunate to find the gear wire had shorted. Yep, power and ground wire covering were cut. Thanks to Motion for their great customer care. While loading the plane I found the foam less than strong as weight from my rear window cracked the tip of the vertical fin. Quick gluage and all was better. First flight was interesting as I was expecting 4 - 5 minute flight. Fortunately I set the timer for 3 minutes. Had 28% battery after the flight. Landing was a fast and furious adventure as the plane comes in very fast and has a Looooong roll out. Note: DO NOT LAND ON NOSE WHEEL!!! I used flaps on the next flight only to have the plane almost stall and go nose down on touching the ground. 75 feet of first bounce and as planes do continued to bounce until it slowed. During this jolting the landing gear held its own but the fuse came apart at the joint. Won't use flaps again. All in all, a good looking plane but nothing special in my most humble opinion.
01/09/2020
joseph d.
United States
al37
good fit nice looking
Motion RC has a new European website
Go there instead?
Top