Freewing AL37 Airliner Twin 70mm EDF Jet - PNP
$49900
$49900
Freewing AL37 Airliner Twin 70mm EDF Jet - PNP
FJ31511P
AL37 Airliner Twin 70mm EDF Jet from Freewing - PNP - FJ31511P
Version Info:  This version of the AL37 Airliner comes with tail and wing decals pre-applied.  You will still need to apply the "Motion RC Airlines", window and door decals.
Motion RC is excited to release Freewing's first twin-engine passenger EDF jet! Introducing the twin 70mm Freewing AL37 Airliner. With a length of 2000mm (78.75") and a wingspan of 1830mm (72"), it's the largest EDF produced by Freewing to date. This model uses EPO foam with integrated aluminum carbon to strengthen the airframe while limiting the weight of the model to the greatest possible extent. Except for the foam fuselage, all the other components require only screws to complete an easy assembly.
A control board with ribbon wire is used to simplify the wires between the main wing and the fuselage for easy assembly and disassembly for transport. The built-in wiring channel of the main wing is easy to use and retains the overall scale appearance of this gorgeous airliner. Add to it 11 pre-installed LED lights throughout the aircraft and you will love taking leisure flights at dawn and dusk with this AL37 airliner.
The Freewing AL37 Airliner uses two 3048-2150KV brushless outrunners housed in 70mm EDF casing with 12-blade fans. Those are powered by two 60A brushless ESC and need just one 6S LiPo to limit weight and allow this airliner to cruise comfortably at less than half throttle. In the case of a 6S 5000mAh battery, the maximum flight time can stretch to potentially 10 minutes with the proper throttle usage.
The front and rear landing gears are made of aluminum alloy and have shock absorption function and will make scale landings on the mains an enjoyable experience with each and every flight. Also, the larger size of the wheels (Nose wheel diameter: 45mm, Main wheel diameter: 70mm) make take-offs and landings a breeze in most grassland environments. This model has a beautiful air posture, and good stability in high and low speed. It is very suitable for an immersive flight like FPV and is an excellent leisurely flyer that every EDF jet pilot can enjoy.
For the customizing modelers at heart, this airliner will be offered in a decal free all-white version and we can not wait to see all the liveries our customer family produces! We recommend visiting Callie Graphics for the best custom model decals.
All-in-all Motion RC and Freewing are excited for our customer base to add this gorgeous airliner to their RC hangars. Now boarding!
  Visit the Official Freewing AL37 Airliner Discussion Thread on HobbySquawk.com for additional photos, videos, reviews, and customer Q&A.
Features:
Beautiful, scale outline both static and in the skies
Giant scale, yet lightweight with docile flying characteristics
Attractive, Motion RC-centric blue decals

11 LED light system throughout the airframe

4 screw wing assembly makes for easier transport

Removable winglets with MWS slotting system

Scale aluminum suspension struts

Nacelles easily removed with 3 screws

Scale flap system
Includes:
Freewing AL37 Airliner Twin 70mm EDF Jet - PNP
Electronic retracts, motors, EDFs, ESCs and servos (installed)
Requires:
Product Specifications:
SKILL LEVEL : Intermediate
Model Scale

1/19 Scale

Wingspan

1830mm / 72.04in

Length

2000mm /78.74in

Weight

3350g / 118.16oz

CG (Center of Gravity)

185mm from the leading edge of the wing root

Power System

2x 6S 3048-2150kV Outrunner Motors (included)

Electronic Speed Control

2x 60A with 8A UBEC (included)

Propeller / EDF

2x 70mm 12-Blade EDF (included)

Servos

6x 9g Digital Metal Gear Standard Servos


4x 9g Hybrid Digital Metal Gear Standard Servos


Landing Gear

Electronic retractable (included)

Required Battery

6S 22.2V 4000-6000mAh LiPo with EC5 Connector (required)

Required Radio

6+ Channel (required)

Ailerons

Yes

Elevator

Yes

Rudder

Yes

Flaps

Yes

Lights

Yes

Hinge Type

Nylon

Material

EPO Foam

Skill Level

Intermediate

Build Time

1 Hour

Recommended Environment

Outdoors
Product Videos
Product Questions & Answers
NOTE:
Questions submitted on this page are answered by customers who have previously purchased this item. If you have a support related question that requires immediate assistance, please visit our
Help Center
.
Product Support
Product Manuals:
If you need any additional assistance, please visit the Motion RC Help Center
Product Reviews
Customer Reviews
Write a Review
Ask a Question
08/24/2020
FRANCOIS C.
France
superbe avion de ligne
montage très facile pour le vol et décollage sur l herbe aucun soucis garder de la vitesse a l atterrissage avion très facile
08/22/2020
Daniel M.
Canada
excellent plane
This is my second attempt at EDF flying. I've always wanted an airliner and this one ticked off all the boxes. It sat ready for over two months as I waited for the right weather to maiden, and the other day was it. Other than a little up trim, this was one of the most satisfying planes I've flowen. Landing was a bit hard as I did what I knew I should not, pull off power about 10 ft up, but a quick power on gave it a bit of cushion. Love it, and am really looking forward to getting more time on this plane. Gens Ace 6S, 5000 mAh battery got almost 4 min and 43% left on the battery. Grass field, take off roll was about 250 ft. The grass was short, but thick.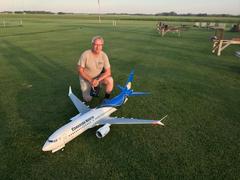 07/23/2020
Jose F.
United States
07/14/2020
Arnaud C.
France
737 MAX like the real one
I am at this stage assembling the model, I did not make it fly yet. This is a good product, however, the surfaces of EPO can be easily scratched. Pay attention during transportation to the field. The rating for the function cannot be rated yet for me
07/08/2020
Peter S.
Germany
Es kommt dem Original schon sehr nahe.
Ich bin begeistert von der Qualität und der Optik. Es kommt dem Original Optisch schon sehr nahe. Wenn die AL37 in der Luft ist, sieht es schon toll aus und es macht riesig Spaß dem Modell zuzuschauen. Die erste Landung war schon eine Herausforderung, da das Fahrwerk schon kleiner erscheint als bei anderen Modellen, aber ich hab es dann doch hinbekommen. Alles in allem ein tolles Produkt das sehr viel Spaß und Freude bringt.
07/07/2020
Joshua F.
United Kingdom
Beautiful Plane! One of my favorites!
Freewing Al37 is a beautiful plane. There not many rc airliners you can buy in the world unless you build your own but I was very happy that motion rc made this. I always wanted a airliner and I'm so happy I bought this, the price was higher than my budget but it was worth every penny. The plane was nice, the quality was good except the paint but that was my fault because I damaged it when I was pealing the decals off because I decided to paint it, I should've bought a white one because it would've be better and less damage but never mind, I learnt the lesson. More importantly, this thing flown absolutely beautifully and it was so smooth. In my opinion and experience, this is the smoothest edf I ever flown. Flight time is between 3 minutes to 4 minutes depending on how much throttle you used. I take off at 100% and cruise around at 50% throttle. I used turnigy 6s 4000 and 5000 and they last 30 seconds difference in between them. I highly recommended this product.
07/06/2020
WAS2
United States
Amazing Reliability / 1200+ flights
Thought you might be interested in reading about some of the REAL WORLD reliability aspects of an AL37 with lots of flights on it. I have flexible work hours, to some degree, so when the weather is nice (which is often is here), I am able to take advantage of it. Here's the scoop... - Pre-ordered and got the bird in late December 2019, and was up and flying within a few days - Averaging about 200 flights per month. This is not intended to be a brag, but to let you know that 1,200+ flights are on the bird - I am able to leave it assembled...transport it in the bed of my pick-up...not connecting/disconnecting things every trip to the field Summary of failures follow. Pretty amazing performance, I'd say! - one engine bearing began screeching loudly after about 400 flights. This must have been a fluke because the other engine has performed flawlessly since day one - two main gear servos have been replaced over 6 months and at least 2400 gear cycles - - Hint: Land gear up when one fails in the gear-up position. I learned the hard way that attempting to land with the nose wheel and one main down is a disaster waiting to happen. - - - The nacelle on the gear-up side hooked into the turf and the turf tore it off. Took some carbon fiber work to fix it, but I did fix it...rather than order a new nacelle. Suggest landing gear up on a hard surface...not turf. Shaves off some foam, but at least you won't tear off a nacelle - Nose gear mounting box came loose and also the nose gear steering servo came loose (two different flights..not on the same flight) Fixed both of these issues with epoxy - Winglet pin broke on one winglet...replaced the piece of plastic into which the hold-down pins are molded as part of - Replaced the nose wheel tires twice, but the rubber on the mains has held up nicely. I fly off concrete exclusively except when I decided a grass turf landing might be best when the main didn't extend. - I am about to change the main's rubber, soon. That's it. Again...pretty amazing reliability. None of the control servo motors has began to chatter and no control servo failures have been experienced. The top of the wing foam has a few slight wrinkles/creases from the spins, loops, snap rolls and pull-ups to vertical climbs i do at times. All around...a well designed aircraft and well worth the money!
07/02/2020
Jörg S.
Germany
Top