Freewing AL37 Airliner Twin 70mm EDF Jet - PNP
FJ31511P
AL37 Airliner Twin 70mm EDF Jet from Freewing - PNP - FJ31511P
Version Info:  This version of the AL37 Airliner comes with tail and wing decals pre-applied.  You will still need to apply the "Motion RC Airlines", window and door decals.
Motion RC is excited to release Freewing's first twin-engine passenger EDF jet! Introducing the twin 70mm Freewing AL37 Airliner. With a length of 2000mm (78.75") and a wingspan of 1830mm (72"), it's the largest EDF produced by Freewing to date. This model uses EPO foam with integrated aluminum carbon to strengthen the airframe while limiting the weight of the model to the greatest possible extent. Except for the foam fuselage, all the other components require only screws to complete an easy assembly.
A control board with ribbon wire is used to simplify the wires between the main wing and the fuselage for easy assembly and disassembly for transport. The built-in wiring channel of the main wing is easy to use and retains the overall scale appearance of this gorgeous airliner. Add to it 11 pre-installed LED lights throughout the aircraft and you will love taking leisure flights at dawn and dusk with this AL37 airliner.
The Freewing AL37 Airliner uses two 3048-2150KV brushless outrunners housed in 70mm EDF casing with 12-blade fans. Those are powered by two 60A brushless ESC and need just one 6S LiPo to limit weight and allow this airliner to cruise comfortably at less than half throttle. In the case of a 6S 5000mAh battery, the maximum flight time can stretch to potentially 10 minutes with the proper throttle usage.
The front and rear landing gears are made of aluminum alloy and have shock absorption function and will make scale landings on the mains an enjoyable experience with each and every flight. Also, the larger size of the wheels (Nose wheel diameter: 45mm, Main wheel diameter: 70mm) make take-offs and landings a breeze in most grassland environments. This model has a beautiful air posture, and good stability in high and low speed. It is very suitable for an immersive flight like FPV and is an excellent leisurely flyer that every EDF jet pilot can enjoy.
For the customizing modelers at heart, this airliner will be offered in a decal free all-white version and we can not wait to see all the liveries our customer family produces! We recommend visiting Callie Graphics for the best custom model decals.
All-in-all Motion RC and Freewing are excited for our customer base to add this gorgeous airliner to their RC hangars. Now boarding!
  Visit the Official Freewing AL37 Airliner Discussion Thread on HobbySquawk.com for additional photos, videos, reviews, and customer Q&A.
Features:
Beautiful, scale outline both static and in the skies
Giant scale, yet lightweight with docile flying characteristics
Attractive, Motion RC-centric blue decals

11 LED light system throughout the airframe

4 screw wing assembly makes for easier transport

Removable winglets with MWS slotting system

Scale aluminum suspension struts

Nacelles easily removed with 3 screws

Scale flap system
Includes:
Freewing AL37 Airliner Twin 70mm EDF Jet - PNP
Electronic retracts, motors, EDFs, ESCs and servos (installed)
Requires:
Product Specifications:
SKILL LEVEL : Intermediate
Model Scale

1/19 Scale

Wingspan

1830mm / 72.04in

Length

2000mm /78.74in

Weight

3350g / 118.16oz

CG (Center of Gravity)

185mm from the leading edge of the wing root

Power System

2x 6S 3048-2150kV Outrunner Motors (included)

Electronic Speed Control

2x 60A with 8A UBEC (included)

Propeller / EDF

2x 70mm 12-Blade EDF (included)

Servos

6x 9g Digital Metal Gear Standard Servos


4x 9g Hybrid Digital Metal Gear Standard Servos


Landing Gear

Electronic retractable (included)

Required Battery

6S 22.2V 4000-6000mAh LiPo with EC5 Connector (required)

Required Radio

6+ Channel (required)

Ailerons

Yes

Elevator

Yes

Rudder

Yes

Flaps

Yes

Lights

Yes

Hinge Type

Nylon

Material

EPO Foam

Skill Level

Intermediate

Build Time

1 Hour

Recommended Environment

Outdoors
Product Videos
Product Questions & Answers
NOTE:
Questions submitted on this page are answered by customers who have previously purchased this item. If you have a support related question that requires immediate assistance, please visit our
Help Center
.
Product Support
Product Manuals:
If you need any additional assistance, please visit the Motion RC Help Center
Product Reviews
Customer Reviews
01/09/2020
joseph d.
United States
al37
good fit nice looking
01/08/2020
Billy M.
United States
Very nice!
Once together and setup, this is a very nice looking bird. It flies nice, but with the tail end shakes somewhat at various speeds, other than that, I love it. Takeoffs are great, and it's easy to land. Transport for me is one wing off, and slide it into the bed of my F-250 with a cover. I would recommend this plane.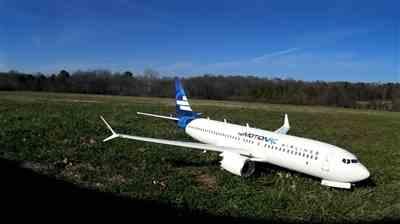 01/07/2020
Michael S.
United States
Impressed with quality / performance
Well built aircraft. Easy to assemble. Very impressed with it's performance in the air and even with it's ground handling. I fly on a grass runway (not manicured) and the landing gear handles it well. It does need a long run out at full power on grass to get her in the air. In the air it handles flight very easy. Looking at the short chord of the wings you would think that you need to fly her very fast, but due to the wide body design I found it can be slowed down easily. Landing is easy with full flaps, but you need to raise the flaps immediately before the wheels touch or it wants to float on ground effect for a long way. So far I'm not getting more than 5 minutes of airtime on on a 6000 mah battery, but I'm still getting used to it's throttle settings. Hopefully it will get better. Overall all, very impressed and it's become a hit at the field.
01/06/2020
Jovi
United States
Hawaiian Air
This is the best and only Jetliner that I have ever seen. Impressed I am over the way this jet is manufactured. Quality is very good. I was also impressed on how large it is. I had Callie Graphics make my decals of the airliner I wanted and did they do a great job. As you can guess, I made my as Hawaiian Airlines. Oh is it cool looking. From take-off to flying and then landing, this is a model to have. One young boy told me he saw it from the road, undid his sit belt and told his dad to go over they, he s saw a Jetliner. I would definitely recommend. A crowd pleaser....
01/05/2020
Peter P.
United States
Freewing Al37 airliner
stunning aircraft
01/03/2020
Bill S.
United Kingdom
AL37
Overall, very pleased with the design effort that has gone into it. Only issue is that the winglets will not fit fully backwards into place, despite efforts to ensure that the fittings are clean. I would have preferred extra support inside the top section of the fuselage join. But wouldn't hesitate to recommend the AL37 to others.
01/03/2020
Peter K.
Germany
AL 37
My firstAirliner, I have many other Jets from Freewing but this is the first Airliner and this model is outstanding based on design and functionality. Looking forward to maidenflight this Jet in early spring. Excellent job by Freewing, continue!!!
01/03/2020
Michael J.
Austria
Ein schöner Airliner - perfekte Flugeigenschaften!
Der Jet fliegt gutmütig und Halbgas reicht für schöne scale-like Flüge. Die Vorschläge für die Einstellungen in der Bedienungsanleitung passen optimal.
Motion RC has a new European website
Go there instead?
Top