Freewing F-8 Crusader 64mm EDF Jet - PNP
FJ10811P
64mm Freewing F-8 Crusader - Receiver Ready (PNP) -
FJ10811P
The F-8 Crusader is revered as "The Last Gunfighter" because it was the final American fighter designed with guns as its principal armament. First flying in 1955 before playing a pivotal reconnaissance role in the Cuban Missile Crisis and serving with distinction in Vietnam, over 1,200 aircraft were built across many different variants. Revered as a "MiG Master" for its speed and lethality with both its guns and Sidewinder missiles, the F-8 Crusader earned a 19:3 kill ratio in air combat during the Vietnam conflict and went on to faithfully serve the US Navy and Marine Corps for three decades, even serving as a testbed platform with NASA to spearhead innovations that continue to impact modern aircraft design to this day.
Freewing and Motion RC are proud to present our rendition of the F-8 Crusader! Continuing the popularity of our Freewing Stinger 64, F9F Panther, and F-22 Raptor, the F-8 Crusader reintroduces our 64mm "Park Jet" series to pilots seeking standoff scale appearance of rarely modeled aircraft in an affordable and easy to own package.
The Freewing 64mm F-8 Crusader is designed to be an ideal first hand launch EDF, for novice pilots wanting to learn how an EDF jet handles versus a propeller driven model aircraft of a similar size. The Crusader's high wing and ample thrust give the model good stability, even at low speeds. Assembly is straightforward, and using only two servos minimizes weight, complexity, and cost. The F-8 Crusader is configured to be flown using a radio that has Elevon mixing, as each side's aileron and elevator surface are connected together. The model's low wing loading and manageable slow speed handling in the landing pattern negated the need for a heavy and costly variable incidence wing. The battery bay can also accommodate a small gyro for additional stabilization.
Powered by an efficient 64mm 5 blade EDF fan unit, 30A ESC and 2627-4500kv brushless outrunner motor, the Freewing 64mm F-8 Crusader reaches a top speed of 110kph/68mph on an inexpensive 3s 1000mAh-2200mAh lipo battery with XT60 connector. While designed with simplified flight control surfaces and intended for hand launches and belly landing on grass runways, an optional landing gear set is sold separately for steerable operation on paved runways.
Being optimized for low cost doesn't mean this Crusader lacks in scale appearance. Tired of generic looking mini EDF trainers? We believe even new pilots to the RC Flying hobby still appreciate the scale factor and historical pedigree of a tried and true warfighter, and the Crusader delivers top marks in its class. An accurate livery depicting Fighter Squadron VF-162, "The Hunters", USS Oriskany 1968, is factory applied with low sheen waterslide decals, and the overall dimension of the model is true to scale, down to the asymmetric fuselage blisters, iconic gun ports, and silver painted leading edges. The livery we selected honors the aircraft flown by Commander Richard M. Bellinger, in which he was the first US Naval aviator to shoot down a MiG-21.
Earn your wings with this low cost and high value EDF jet, the Freewing F-8 Crusader!
  Visit the Official Freewing 64mm F-8 Crusader Discussion Thread on HobbySquawk.com for additional photos, videos, reviews, and customer Q&A.
Features:
Durable EPO Foam and Reinforced Construction
Realistic Shape and Detailing
Historical Livery Honoring US Naval Aviator
Dynamically Balanced 5 Blade EDF Fan For Efficient Power
Minimal Assembly
Optional Steerable Landing Gear (Sold Separately)
Includes:
Freewing F-8 Crusader 64mm EDF Jet - PNP
Requires:
Product Specifications:
SKILL LEVEL : Intermediate
Wingspan

545mm/21.46in

Length

825mm/32.48in

Flying Weight

480g

Power System

Brushless 2627-4500kV Motor

Speed Control

30A, Internal BEC with XT60 Connector

Propeller / EDF

64mm 5-Blade EDF

Servos

9g digital standard with 100mm lead : elevator
9g digital standard with 300mm lead : left aileron, right aileron

Landing Gear

Optional

Required Battery

3S 11.1V 1000 - 2200 mAh to 1800mAh 3 cell LiPo with XT60 Connector

Required Radio

4 Channel

Rudder

No

Flaps

No

Ailerons

Yes

Lights

No

Hinge Type

Foam

Material

EPO Foam

Skill Level

Intermediate

Build Time

1 Hour

Recommended Environment

Outdoors
Product Videos
Product Questions & Answers
NOTE:
Questions submitted on this page are answered by customers who have previously purchased this item. If you have a support related question that requires immediate assistance, please visit our
Help Center
.
Product Support
Product Manuals:
If you need any additional assistance, please visit the Motion RC Help Center
Product Reviews
Customer Reviews
Write a Review
Ask a Question
06/04/2020
Dave G.
United States
A gateway to a new world of aircraft
Wanted to try an EDF so I snagged this one. Super easily to assemble, although assembly is almost all glue. Very stable. Doesn't have any poor characteristic on a hard hand toss (which is required for launch). Fast and reliable. Enjoyed it so much that I now have 4 freewing EDFs.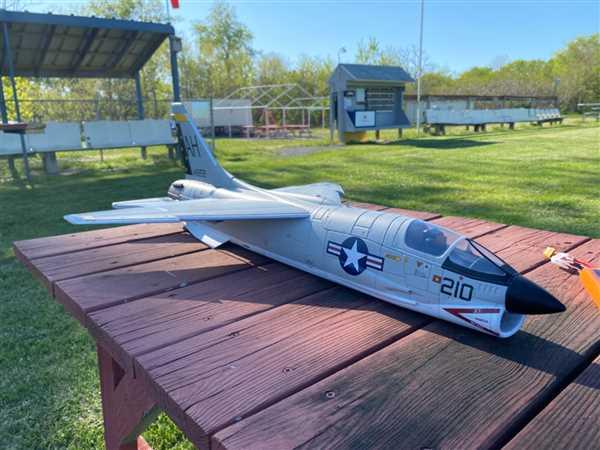 05/22/2020
Ronald S.
United States
Not as great a flier as I expected.
Recommended battery doesn't provide enough power. Using a larger battery causes instability. Very squirrely. Got it back in one piece. Had a more experienced jet pilot fly it too. He disliked its' performance. Looks nice but much can't be said for its' performance. I think I will just put it up on the shelf and admire it for its' looks. I was going to purchase the panther but after flying this one I have changed my mind. Sorry. It was given to me as a birthday present. I am not a verified purchaser.
05/13/2020
Shotgun40
United States
Awesome
Great Plane for the money. Easy assembly, she flys well and she's awesome looking!
03/19/2020
cody b.
United States
Greatly Detailed F-8
Have'nt flown it yet... Been waiting for some warmer weather but if I notice anu issues I'll be sure to give a follow up review
02/18/2020
Richard P.
United Kingdom
Freewing F-8
Only took a few minutes to put together, looks great and flies very well Love the plane and would definitely buy another freewing plane
02/11/2020
William L.
United States
Fast
To fast !!!!!!!! LOL GRATE PLANE
01/18/2020
Colin M.
United States
(MUST READ BEFORE YOU BUY) QUALITY ISSUE Resulted In Devastating Crash (NOT COVERED BY WARRANTY)
I took the aircraft out for a maiden, and it flew very well, needed some trimming, but other than that it went great. The second flight rolls around, and I lose control, unable to pitch and dive into the ground, completely destroying the nose of the aircraft. Upon closer inspection, some of the foam holding the tube where it had been glued came off (The foam on the glue, not the glue) from the stresses of regular flying, meaning the pushrod flexed/bent instead of moving the elevator, resulting in a partial loss of control. So when I rolled it to come back around, it went into a spiral crash, and severely damaging the fuselage. I took documentation photos, to send to Motion RC, before reading that their warranty does not cover products that have been flown. An exciting day, turned bad because of poor quality and warranty.
12/29/2019
Vittorio A.
United States
Great look, not so great flying
I've had this plane for over two years and I figured it would be time for a review. Looks great but it's probably the least enjoyable edf in my fleet. The controls are very mushy so most maneuvers do not look clean and it barely has enough power to do a loop. The noise it makes is also unpleasant compared to other jets. If you are looking for a 64mm jet I would go the lippisch.
11/22/2019
Jim G.
United States
Very Nice
The over all fit and finish of the plane is excellent this is a great buy! I will be upgrading the fan but other than that it's good to go, I will be buying more of the Freewing "Toss" jets for sure.
Motion RC has a new European website
Go there instead?
Top