SKU: FJ10321P
Freewing F9F Panther Blue 64mm EDF Jet - PNP
This product is discontinued
Spare parts available below
Overview
Videos
Spare Parts
Upgrades
Q&A
Support

Overview
64mm Freewing F9F Panther Blue EDF Jet - Receiver Ready (PNP) - FJ10321P
Version Info: This 3S version of the F9F Panther has been discontinued and replaced by a new more powerful 4S version with a 12B EDF which can be found here.
Are you looking for your first EDF jet or are you a more advanced pilot looking for a new EDF? Look no further. While great for people new to EDF jets, The Freewing F9F Panther is fast and agile enough for experienced pilots too. The Freewing F9F is one of our favorite jets. While this F9F Panther EDF is not for beginner flyers, it is perfect for the intermediate flyer looking for their first EDF jet. There is not an easier EDF jet to fly.
Unlike many EDF jets, the Freewing F9F actually floats for an extended period of time without throttle (assuming a correct CG). The F9F is powerful enough to loop and has a fantastic roll rate. We recommend hand launching and belly landing in the grass for pilots new to EDF jets. The F9F is built from durable EPO foam and uses nylon hinges. While a 1600 mAh LiPo is recommended, a 2200 mAh battery can be used by more experienced pilots with minor modification to the battery compartment. We highly recommend a high wing trainer for beginners and proficiency with at least one low wing plane before attempting to fly an EDF jet.
Note: Please sand the paint off on the fuselage and wing surface prior to gluing together.
Visit the Official Freewing 64mm F9F Panther Discussion Thread on HobbySquawk.com for additional photos, videos, reviews, and customer Q&A.
Features:
NEW! Updated blue livery
Model officially licensed by Northrop Grumman
Durable EPO foam construction
Nylon hinges on all control surfaces (superior to a foam hinge)
Brushless motor, 5-Blade EDF, ESC and servos installed
Includes:
Freewing F9F Panther Blue 64mm EDF Jet - PNP
Servos, electronics pre-installed
Requires:
Product Specifications:
SKILL LEVEL :

Intermediate
Wingspan

700mm / 27.6in

Length

745mm / 29.3in

Flying Weight

550g

Power System

Brushless 2627-4500Kv Outrunner Motor

Speed Control

30A, Internal BEC, XT60 connector

Propeller / EDF

64mm 5-Blade EDF

Servos

9g plastic standard with 100mm lead : elevator - MD31091-100
9g plastic standard with 300mm lead : left aileron, right aileron - MD31091-300

Landing Gear

None - belly lander (optional gear is available)

Required Battery

3S 11.1V 1600mAh 25C 3 cell LiPo

Required Radio

3 Channel

Rudder

No

Flaps

No

Ailerons

Yes

Lights

No

Hinge Type

Nylon hinges on all control surfaces

Material

EPO Foam

Skill Level

Intermediate

Build Time

1 Hour

Recommended Environment

Outdoor

Videos

Spare Parts
Product Spare Parts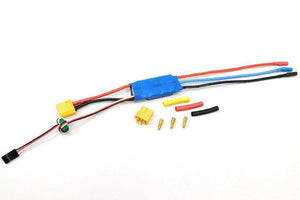 Freewing 30A ESC with XT60 Connector
SKU: F15D002001