Freewing Messerschmitt Me 262 "Yellow 7" V2 Twin 70mm EDF Jet - PNP
FJ30421P
70mm Freewing Twin EDF Messerschmitt Me-262 "Yellow 7" V2 Jet - Receiver Ready (PNP) - FJ30421P
Introducing a new color scheme for 2018, the Freewing Me-262 Version 2 features 12 blade EDFs for exhilarating power and realistic sound.  Wearing the historic markings of a preserved Me-262 on display at the National Air and Space Museum in Washington, D.C, the iconic "Yellow 7", BuNos 500491, will stand out against the blue skies at your local flying field.
This is a fantastic twin EDF 70mm jet from Freewing.  The Motion RC Flight Boys considers this one of the relatively hidden gems of EDFs that we offer.  Excellent presence both static and in the air, very nimble with excellent speed and flight characteristics.  If you're looking for something unique, distinctive with excellent quality and performance then you will want to give the Freewing Me 262 a look, you won't be disappointed. 
  Visit the Official Freewing Me 262 Discussion Thread on HobbySquawk.com for additional photos, videos, reviews, and customer Q&A.
Features:
NEW!  Iconic "Yellow 7"

BuNos 500491 paint scheme

NEW!  Upgraded 3048-2150kv brushless outrunner motors
NEW!  Twin 12-Blade 70mm EDFs with metal housing for high speed manuevers and realistic jet turbine sound 
Super scale features including detailed cockpit, authentic graphics, engine vents, machine guns and more
Dual 60A Hobbywing ESCs and powerful 2150kV brushless motors give the Me262's twin EDFs the thrust to reach speeds in excess of 100 MPH !
Durable, shock absorbing, metal retractable main gear and nose gear
Split flaps for shorter takeoffs and slower landings
Nylon hinges on all control surfaces
Crash resistant EPO foam with carbon wing spars for enhanced strength
Motors, EDF, ESC, and all servos come pre-installed for your convenience
Includes:
Freewing Messerschmitt Me 262 "Yellow 7" Twin 70mm EDF Jet - PNP
Requires:
Product Specifications:
SKILL LEVEL : Intermediate
Wingspan

1500mm / 59in

Length

1280mm / 50.4in

Flying Weight

2900g / 102.3oz

Power System

NEW 3048-2150kv brushless outrunner motors (2 pcs)

Speed Control

60A HobbyWing, Internal SBEC, EC5 connector (2 pcs)

Propeller / EDF

NEW 70mm 12-Blade EDF Fans (2 pcs)

Servos

9g standard with 100mm lead : nose gear steering
9g standard with 300mm lead : left gear door, right gear door
9g standard with 550mm lead : right flap
9g reverse with 550mm lead : left flap
17g standard with 100mm lead : elevator
17g standard with 550mm lead : left aileron, right aileron, rudder


Landing Gear

Electronic Retract with Metal Trunnions on Main Gear and Nose Gear

Required Battery

6S 22.2V 4000mAh to 6000mAh 40C LiPo

Required Radio

6 Channel

Rudder

Yes

Flaps

Yes

Ailerons

Yes

Lights

No

Hinge Type

Nylon hinges on all control surfaces

Material

EPO Foam
Product Videos
Product Questions & Answers
NOTE:
Questions submitted on this page are answered by customers who have previously purchased this item. If you have a support related question that requires immediate assistance, please visit our
Help Center
.
Product Support
Product Manuals:
If you need any additional assistance, please visit the Motion RC Help Center
Product Reviews
Customer Reviews
Write a Review
Ask a Question
06/03/2020
Wayne R.
United States
Me 262
Very nice RC plane
06/02/2020
Günter v.
Germany
Die gelbe 7 (ME 262)
Der Zusammenbau hat gut geklappt. Aber ich habe sie noch nicht eingeflogen.
05/28/2020
David L.
United States
M.E.
Very nice twin 70mm , displays nicely. Have yet to fly it.
05/24/2020
Norman S.
United States
Fun..fun...fun
Love it, incredible flying airplane my first EDF
05/24/2020
wayne R.
United States
good flyer
Overall the 262 flys real stable and predicable and fast if you want. Looked over reviews prior to purchase. Made some thin ply and carbon rod mods to front nose to support nose wheel. Retracts are same as other Freeewing models I have but front gear can break front of plane off if you hit hard and rear gear will bend. This kit has been around for years, the fit could be better if you compare to Freewings P51 or AL37.. But still a rear nice model for the money, Any issues Motion RC will make it right !
04/30/2020
Joseph V.
United States
Amazing value for what you get !!!
I was a little hesitant to pull the trigger due to limited hangar space but I am soooo glad I did !!! If it was any bigger I probably wouldn't have but it's the perfect size to leave assembled for transport but still has that beefy presence we all love. I had her assembled within 1 hour and only issue I found was the squid power adapter that goes from battery to the 2 edf's wasn't lined up properly so I couldn't plug the battery in more than 25% in. I removed the bullet from the ec5 housing and found a splash of solder to be at fault and once filed away it plugged right in!! This would not have been an easy part to replace so I was happy to fix it. I installed a spektrum ar637t with as3x on my DX9 TX and think this was the perfect RX for this jet. Once programming was complete I took her up for maiden and was just blown away at how clean and controllable she flew!! Ended up overshooting the runway a little but only ripped the front gear door out of its socket which popped right back in and this wouldn't have even happened if not for my over confidence and lack of flair prior to touchdown. Overall if you're on the fence about this jet I say absolutely get it now!! Bravo to Freewing and Motion RC for their attention to detail and build quality at such a fair price. My only negative would be that they stop trying to erase history and have supplied the HISTORICALLY CORRECT swastikas even if not pre-applied to the plane but I'm sure the lawyers had their say in the matter. Oh and the instructions were a let down but plenty of info online to make up for that. Good luck and as Pilot Robert would say "just click some-sing hey"... you won't regret it!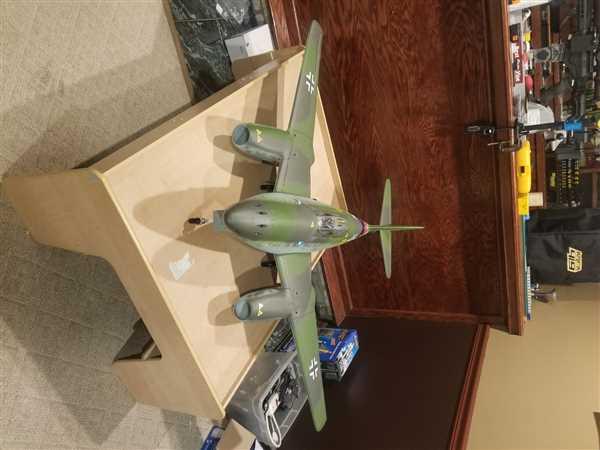 04/23/2020
Bill B.
United States
The me-262 , f86, a-10
All three jets I have purchased from Freewing are fantastic looking and nicely finished! Unfortunately our flying field is closed, until further notice can't wait to fly them and see how they perform ! Nice job Freewing!
03/20/2020
Michael M.
Canada
Me 263
Haven't flown yet but great build Thanks
03/14/2020
Erwin D.
Netherlands
Motion RC has a new European website
Go there instead?
Top