SKU: NGH-GF38
NGH GF38 38cc Four-Stroke Engine
Sale price

$39900

Regular price

$

(Save $-399.00)
Overview
Spare Parts
Q&A
Support

Overview
GF38 38cc Four-Stroke Engine from NGH - NGH-GF38
Here at Motion RC we are pleased to present our customers with the NGH line of gas engines. NGH have become known for building quality gas engines that offer light weight, power and reliability at a very affordable price. They are manufactured and designed from scratch for model aircraft, they are not modified chainsaw or similar types of engines that have been in the past, they are purpose made.
NGH continue to innovate with this first production gas 4 stroke engine, you will get all the benefits and sound of a 4 stroke but with the economy of gas. This engine has been designed from scratch and features a Walbro carb, RcXEL ignition, twin roller CNC conrod, twin ringed piston for better compression and is beam or radial mounted with the supplied stand offs. This 38cc 4 stroke does not include a muffler. While it can be flown without a muffler and sounds great, NGH designed the engine to use aftermarket scale mufflers. With its striking looks it is guaranteed to turn heads on any flying field.
Features:
Four stroke sound and efficiency
Angled exhaust pipe for custom scale exhaust systems (muffler not included)
Twin roller CNC conrod
Twin ringed pistons
Angled exhaust system
Blue anodized Velocity Stack installed on the carb for improved throttle response
Compact and powerful design, ideal for scale model installations
Genuine Walbro carburetor for reliable running and easy tuning
Traditional 'beam' engine mounts supplied
RCEXL Ignition with automatic advancing system
Ideal for 30-35cc 2 stroke class models
Powerful output and excellent reliability
Attractive blue anodized prop hub
locking prop nut included
Clean burning, no more oily residue on your model
Purpose made, specifically designed from the ground up and optimized for gas powered RC planes
Includes:
NGH GF38 38cc Four-Stroke Engine
CDI
Connecting Line
Spark Plug
Mounting Bracket Base
Tool Set
English Manual
Product Details
What's In The Box?
RC Engine Maintenance Notice
Please note: All RC model gas-powered engines require the user to properly set up, tune, and maintain the engine in order to achieve consistent peak performance. You will need to break-in the engine initially, then perform routine maintenance including cleaning the engine, lubricating its seals and moving parts, and adjusting the fuel mixture and valves as necessary. This is considered the normal responsibility of owning and operating an RC gas engine. For further questions, please contact Customer Support.
Product Specifications:
| | |
| --- | --- |
| Displacement | 37.97cc |
| Bore | 39mm |
| Stroke | 31.8mm |
| RPM Range | 1,600-8,000 RPM |
| Mix Output | 3.58HP / 8,300 RPM |
| Engine Weight | 1310g |
| Overall Weight | 1420g |
| Ignition Power | DC 4.8-8.4V 1000mAh |
| Recommended Propeller | 18x8-10 / 19x8-10 / 20x8 |
| Fuel | 93 Unleaded Petrol + fully synthetic 2T lubricants |
| Lubricant Ratio | 35:1 |

Spare Parts
Product Spare Parts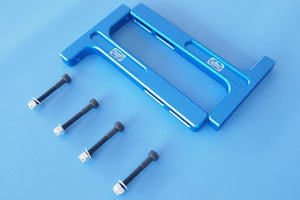 NGH Universal Engine Mount for GT17, GT25, GT35, GT35R, GF30, and GF38
SKU: NGH-F30601Z
$1949