Skynetic Havok Racer 1000mm (39") Wingspan - PNP
SKY1000-001
Havok Racer 1000mm (39") Wingspan - PNP from Skynetic - SKY1000-001
Motion RC is proud to announce Skynetic, a new brand of foam electric aircraft offering high value and diverse selection for newer pilots looking to broaden their flying experience across a range of platforms. Developed by and available exclusively at Motion RC, Skynetic advances our vision of a global audience discovering the fun of RC Flight. Backed by Motion RC's customer support and a full line of spare parts to keep you flying, stay tuned for new products as we expand our exciting new brand!
The Skynetic 1M Havok Racer is a thrilling addition to the popular parkracer category. Typified by sleek lines and lighter wing loading afforded by hand launching, parkracers often reference the Unlimited Class Reno Racers of highly modified P-51 Mustangs, Sea Furys, and other classic warbird airframes. The Skynetic 1M Havok Racer is a 100mph capable aircraft on a 4S battery for 3-7 minutes of balanced flight. Created as a well balanced aircraft for both high speed and slow speed, the Havok Racer is easy to hand launch and simple to land. Delivered in a bold graphite and green paint scheme, the Skynetic Havok Racer is an ideal club class race plane. It is the perfect platform for customization and is best enjoyed flown in groups against your friends
Rather than a lightweight straight line race plane, the Havok is adequately reinforced in necessary areas to sustain the loads of aggressive "bank and crank" flying through a racing circuit.  Carbon and fiberglass reinforcements in its one piece wing and flying surfaces provide strength, with digital metal gear servos giving positive authority while racing your friends. The Havok Racer's large rudder also rewards pilots with a wide flight envelope and precision flying. From long speed runs to short field acrobatics, the Havok Racer has the weight to penetrate stably through wind but can still be flown to a near standstill with only a mild stall.
Special consideration was taken to ensure the Havok Racer is approachable for pilots new to hand launch and belly landed race planes. Hand launching can be done overhand or underhand with three quarter throttle and a firm toss. The model doesn't exhibit the scary "torque roll" usually associated with similar racers, but instead flies out straight and level from your grip. In the landing pattern, the Havok Racer's excellent slow speed threshold eliminates the characteristic snapping stall that often threatens other race planes.
The model's upward facing aileron servo horns are protected from damage during landing, and the forward cowling and belly intake are also capped in ABS plastic to protect against scrapes during landing. The matte black anodized aluminum spinner is factory balanced for extended service life.
The Skynetic 1M Havok Racer also provides ample space for a gyro stabilized receiver, such as the Admiral RX600SP 6-Channel DSMX Compatible Receiver with Stability Plus Gyro. Pilots can opt for a lighter 4S 2200mAh battery in low wind conditions or power up with a 4s 3000mAh battery for heavier throttle usage or longer flight times.
Outfly your friends head-to-head with the all new Skynetic 1M Havok Racer!
  Visit the Official Skynetic Havok Racer Discussion Thread on HobbySquawk.com for additional photos, videos, reviews, and customer Q&A.
Features:
Clear canopy that can fit an FPV camera

Metallic Graphite paint with Hyper Green decal accents. High contrast scheme to aid orientation

Aluminum spinner
Capable of 100mph top speed
Easy to hand toss
All 9g metal gear servos and brass ball linkage

Plastic capped forward fuselage for dent resistance

Reinforced motor mount and main wing, in case pilots want to experiment with mods

No glue assembly

Functional forehead intake (reminiscent of certain Reno Racer Unlimited Class Mustangs)

Full spare parts availability
Includes:
Skynetic Havok Racer 1000mm (39") Wingspan - PNP

Admiral brushless 3542-1600kV motor

Admiral 80A ESC with XT60 connector

4x 9g digital metal gear servos
Requires:
Product Specifications:
SKILL LEVEL : intermediate
| | |
| --- | --- |
| Model Scale | N/A |
| Wingspan | 1000mm / 39.37in |
| Length | 880mm / 34.64in |
| Weight | 920g / 32.45oz |
| CG (Center of Gravity) | Refer to manual |
| Power System | Admiral Brushless 3542-1600kV motor |
| Electronic Speed Control | Admiral 80A with XT60 connector (included) |
| Propeller / EDF | 7.8x7 2-Blade (included) |
| Servos | 4x 9g Digital Metal Gear Standard Servos |
| Landing Gear | None |
| Required Battery | 4 Cell 14.8V 2200-3000 mAh LiPo battery with XT60 connector (required) |
| Required Radio | 4+ Channel (required) |
| Ailerons | Yes |
| Elevator | Yes |
| Rudder | Yes |
| Flaps | No |
| Lights | No |
| Hinge Type | Nylon |
| Material | EPO Foam |
| Skill Level | Intermediate |
| Build Time | 1 Hour |
| Recommended Environment | Outdoors |
Product Videos
Product Questions & Answers
NOTE:
Questions submitted on this page are answered by customers who have previously purchased this item. If you have a support related question that requires immediate assistance, please visit our
Help Center
.
Product Support
Product Manuals:
If you need any additional assistance, please visit the Motion RC Help Center
Product Reviews
Customer Reviews
11/13/2019
Joseph M.
United States
Havok
Great plane, good quality and easy flying , quick and fast,
11/12/2019
warren h.
United States
Skynetic Havok Racer
The Havok has been assembled using online instructions since the box did not have any. Assembly went smooth. Plan of maiden some time in November due to none RC priorities. Thanks for another fine product for Motion RC. Warren
11/11/2019
Michael S.
United States
Havok Speed Racer
This plane is a blast to fly, it slows down very nice for slow flights and landings, and high speed is great. I would recommend this plane for anyone who loves speed!!!
11/11/2019
John R.
United States
11/10/2019
Michael L.
United States
Need for speed? Get it!!!
First of all I'd like to say that this is a great plane to have in your hanger especially if you have a need for speed, this plane is faster than many jets I have. My Havok did not come to me with an instruction manual, however, I went to MRC and downloaded one. The plane is very easy to put together, there's nothing difficult about it,however, the battery tray should be installed after putting on the main wings. All the decals are already applied for you and the battery bay is quite large for the size of the plane. The best part about this plane is the cooling, the functioning scoops really work well to keep the battery and esc cool. I live in central Florida and to fly here is very hard on batteries, the scoops do their job very well,my batter or esc never came close to getting hot even with the temps here. The glide envelope is very long so when you are ready to land make sure you bleed off all the momentum before you try to land, you may damage it. You have literally unlimited vertical with this plane and she moves quickly but is a joy to fly. So if you have a need for speed, this is the one to get right out the box.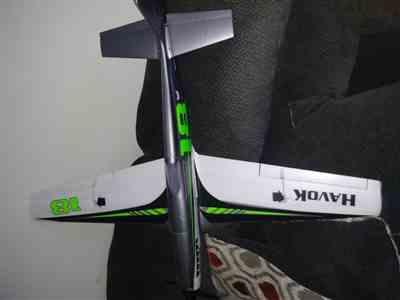 11/09/2019
aiman f.
United States
Skynetic Havok Racer
shipmet received will packed with thanks
11/07/2019
BILL E.
United States
Parts
Always get super fast shipping and great prices
11/05/2019
Robert T.
United States
Skynetic Havok Racer 1000mm (39") Wingspan - PNP,
Excellent! It's a screamer. Stable, easy to launch and simple to build. STRONG, I Took it to the limit and it stayed together! I love it!
MR
11/05/2019
Michael R.
United States
Make sure you are well rested when flying this rocket with wings.
This is a very fast flying machine, however you can fly at 1/4 throttle and glide around and pace yourself. At full throttle it will lift you off the ground. Ailerons on low rates is a must when first flying. I find it amazing how powerful this baby is and how fast it can fly. I have been flying for years and this is the fastest most easy to fly plane I own. It's a blast. Put it together in less then an hour and was at the field soon after. You will enjoy this if you are a advanced flyer, if you are not you will be able to fly it as well, just fly at low rates and 50% throttle.