Xwave RM400-90 Electronic Retract
XWA6015-001
RM400-90 Electronic Retract from Xwave - XWA6015-001
A new era in model aircraft electronics from Motion RC has arrived, offering exceptional quality, precision, reliability, performance and value. Welcome to the era of Xwave! The first offering in our exclusive line of control system products is the Xwave RM400-90 Electronic Retract. The RM400 is an all metal 90 degree unit designed for a wide range of air frames from twin 5cc right up to large scale 20cc balsa models.
Each unit is precisely CNC machined from lightweight yet strong high grade aluminum, giving slop free and smooth operation. In combination with hardened metal components, built in overcurrent protection and shielded integrated PCB and electric motor, you have in the RM400 an extremely robust and reliable retract unit that will serve you for many years to come, in one of the most demanding applications on a model aircraft. Whether it be as a drop in system for your latest balsa creation or even an upgrade to your favorite Freewing EDF, the RM400-90 will perform and last.
Features:
All metal 

construction

Shielded integrated PCB micro controller and motor

Overcurrent protection

Light weight yet strong materials

5.1mm strut pin slot in trunnion

Designed for 4.8 – 7.4V input

Suitable for models from 3.2 – 6.80 kg (8- 15 lbs)

Standard mounting pattern

Recommenced retract for the BlackHorse He-111
Includes:
Xwave RM400-90 Electronic Retract
Specifications:
Length: 81mm

Width (without mounting plate): 17mm

Height: 29mm

Mounting Plate: 44mm x 44mm

Hole Spacing (side to side): 35mm

Hole Spacing (front to back): 30mm

Wire Lead: 215mm
Product Questions & Answers
NOTE:
Questions submitted on this page are answered by customers who have previously purchased this item. If you have a support related question that requires immediate assistance, please visit our
Help Center
.
Product Reviews
Customer Reviews
Write a Review
Ask a Question
05/07/2020
Robert P.
United States
1800mm struts on OV-10 Bronco
struts are to tight the mains will simply will "NOT MOVE". Nose strut won't move either.
02/07/2020
John L.
United States
Xwave gear
One of the three gear is very jerky. It works bit seems to be struggling. Not sure if it will last very long.
01/30/2020
Steve J.
United States
Xwave Retract Gear
I bought 3 Xwave retracts for the new Motion RC OV-10 airplane. When I got the plane built, I tested the retracts, and they were difficult to get to synchronize, that is, move all up together and all down together. Finally, one system failed completely. I sent it back to Motion RC, who replaced it quickly and free of charge. Thanks Martin! I installed the new retracts, and again tested the retracts. I had a similar issue of the gear not staying synchronized. After some thought,I added a separate 6.0 volt receiver battery pack, which appears to have fixed the problem. The gear system is stout and the up locks and down locks are all metal and are strong. These appear to be very good gear but do need extra voltage when cycling. The BEC from my 4 cell power batteries didn't handle the load.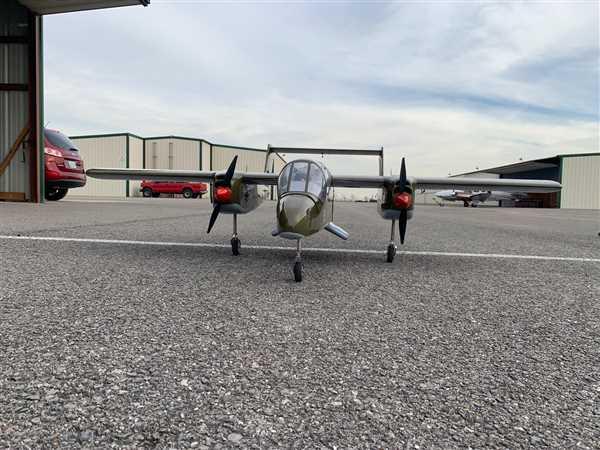 01/18/2020
Greg W.
United States
Retracts
They tested very good.
10/10/2019
Andy L.
United States
Xwave RM400-90 Electronic Retract
I installed the FMS 1700mm P51 retracts in an equivalent size balsa P51. If the plane was anything faster than takeoff or landing speed, the retracts would not operate. Sometimes not even if the speed was low. I changed to the Xwave retracts. These retracts ALWAYS work no matter the speed. A little more expensive but it saves airplanes.
10/04/2019
John W.
United States
Simple, solid & good value
A great electric retract. Very easy to install (no instructions included as none needed). Solidly built and definitely have that cool factor!
09/12/2019
John L.
United States
Xwave RM 400-90 Electronic Retract
Very good easy to install very powerful and fast. handles 4/1/2 inch wheels no problem.
OV 10 Bronco retracts landing gear
I just finished testing the new retract system from Motion RC. The finish and build looks great, very well put together, the respond time is good, the structure looks very strong. I like the way how quite are in comparation with others electric retracts systems. My general opinion is I like them so far, now let see how they do out side in the real world.
Motion RC has a new European website
Go there instead?
Top