ProFly OV-10 Bronco 1800mm (70.8") Wingspan - ARF
PFY1000-001
OV-10 Bronco 1800mm (70.8") Wingspan from ProFly - Balsa Wood ARF - PFY1000-001
The North American/Rockwell OV-10 Bronco was developed to meet the requirements of the United States Marine Corps Light Armed Reconnaissance Aircraft (LARA) program that was to provide the service with a multi-role aircraft that could operate in the armed reconnaissance and light attack roles from unprepared, forward airstrips. The ability to loiter in the combat area for an extended period was a key requirement.
The Bronco evolved to perform a broad range of roles including observation, forward air control, helicopter escort, armed reconnaissance, utility light air transport and limited ground attack. It has also performed aerial radiological reconnaissance, tactical air observation, artillery and naval gunfire spotting, airborne control of tactical air support operations and front-line, low-level aerial photography.
The ProFly OV-10 Bronco is scaled to approximately 1:6.7 and attention has been given to providing a realistic appearance with outstanding flight characteristics. The model was designed for electric power but can also be flown using a matched pair of internal combustion engines of about 6-7cc displacement.
Visit the Official ProFly OV-10 Bronco 1800mm Discussion Thread on HobbySquawk.com for additional photos, videos, reviews, and customer Q&A.
Features:
High level of prefabrication right out of the box

Lightweight, strong, and fully sheeted laser cut balsa and plywood construction

Panel lines and details printed directly onto the pre-applied, high quality covering

Mylar C/A hinges on all control surfaces

Large easy access battery/servo access hatches with sprung loaded latches

Painted and detailed cockpit and interior included

Shock-absorbing suspension struts

Fiberglass control horns


Painted and details fiberglass cowls

comprehensive control and fitting accessories included

Two-piece, plug-in wings simplify transportation and assembly

Mounts for both electric and gas power options included

Fully illustrated instruction manual included and also available for download (see tab above)
Includes:
ProFly OV-10 Bronco 1800mm (70.8") Wingspan - ARF
Requires:
Customer Note
ProFly ARF models are constructed out of balsa wood and plywood. These are not foam models. The assembly of balsa wood ARF aircraft requires basic model building skills including the installation of servos, ESC, and motor (or gas engine). 
Product Specifications:
SKILL LEVEL : intermediate
| | |
| --- | --- |
| Model Scale | 1/7 Scale |
| Wingspan | 1800mm / 70.87in |
| Length | 1748mm /68.8in |
| Weight | 6.8 - 7.1kg / 14.96 - 15.62lbs |
| CG (Center of Gravity) | Refer to manual |
| Power System | 4S compatible 35-42 size Brushless Outrunner Motor (required) |
| Electronic Speed Control | 65 - 85A (required) |
| Propeller / EDF | 11x5 - 12x8 2-Blade Propellers (required) |
| Servos | 7x 29g standard (required) |
| Landing Gear | 81x44x29mm Electronic retractable 90 degree (required) |
| Required Battery | Two 4S 14.8V 4000-5000mAh LiPo batteries (required) |
| Required Radio | 6+ Channel (required) |
| Ailerons | Yes |
| Elevator | Yes |
| Rudder | Yes |
| Flaps | Yes |
| Lights | No |
| Hinge Type | Nylon |
| Material | Balsa |
| Skill Level | Intermediate |
| Build Time | 6+ Hours |
| Recommended Environment | Outdoors |
Product Videos
Product Questions & Answers
NOTE:
Questions submitted on this page are answered by customers who have previously purchased this item. If you have a support related question that requires immediate assistance, please visit our
Help Center
.
Product Support
Product Manuals:
If you need any additional assistance, please visit the Motion RC Help Center
Product Reviews
Customer Reviews
12/02/2019
Terrence J.
United States
Finished the build.
I am in the last stages of the build and have since conducted power on checks and taxi tests. On Venom 4S 5000's, the aircraft seems to have plenty of power. On a fish scale, I measured that 4S had 10lbs of thrust statically and 6S had 17lbs of thrust. I used Encotec 6 place connectors to simplify the wing connections, but had to remove the retract connection due to it causing a short in the system. I have installed JP Hobby 60-90 retracts, but see no need for brakes at this time.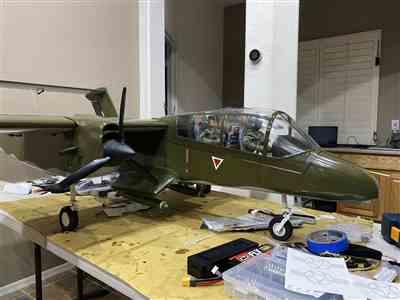 11/20/2019
Terrence J.
United States
Scale Bronco Project
First let me start by saying that this is far from being an ARF project. I had to source my own retracts, hinges, wheels and linkages. Along those lines, I replaced my pilots with scale pilots, my Livery was through Callie's graphics and lighting from Dimension engineering. The kit balsa is good quality. The covering depending on your geographical location will need some tightening up before flight. The kit includes most hardware to assemble it in either glow or electric, but I found it to be on the weaker side. The pushrod wire quality is poor. The nose wheel pull pull system required re-engineering due to 180 degree bends and binding. If you'd like this aircraft to last, I recommend highly replacing the CA hinges with Dubro pinned ones. I changed my linkage to threaded rod with carbon rod sleeves as well as clevis links with retainer. I'm powering my aircraft initially with 540 KV scorpion motors with three bladed Vario props and 100 amp ESC's. Initial runs are planned with 4S, but can easily be adapted to 6S. I am controlling the aircraft with a Spektrum 20 channel radio and a 9 channel receiver with an X-plus module for the retracts and lights. I used JP Hobby retracts and Robert wheels for scale. I used the kit included struts.
11/05/2019
Scott G.
United States
Great aircraft
Love this aircraft, waited a while to get it and going through the building process. First thing I noticed however is the recommended servos do not fit in the brackets for the ailerons and flap servos. The spacing is off by half an inch and requires cutting out the brackets and this will weaken the structure. Either jigs they used to make it are too small or the recommended servos are too large. Otherwise the kit is excellent and look forward to the building process and first flight.
08/05/2019
Don M.
United States
Top notch kit!
A world above VQ models, also made in Viet Nam.
07/10/2019
Richard L.
United States
High Quality Balsa ARF with a few disappointments
The overall quality of the kit is outstanding. The construction and covering are excellent. The cockpit and canopy are top quality. The fiberglass scale parts provided such as engine cowls are well done. I haven't completed the build yet so I can't comment on the flying characteristics. I feel like the recommended retracts, sold by Motion, but out of stock, should have been included in the kit. Even if some additional cost were added. I feel that the landing gear struts could have been designed with a more scale appearance and function. If the foam jets can get quality scale landing gear, this model should have it as well. The assembly manual is only average. Several mistakes such as recommending the high wing model be balanced upside down, which is incorrect. But overall, I am very pleased with the quality and value. Would highly recommend for fans of the OV-10.
07/01/2019
José A.
United States
OV 10 Bronco
I got the plane, open the box and everything looks great. Very well protected, minor details on covering, very light and good looking airframe. I like this airplane. This one is going to be a gas engine version OV 10. Already waiting for a pair of NGH . 9 the only downside of this beautiful airplane is that the retracts landing gear system still on backorder and is holding me to get it completed. Thanks for such a good service Motion RC.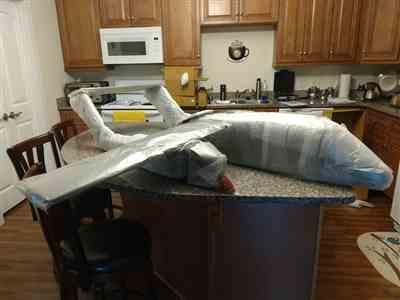 06/21/2019
Donald B.
United States
ProFly OV-10 Bronco
This has been a top quality product since I have received it. Assembly was straight forward and easy. I opted for two OS 46 glow engines to power it. My one and only drawback to this product was that the retracts were not immediately available, and I am still waiting for them to arrive at Motion. Other that that I think this is a very superior product.
Motion RC has a new European website
Go there instead?
Top