Freewing L-39 Albatros 80mm EDF Jet - PNP
This product is discontinued
Spare parts available below
FJ21511P
L-39 Albatros 80mm EDF Jet - PNP from Freewing - FJ21511P
Combining the sport performance of the Avanti and the fidelity of scale aircraft like the A-4 and MiG-21, Freewing continues the legacy of its excellent performing 80mm EDF jets with its Freewing 80mm L-39C/Z Albatros!  Developed originally by Aero Vodochody in the 1960s in what is now the Czech Republic, the Aero L-39 Albatros excelled as a jet trainer platform with its powerful turbofan and overall reliability.  The L-39 and its successive variants continues in service throughout the world in militaries as trainers and light attack platforms, and in civil aviation including aerial demo teams and racing.
The Freewing L-39 Albatros is the largest and most capable production PNP L-39 in the world.  Optimized for high maneuverability and precision flying, the L-39 truly is a "Sport jet wearing Scale jet clothing".  The PNP version uses a powerful 3530-1850kv brushless motor and 100A ESC to power the 12 blade 80mm EDF.  
The Freewing L-39 Albatros includes grass capable suspension landing gear, a full coverage nose door, scale wingtip lights, and easily removable tip tanks, ordnance, belly gun pod, and wings.  Only one glue joint is required to complete the model's general assembly.  A plastic lined cockpit also resists deformation under sunlight, and optional 3D Printed cockpit detail upgrade parts are also sold separately.
  Visit the Official Freewing L-39 Albatros Discussion Thread on HobbySquawk.com for additional photos, videos, reviews, and customer Q&A.
Features:
Sport jet performance in a scale jet package
Flies as smooth and rock solid as our popular Avanti S
Grass-ready shock absorbing oleo struts and electric retracts
Plastic-lined canopy to prevent bubbling or "gatoring"
Large cabin for easy access to battery and receiver
New Multi-function control box (MCB-E) for better wire organization
Includes:
Freewing L-39 Albatros 80mm EDF Jet - PNP
Requires:
Product Specifications:
SKILL LEVEL : intermediate
Wingspan

1054mm / 41.5in

Length

1351mm / 53.2in

Weight

2200g / 77.60oz (w/o battery)

CG (Center of Gravity)

103mm from the leading edge of the wing at the root (see manual)

Power System

3530-1850kV Brushless Outrunner Motor

Electronic Speed Control

100A, EC5 Connector

Propeller / EDF

80mm 12-Blade EDF

Servos

9g hybrid standard gear with 550mm lead : nose gear steering
9g hybrid standard gear with 450mm lead : left aileron, right aileron
9g hybrid standard gear with 360mm lead : left flap, right flap
9g hybrid standard gear with 550mm lead plus 200mm lead : left elevator, rudder
9g hybrid reverse gear with 550mm lead plus 200mm lead : right elevator



Landing Gear

Full electronic grass-capable shock absorbing retractable nose and main landing gear

Required Battery

6 Cell 22.2V 4000-6000 mAh LiPo Battery with EC5 connector (required)

Required Radio

6 Channel (required)

Ailerons

Yes

Elevator

Yes

Rudder

Yes

Flaps

Yes

Lights

Yes

Hinge Type

Nylon hinges

Material

EPO Foam

Skill Level

Intermediate

Build Time

1 Hour

Recommended Environment

Outdoor
Product Videos
Product Questions & Answers
NOTE:
Questions submitted on this page are answered by customers who have previously purchased this item. If you have a support related question that requires immediate assistance, please visit our
Help Center
.
Product Support
Product Manuals:
Product Updates:
October 9, 2018  -  The "steering servo" port has been designed to stop responding when the gear is up.  Once you put the gear down the steering servo should work again.  If it does not work, try reversing the gear channel.
If you need any additional assistance, please visit the Motion RC Help Center
Product Reviews
Customer Reviews
Write a Review
Ask a Question
07/05/2020
Martin J.
United States
Awesome little jet that flies on rails!
The L-39 is just about perfect. A real work of art. Super fun, super fast, & easy to fly & land. A must have in the EDF collection!
06/27/2020
Jørn R.
Norway
L-39
Looks good , and flies good, and it works very well on grass.
06/15/2020
Lukas Z.
Czech Republic
06/11/2020
Jonathan O.
United States
L39
This is a nice flying EDF. Only complaint I had was mine came with a defective blue box which I bypassed the rudder connection on the blue box and went straight into my receiver and everything works. Motion RC has great customer service called them up and they have one in the mail coming to me now.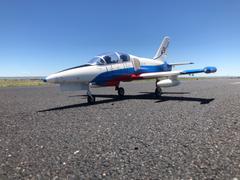 06/10/2020
Jan U.
Czech Republic
05/09/2020
Bruce L.
United States
L-39 80mm EDF
Awesome aircraft. Set up was easy. Rock solid and fast. Who needs a turbine when EDF's like this are available.
04/03/2020
Robert M.
United States
L-39: The Avanti of Scale Jets
Overview: Airplane went together quite quickly. Flies well and is smooth in the air. Locks in like it's on rails. Good vertical performance and builds up speed quickly due to the smaller wing planform than the Avanti. Knife-edge is decent, though the Avanti outperforms it. Need to build more flights to see how well it'll pop-top, hover, and perform rollers, though initial flights show it is capable of doing such maneuvers with relative ease. Would recommend as a good scale jet counterpart to a pilot who has flown the Avanti. Pros: -Easy assembly -Everything works reliably (fan/motor/esc/servos/retracts) Cons: -Noticeable (but minor) gap with glue-on tail cone, fit on that wasn't as good as on the first batch version I evaluated for a friend -Hobbyeagle A3 V2 gyro does not interact well with the Blue Box on the rudder channel, had to bypass the BB for the rudder channel into the gyro, other channels unaffected.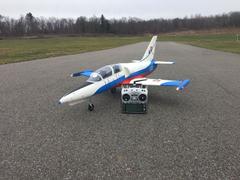 03/14/2020
Ian F.
United Kingdom
Freewing L-39 Albatros 80mm EDF Jet
Excellent quality flies on rails.
02/26/2020
Alfred R.
Austria
Freewing L-39
Great EDF-Jet! Nothing to complain.
Motion RC has a new European website
Go there instead?
Top